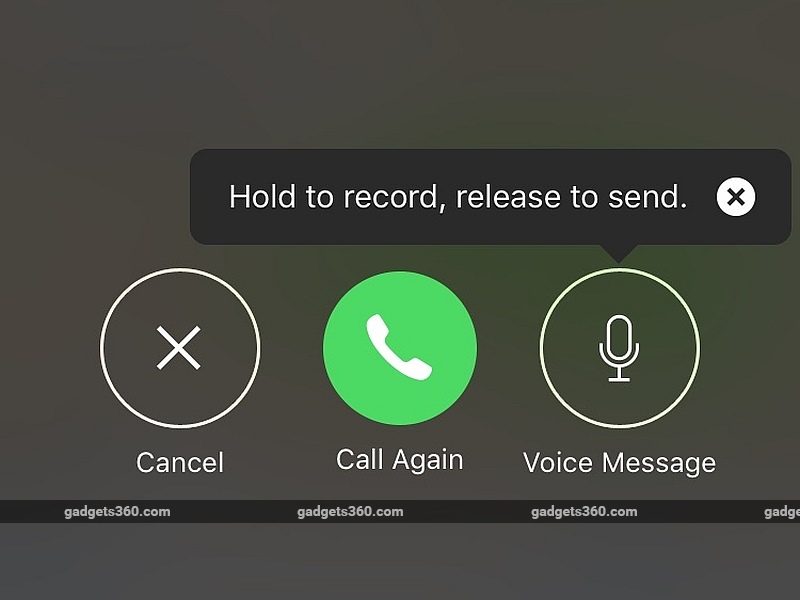 WhatsApp for iPhone Gets a Voicemail Feature That's Identical to Voice Message
HIGHLIGHTS
Feature is available on WhatsApp v2.16.8 for iPhone
WhatsApp for Android saw the feature in beta last month
It's not known when the feature will arrive on the Android app
Following its appearance in the beta version of Android last month, WhatsApp's voicemail feature is officially rolling out to its iPhone app. WhatsApp for iPhone v2.16.8 lists the new feature in the changelog of its App Store store listing.
Describing the feature, the Facebook-owned company said "When placing a WhatsApp call, you now quickly leave a voice message if your call isn't answered, just like voicemail." WhatsApp's description is rather accurate, as the resultant voicemail message is indistinguishable from a regular voice message.
So, how do you use the feature? Try placing a WhatsApp call. If the intended recipient declines or ignores the call, users will be presented with three options – Voice Message, Call Again, and Cancel. Yes, the same options were visible in the WhatsApp for Android beta app last month – with minor differences, it said "Call back" and "Record voice message" on Android.
As before, the Cancel option closes the new screen that users see after a call is ignored or declined. The Call Again option lets users call back the person who just cut or ignored their call. Voice Message, as we mentioned, works just like a regular voice message – users have to hold to record, and once they are done, the message will be shown in the chat conversation between users and their recipients just like a voice message. It's not yet known when the feature will roll out to users of the public Android app.
whatsapp_for_iphone_voicemail_cancel_093916_193944_7265.jpg
Late last month, WhatsApp for iPhone received an update (v2.16.7) that introduced bigger emojis, the ability to delete/ mark as read/ archive multiple chats at once, and the option to zoom in while recording a video.
Also last month, WhatsApp for Android beta app (and reportedly the WhatsApp for iPhone beta app) got a new font. Users just have to type the grave accent symbol (`) three times before and after the word or phrase they are sending, and the result will be a monospaced, plain text (no formatting allowed) font that is ideal for sending snippets of code.
Previous features released in beta that have not yet made it to stable releases include mentions and group invite links, as well as improved music sharing.
WhatsApp in June received a feature that allowed users to quote messages when replying. The user needs to long press a message in any conversation to see a reply option pop up alongside star, delete, forward, and copy.
Of course, WhatsApp's most anticipated upcoming feature is video calling, which was recently spotted in testing on the Android beta app.
Share a screenshot and win Samsung smartphones worth Rs. 90,000 by participating in the #BrowseFaster contest.
Tags: Apps, Facebook, Instant Messenger, WhatsApp, WhatsApp for iPhone, WhatsApp v2.16.8 for iPhone, iOS app, iPhone app
["Source-Gadgets"]