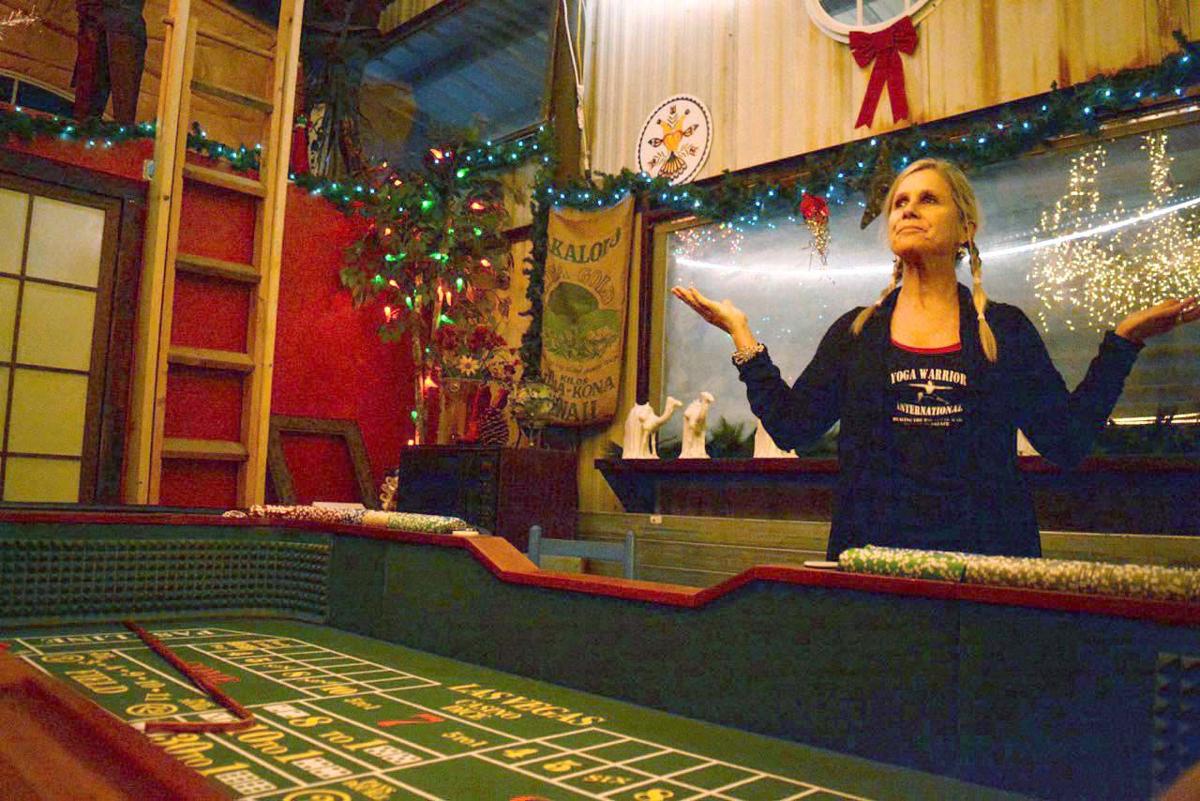 oga is for warriors who have seen hell and still have demons to face within their souls.
This concept is something that Carol Holmes, a yoga instructor, believes to be true for first responders and military people who can find solace in the calming aspects of yoga.
As the head of Circle Y Yoga Ranch, every week Holmes offers a class where those who wear the uniform can literally do yoga out in the middle of the countryside.
Complete with a cantina that has crap tables, fires, open attics and room for grilling, it just may be a refuge that can address the stressful challenges that dangerous professions entail.
Inside the studio there is an open area with bamboo floors and insulated walls.
From the quiet countryside embrace and the colorful lights running in contrast to darkness that pervades rural areas at night to the zen-like atmosphere of the studio inside, the environment is meant to feel calming and welcoming.
"It's definitely a destination place," Holmes said. "We can do cookouts, fish-frys … anyway to get them out here. I'm open. All these things I'm offering free of charge. It's my way to help."
"Everything in here has come to me in a special way," she said.
"That cross up there came from an old Methodist church that was being torn down on my student's property," Holmes said, pointing to the symbol. "A screen was broken under my parents bed for years and I thought 'Oh my Gosh that's perfect.' My sister was putting in a mantle and had a piece of wood leftover, a rock is out of our land here."
The ranch is a refuge, Holmes said.
"What happens in yoga, stays in yoga," she said.
Yoga can be something that gives a sense of relief, Holmes said.
"It's something they can do that makes them feel good and it brings them to a place where they feel like they can have control of themselves," she said.
"The same mental strength that resides within veterans in the military world needs a path toward adjusting to the civilian world," Holmes said. "All of the mental readiness they've been taught to have, suddenly doesn't apply to this world.
"So let's make it apply. Let's make that mental readiness for this environment. It just comes to being aware of their emotional state, their physical state, their breathing state."
Breathing is what can make an individual overcome trauma, Holmes said.
"Trauma and stressful experiences move through the body, through breath," she said. "So breath is really kind of a big component to the healing process. We work on it in different ways. That mental activity and physical activity can be static and dynamic. You're either moving and flowing and just figuring out how the body works, or you're holding. They're both very challenging."
A community of veterans makes for a more open emotional environment to handle that challenging task, Holmes said.
"It can bring up a lot of emotional stress and trauma, and that's where being in the comfort of a class, of a community, of not just the teacher being with them but also being with other vets in particular … They're not afraid to expose themselves to it," she said. "If you try and get a veteran into a regular class they're going to want to hold back."
Holmes is taking part in a online yoga class study by a company called Yoga for Men and is also involved in getting veterans to help mentor dementia patients who exhibit traumatic behavior by nature of their condition.
The online yoga research project, titled Prospective Cohort Study of Yoga and Mindfulness for Psychological and Physical Wellness, is being done in conjunction with the University of South Florida College of Public Health.
"What I am proposing to do is have one of those classes here and create a sense of community and support," Holmes said. "Maybe it will inspire them to do it back home. If they can come here, I can help them with modifications to their postures or adjustments."
Yoga poses can elicit emotional responses, some of which may require on-site help, Holmes said.
"We can talk about some of the response that come from the postures," she said. "When you stretch out certain muscles in your body, muscles have memory. Oftentimes it can bring up something that's uncomfortable for them and if they don't have somebody there, a buddy that's doing it with them or somebody like me that can say 'it's ok, that's normal,' then they might push back on it. So I think it's important they have that structure."
The array of online material is helpful in the project, Holmes said.
"You have a whole library of chair yoga, yoga for amputees, all these variations of different classes," she said. "The libraries are made up of studios that film their classes. So I would also like the opportunity to have some classes here on film and we could put that on the video library if they're willing to do that. They would be helping themselves, they would be helping others. It wouldn't be something I would ask them to do from the get-go."
Veterans try yoga for stress relief because they want to be back in control of themselves, Holmes said.
"They're ready for a change, they're ready to get rid of the meds, they want to try something that they can do themselves," she said. "Unfortunately we don't live in a culture where we nurture that self-resource."
"These people and most people want that responsibility," Holmes said. "They want to know they can help themselves. My passion is to help you help yourself. I'm here if you need me and let's do this together. Let's get these people sitting at home, maybe not feeling as comfortable going out to places."
Getting through the negativity that traumatic stress brings to one's life is pivotal, Holmes said.
"The sadness that you see, the break-ups, the suicides, the mental anguish, the self-medicating, it's all very sad and for them to come back from war and conflict like that and for us to not have a place for them … it's rough," she said.
Yoga gives a varied and diverse perspective to solving those problems, Holmes said.
"It's another way to look at this," she said.
["source-ndtv"]