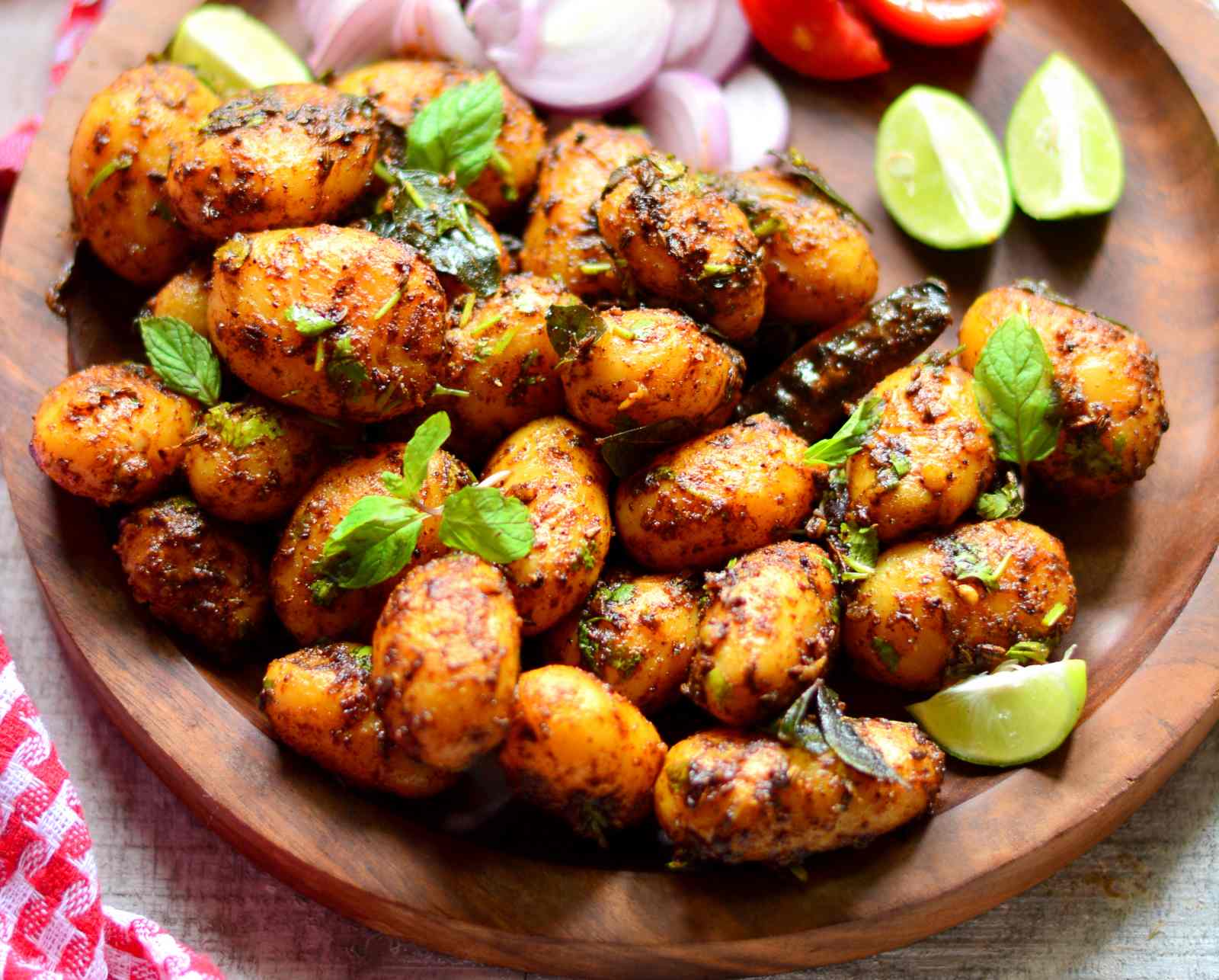 Potatoes have to be the most loved vegetable in Indian cuisine. No chaat (snack) party is complete without a lot of potato dishes. The samosas, the kachoris, the pani puris… nothing would be the same if you remove the potato from them. So today I thought of making a snack/chaat with just potatoes. Not a stuffing, but purely as is. There's actually very little room to go wrong with potatoes.
Wash them, cut them and toss them with spices. Yesterday when I went to my grocery shop, I saw a whole bunch of baby potatoes and that's what inspired this dish.
Preparation time: 10 mins| Cooking time: 15 mins| Serves 2-3
Ingredients
300 gms baby potatoes
1 sprig of curry leaves
1 tsp coriander powder
1/2 tsp cumin powder
1 tsp chaat masala
1/4 tsp red chilli powder
Juice of 1/2 lime
Salt to taste
2 tbsp Olive Oil
Method
• Wash the potatoes and pat them dry. Do not peel the skin. Some of the skin might come off when you pat them dry.
• Cut into halves or quarters depending on the size of the potatoes.
• Heat oil in a non-stick pan.
• When the oil is hot add the cut potatoes and cook covered on low heat for about 5 minutes.
The potatoes will become slightly tender.
• Now add all the spices and the curry leaves and again cook covered for another 10 minutes.
Toss them around a couple of times in between. If you think the potatoes are sticking to the pan, you can add a little water on the lid of the pan. This would help the steam built inside the pan to condense. We don't want a lot of water but just enough for the potatoes to become tender.
• Remove in a serving dish and drizzle lime juice and a pinch of chaat masala on top. Toss well and serve hot as a tea-time snack!
Note: While I have used baby potatoes for the dish, you can use any sized potatoes. Just cut them into bite size pieces.
["source=hindustantimes"]