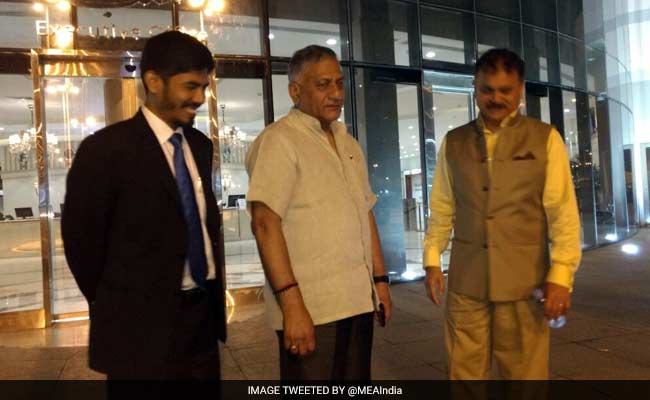 JEDDAH, SAUDI ARABIA: 
Union minister VK Singh arrived in Saudi Arabia on Wednesday on a mission to bring home thousands of laid off Indian workers stranded in the kingdom without enough money for food or plane tickets.
Mr Singh, the Minister of State for External Affairs, tweeted that he had arrived in Jeddah and begun meeting with the Indian consulate there, adding the hashtag "#NoIndianLeftBehind".
A sharp drop in oil prices has led to a spending slowdown in Saudi Arabia, the world's top exporter, and some construction firms that employ South Asian workers have fired their staff.
Ahead of Mr Singh's visit, the Indian embassy has launched an initiative to collect details of Indian nationals laid off by their employers.
External Affairs Minister Sushma Swaraj said on Saturday that the employers had not paid the workers' wages and that they now faced a food crisis.
Currently, a total of 7,700 affected Indian workers are living in 20 camps and the consulate is in the process of collecting information about others residing in different parts of Saudi Arabia.
The Jeddah consulate is distributing emergency food rations to the employees pending efforts to repatriate them.
Saudi Arabia says it investigates any complaints of companies not paying wages and if necessary obliges these firms to do so or risk fines and other penalties.
["source-ndtv"]