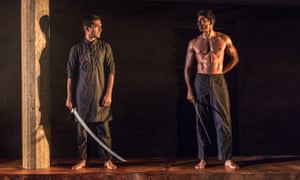 Explores a number of philosophical ideas … Danny Ashok (Humayun) and Darren Kuppan (Babur) in Guards at the Taj. Photograph: Marc Brenner
This vital new-writing hub in west London has had an impressive £4.3m makeover. It has acquired a new studio and rehearsal room as well as a glass-fronted entrance and a garden terrace looking on to the street. With a neat sense of irony, it also reopens with a prize-winning off-Broadway play by Rajiv Josephthat asks whether there is a price to be paid for contemplating architectural beauty.
Joseph's play follows the pattern of Tom Stoppard's Rosencrantz and Guildenstern Are Dead in that it shows two people on the margin of momentous events in which they become fatally involved. The year is 1648 and the two men are imperial guards standing with their backs to the yet-to-be-revealed Taj Mahal. One of them, Babur, is filled with unquenchable curiosity; the other, Humayun, is all obedient orthodoxy. Not only are the two men forbidden to look at the building – they also repeat the story that the emperor has ordered that the 20,000 men who built the Taj should have their hands cut off lest they ever create something as beautiful again.
This is one of the many legends surrounding the Taj, but Joseph uses it to explore, in a way that is intelligent without being overwhelmingly dramatic, a number of philosophical ideas. One is whether there is something self-defeating about artistic perfection that defies repetition. Another is whether there are any limits to the human quest for knowledge. "I think God wants us to learn more and more things," says Babur, who imagines that one day there will be a flying palanquin that transports people through the skies.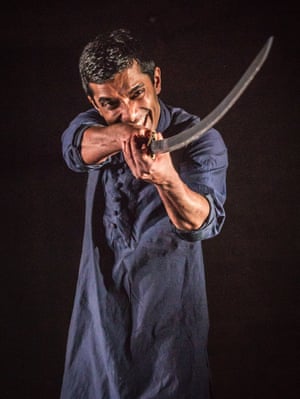 All of this, as well as the portrait of the capricious arbitrariness of absolute power, is fascinating. The problem is that Joseph is forced to push his plot into improbable realms in order to sustain the ideas. In particular, he treats the dismemberment myth as if it were a reality.
The play is given expressive life in Jamie Lloyd's production: its memorably static opening, with the two guards on pre-dawn duty, gives way, in Soutra Gilmour's design, to the exploration of underground chambers running with blood. The two actors are also excellently contrasted. Darren Kuppan as Babur is the epitome of the bright-eyed eagerness for new ideas that is the manifestation of the human spirit in action. Danny Ashok, meanwhile, displays the acceptance of the status quo that offers a licence to unchecked power.
There is no doubt the play has resonances for today, but I feel Joseph has sidestepped the most topical fact about the Taj: not only was its probable architect, Ustad Ahmad Lahauri, of Persian descent but it was built by workmen imported from all over central Asia. That, in a modern world that exploits immigrant labour to achieve grandiose projects, strikes me as the buried theme of Joseph's odd but disturbing drama.
["Source-theguardian"]