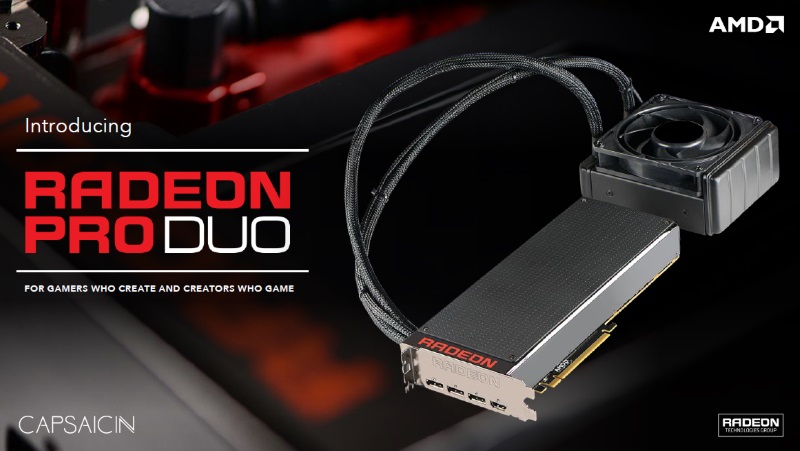 AMD used its press conference at the 2016 Game Developers Conference in San Francisco to announce a number of initiatives around VR, which it is targeting as a major market and focus area going forward. The company unveiled a new graphics card aimed at VR content developers, called the Radeon Pro Duo, which promises a whopping 16 Teraflops of processing power.
The dual-GPU card is based on AMD's Fiji architecture, and was first announced alongside its other Fiji counterparts in June 2015, the gaming-centric Radeon R9 Fury, Radeon R9 Fury X, and Radeon R9 Nano. At the time, it was not differentiated from them and was considered a dual-GPU flagship for the lineup.
AMD seems to have pivoted since then and its Radeon Technology Group identified a new market for the card. The Radeon Pro Duo slots above the Radeon gaming line but below the FirePro line aimed at professional workstations. AMD has said that the Radeon Pro Duo will use custom drivers validated for professional software, but it is not clear if this is the first of a new Radeon Pro line. However, company spokespeople have said that a consumer version of the same card might still be released in the future.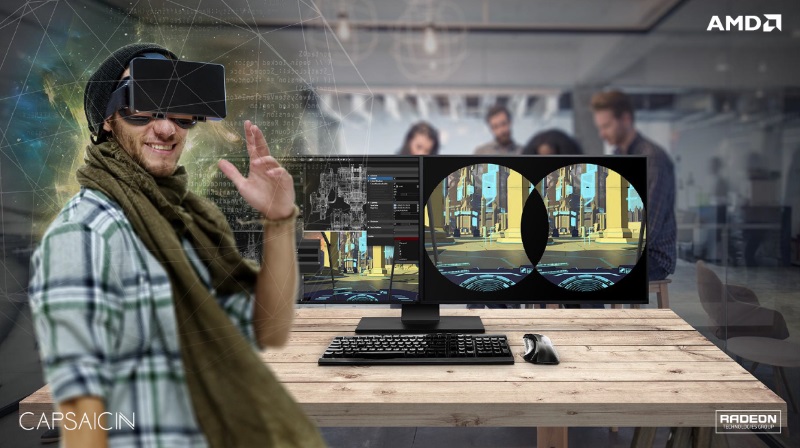 Each Fiji GPU has integrated high-bandwidth 3D-stacked memory which vastly improves bandwidth and cuts latency compared to traditional memory chips soldered onto the same graphics card. The Radeon Pro Duo uses a closed-loop liquid cooler with a 120mm radiator, much the same as the thermal solution that ships with the Radeon R9 Fury X.
The Radeon Pro Duo will feature 4096 "stream processors" and 256 texture units per GPU, matching the Radeon R9 Fury X. AnandTech infers that the GPUs will behave more like the Radeon R9 Nano implementation and run generally slower thanks to thermal limits. The Radeon Pro Duo has a 350W TDP. Pricing starts at $1,499 and availability is set for "early Q2".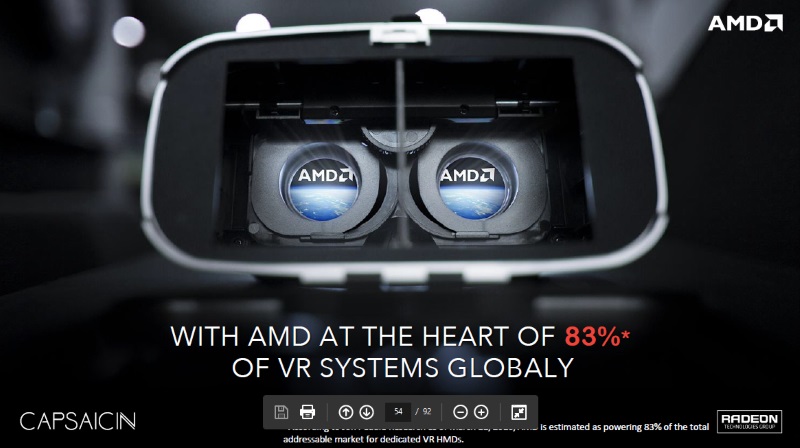 VR could be an important market for AMD, since Nvidia dominates the end-user gaming space. AMD also claimed at the event that it now has an 83 percent market share of home entertainment VR systems, including game consoles. Partnerships with Oculus and HTC will ensure compatibility with the upcoming Rift and Vive VR headsets. AMD has also partnered with Sulon Technologies on the Sulon-Q, billed as the world's first all-in-one tether-free headset for VR, AR and spatial experiences. Beyond gaming, the company has made progress in using VR in the medical, educational, and entertainment fields.
Gamers were not forgotten at the event, and AMD also shed a little light on its consumer roadmap for the next few years. Following 2016's Polaris architecture, the company will launch what it is calling Vega. While Polaris cards will be built around GDDR5, Vega will be the first to adopt HBM2 memory. HBM2 will bring significant improvements over the first-generation HBM used for current Fiji cards, so it seems that Vega products will coexist with Polaris the same way that today's Radeon Fury cards coexist with the Radeon 300 series. Vega could release in late 2016 or early 2017, based on AMD's chart.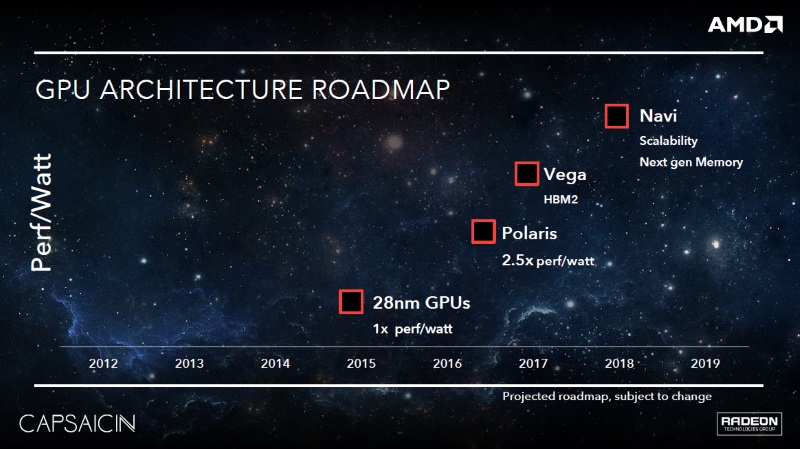 Following that, a new architecture called Navi will debut in 2018. No details are known, except that AMD is targeting "scalability" and "next gen memory" as its design goals. The product line could play into AMD's continued Heterogeneous System Architecture initiative which helps instructions scale across different types of processors in a computer system.
AMD last week also announced its XConnect standard for connecting external GPUs to PCs over a high-bandwidth Thunderbolt 3 connection. This could allow for the standardisation of previously niche notebook accessories. Users wouldn't have to sacrifice notebook size or weight, and would still be able to harness the GPU's power when sitting at their desks. The Razer Blade Stealth will be the first notebook to support AMD's XConnect with an external GPU dock called the Razer Core.
A single wire is enough to carry power to the external GPU and carry data back and forth. The Core can also function as a dock, with other peripherals plugged into it sharing the same connection to the notebook. Pricing is not yet known, and the Core currently supports only Radeon R9 300 series cards, though AMD says the list will be expanded in the future.
Download the Gadgets 360 app for Android and iOS to stay up to date with the latest tech news, product reviews, and exclusive deals on the popular mobiles.