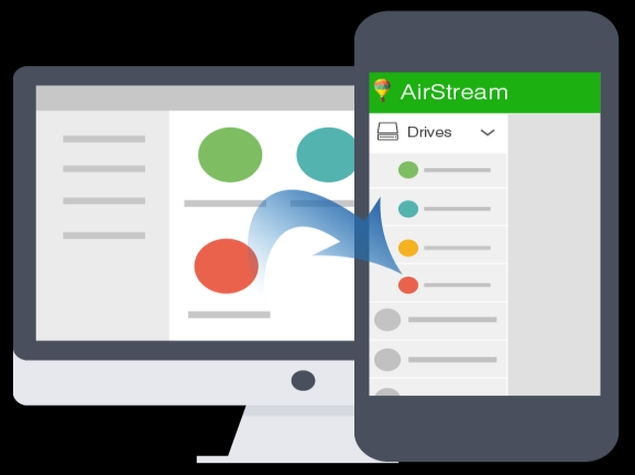 The free AirStream app is an easy way to play movies, music, and photos from your PC to your phone. All you have to do is install AirStream on your computer and phone, and sign into the same account. That's all that's required by way of setup. Once that's done, you can see the files on your computer from your phone, and access them on the go.
You can also browse around the hard disk of the computer without further setup. The Android version also lets you copy all files and folders from your PC to your phone, using your Wi-Fi network.
The app was developed by Nityaa Labs, which has offices in India and Canada, was first launched nearly two years ago but it was recently updated to add some new features, such as automatic video aggregation from your PC (so you don't need to browse and find videos anymore), and a new QR code based system to connect a PC to your phone.
There is a paid version of the app, which costs $0.99 or Rs. 60 per month and removes advertisements and the AirStream logo from streamed videos, but it's a minor thing and you can make full use of the app without paying. The desktop client of the app supports Windows, Mac OS and Linux. One can also connect all major online drives like DropBox, Google Drive, and One Drive.
Once you've installed the app and signed up, you can connect all the accounts. The app's main page lets you choose between Drives, which is where all your connected hard drives are found; Desktop, where you can see all the files on the desktop (often faster than browsing through the computer to find something); Downloads, which shows you the Downloads folder on the PC; and Cloud, which is self-explanatory.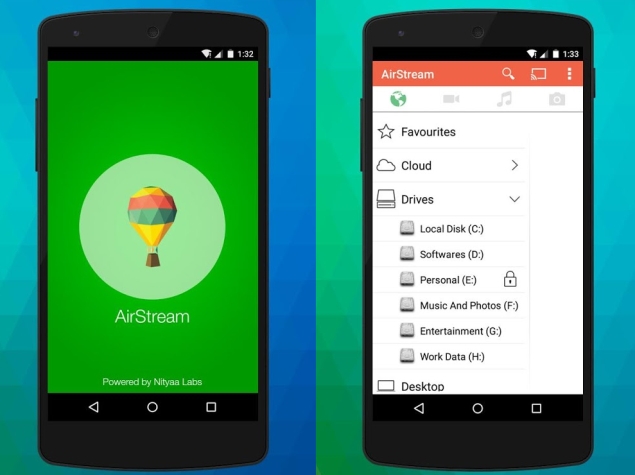 Airstream is far from the only media player that can work to stream videos but it's one of the simpler tools available. A lot of popular video players, including It's Playing Pro, Fusion Stream, and nPlayer on iOS, and Android apps like UPnPlay and BubbleUPnP, or even Kodi can all play your stored videos. These players all come with some unique features that make them worth using as well, but the downside is that first you've got to set up DLNA or shared folders on your computer. This is actually pretty easy to do, but it's not something that the technophobes in our families can handle easily, so Airstream is a better option.
Another choice you can use is Plex. This app works like Airstream does – you install the Plex server on your computer, and you install the Plex client on the devices you want to watch the videos on. Plex also allows you to remotely access your sever over the Internet, but it's a more elaborate solution as compared to Airstream, if all you are looking to do is stream some media to your phone.
It's good for more than videos too. If you love music, but your library is scattered over various drives on your laptop and desktop, that's not a problem anymore. With Air Stream you can create your customised playlist and play music (downloaded legally of course) from your different PC hard drives, using the AirStream app. You can also import your Windows Player and iTunes playlists.
The Photos tab displays your photos gallery in an animated way, which may be distracting to some users. There are three tabs, where you can see photos from your computer, from your mobile device, and photos marked as favourites. It's fairly basic functionality, and one of the weaker parts of the app.
At the end of the day, AirStream is an appealing app because of how simple it makes things. For many of us – particularly the less tech savvy – something as relatively simple as playing a movie from your computer to your phone can be a big challenge. But AirStream requires almost no setting up, and using the app is intuitive too.
Airstream is available for free on Android and iOS, and you also need to install the PC client to use its features. To download, visit the Download page from your computer.
Download the Gadgets 360 app for Android and iOS to stay up to date with the latest tech news, product reviews, and exclusive deals on the popular mobiles.