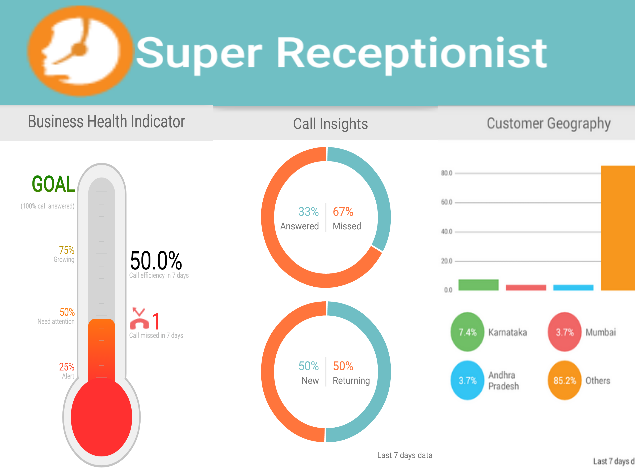 Launched earlier this month, Knowlarity has extended its cloud telephony service with a free app onGoogle Play, which lets businesses add a virtual receptionist to handle phone queries, track leads and view call records. Dubbed as a 'plug-and-play virtual call center', Super Receptionist provides a free lifetime subscription with every signup. This gives you a business phone number with a limited number of credits to test the service. With basic plans starting at just Rs. 900, this app makes a compelling business use case. Knowlarity is targeting India's 47 million strong small and medium businesses sector, and hopes to scale up to 1 million users in India by the end of the year. Is the app likely to top the charts? We took the app and service for a test drive to find out.
For the uninitiated, Knowlarity is a cloud telephony service provider incorporated in 2009. Their product range includes SuperFax, SuperConference, and SuperCaller. Knowlarity provides IVR (Interactive Voice Response) solutions to enterprises, boasting over 10,000 SME clients and over 500 larger customers in 66 countries. The company is head-quartered in Singapore and has offices in Gurgaon, Mumbai and Bangalore, and raised $16 million in its Series B last year.
It takes literally less than two minutes to sign up for your free forwarding number for your business. The sign-on process asks for your email, and once you're logged in, you get access to a virtual number which can handle about 10 minutes of incoming calls, based on the free credits provided in the demo. Calls from this virtual number can be routed to any phone number, enabling agents can handle customers on mobile phones from the field. Customers are only exposed to the virtual number, keeping personal and professional lives separate.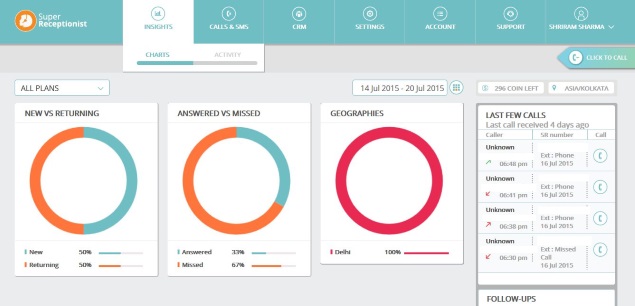 Super Receptionist lets business owners track overall business health in real-time based on missed calls, new and returning customers, and geographies. A bar-graph shaped like a thermometer tells you how many calls were answered, and how many were missed. Business owners can listen to recordings of customer calls on the web and mobile app.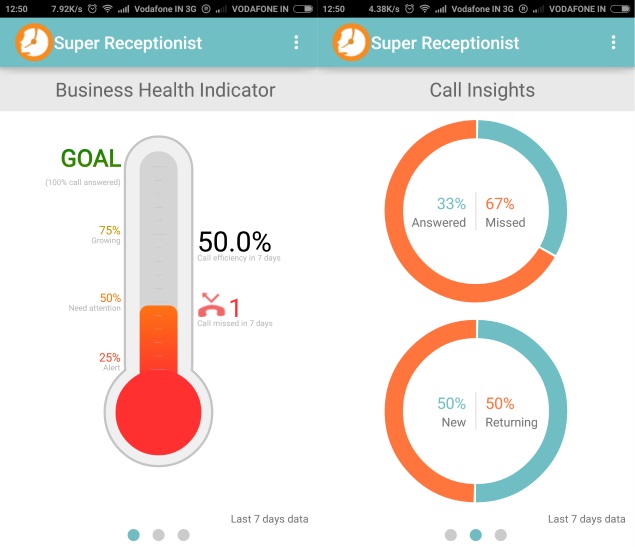 On the web dashboard, you have the option of downloading the call recording as an MP3 file as well. Super Receptionist can also be enabled to support voicemail, make group calls, and integrate a click-to-call button on the web, or within their own applications through APIs. The Basic version lets you set up IVR at one level of input, while multi level IVR, which routes customer calls through longer feedback loops, is available to Premium users.
The web dashboard is quite easy to grasp, and has a simple learning curve. Customer details can be added to call logs, classified as leads (Hot, Warm, Cold, Closed, Follow Up) to be added to the built-in CRM system. The CRM dashboard lets you import and export your customer database, and presents an interaction summary. Super Receptionist can be integrated with third-party CRM systems like FreshDesk, Salesforce, and Zendesk as well.

The service uses a system of virtual coins as in-app currency. The Basic plan, which costs Rs. 900, which provides 800 free coins, or about 400 minutes of free usage. Knowlarity has published a country-specific pulse rate card which helps you calculate call costs.
The free for life plan is a bit of a misnomer because the plan does have a date of expiry. In the settings dashboard, users are informed of the expiry date for their virtual number, in my case, it had an expiry date of 11 Apr 2018.
The service offering is divided into four categories – Basic, Advanced, Premium and Enterprise. Premium and Enterprise plans include every feature, including SuperConference (which lets you add up to 10 members on a call) and CRM integration. Basic and Advanced plans only let you listen to recording from one and three months in the past, Premium and Enterprise plans add the ability to listen to listen to any recording from the past. The ability to integrate SMSes onto Super Receptionist's CRM system costs an additional Rs. 500 a month.
Knowlarity is certainly swinging for the fences with this release. Super Receptionist is a well polished app, it could easily satisfy the needs of small and medium business owners as a full-fledged CRM tool. The Business Health Indicator graph on the mobile app will soon add voice recognition to its graph, based on tone and temper of the customer. With features like these, Super Receptionist is going far beyond entry-level IVR solutions. With plans starting at Rs 900 a month, this cloud-based telephony service is certainly worth a look.
Pros
Real-time business analytics on the go
Cons
Confusing coin-based currency system
Rating (out of 10): 8
Download the Gadgets 360 app for Android and iOS to stay up to date with the latest tech news, product reviews, and exclusive deals on the popular mobiles.