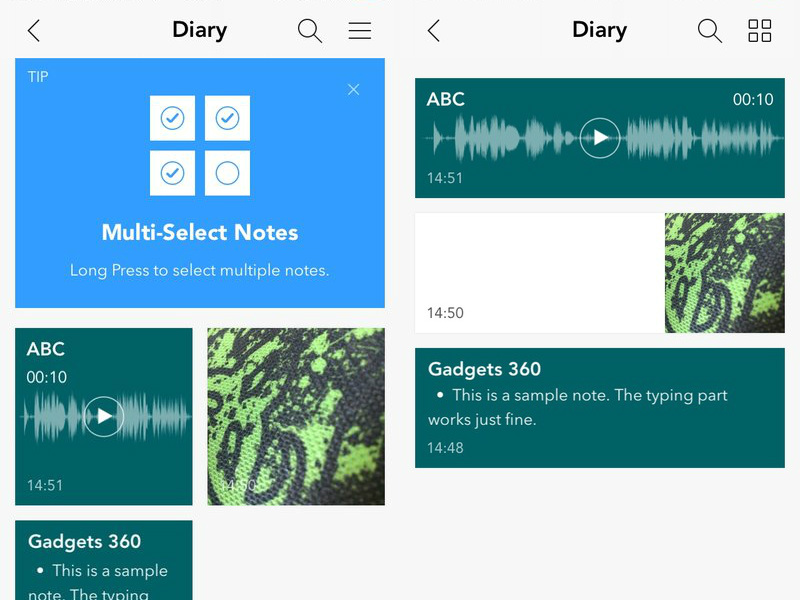 HIGHLIGHTS
Zoho Notebook is a notes app
It's available for Android and iOS
The app is well-designed and easy to use
Chennai-based Zoho is known for its office suite but the company has quietly been working on many other apps. One of these is Zoho Notebook, a free note-taking app for Android and iOS. If you've used apps such as Google Keep or even the default Notes app on iOS, you'll find Zoho Notebook familiar. It's a simple, no-frills notes app.
Zoho is a company in the middle of a design transition. On one hand you see exceedingly plain apps such as Zoho Vault, and on the other hand there is Notebook. The iOS app is really good-looking and has no clutter. The Android app doesn't look as good, but it's still a big step forward when you look at some of Zoho's older apps.
Notebook's design is simple enough for most people. It lets you create a bunch of notebooks to categorise your notes, and makes it easy to create and edit notes. We created various types of notes – text note, checklists, and audio notes to test the app. We found the app easy to use, and it helped to quickly get work done.
If you log in with your Zoho account, you can sync notes between devices as well. Syncing was fast and reliable for the most part. When we created new notes on an Android phone, they appeared on an iPhone almost immediately. However, when we edited a note's title and background colour on Android, the changes didn't reflect on the note's icon on the iPhone. Opening the note shows these changes but we feel that they should appear on the outside as well. Within notebooks, the app lets you group notes easily via the pinch gesture. We couldn't figure out how to ungroup some notes we grouped accidentally, so the interface can be worked on to be a little more intuitive still.
Zoho Notebook works very well as a journal app, for those who like to keep a diary. But if you just want an app for all your shopping lists, it serves the purpose just as well. As journalists, we save a lot of audio recordings. Zoho Notebook's easy audio notes, coupled with hassle-free cloud syncing to other devices attracted us to the app. However the lack of a desktop or a Web app is a big miss. Zoho's website says these are in the works, but for now, it's a real drawback.
We also felt that the app could use better sorting tools. Currently you can view notes in a grid or as a list of cards you can scroll through. We couldn't find a way to sort notes by date or type. While the app has a search function that works well, if you forget to label a note you'll be stuck scrolling through your entire list to find what you need.
We like what we see in Zoho Notebook so far, but we feel it could do a lot more. The app looks good and works well, but for it to become our primary notes app, it needs at least a Web app, and better searching and sorting features. If, however, a mobile app is all you need, then it's definitely worth checking out.
Zoho Notebook is available for free on Apple's App Store and Google Play.
 ["Source-Gadgets"]