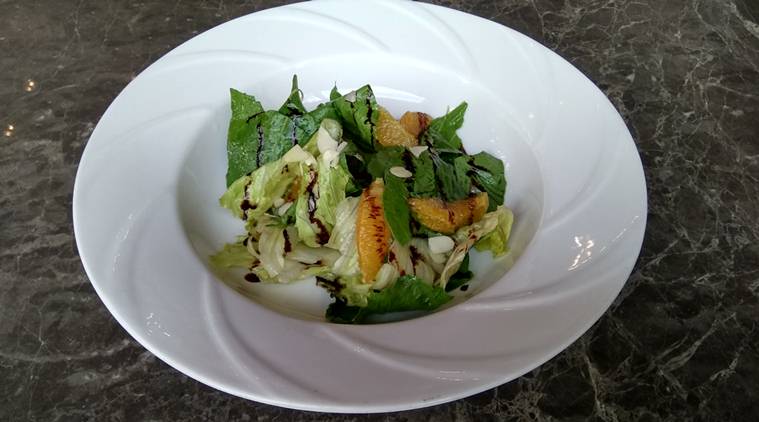 There is nothing like a healthy and fresh salad that tantalises your taste buds without you worrying about adding extra calories. From appetisers to mains, a lot of experiment can be done with salads in terms of its ingredients or dressing. Be it the classic vinaigrette and ranch dressing of the west or Hummus dressing from the Mediterranean, salads are always a hit. While some spice it up with eggs or chicken in their salad others opt for a fruity version. But wouldn't it be nice to have a perfect vegan salad with leafy spinach and lettuce with a sweet and sour twist? With sweetness of honey and tangy orange, this is nothing but delicious.
Try this refreshing salad by Chef Subrata Debnath of Vivanta by Taj, Gurgaon, to increase the health and taste quotient in your diet.
Ingredients
10-15 leaves – Baby spinach
3-4 leaves – Iceberg lettuce
6 – Orange segments
1 tsp – Orange zest
2 tbp – Balsamic vinegar
2 tbps – Honey
Salt – To taste
3/4 tsp – Freshly cracked Black Pepper
3/4 tsp – Extra virgin olive oil
1 tbsp – Toasted almond flakes
Method
* In a blender, combine orange zest, orange juice, balsamic vinegar, honey, salt, and pepper and blend until smooth.
* With the blender running, add the olive oil in a steady stream until emulsified.
* Transfer to a container and store in the refrigerator.
* Tear the lettuce leaves and toss with the spinach leaves.
* Drizzle the dressing and toss delicately.
* To serve, place a portion of the salad on a plate and arrange the orange segments. Drizzle some of the dressing and garnish with toasted almond flakes.
* Serve chilled.
["source-indianexpress"]