In a hidden room in the back of a pier overlooking the San Francisco Bay, a young girl shoots glitter across the room with a flick of her wrist. On the other side of the room, a boy is shooting darts from his wrist – some travelling at least 20ft high, onto a landing above. It feels like a superhero training center or a party for the next generation of X-Men and, in a way, it is.
This is Superhero Cyborgs, an event that brings six children together with 3D design specialists and augmentation experts to create unique prosthetics that will turn each child into a kind of superhero.
The children are aged between 10 and 15 and all have upper-limb differences, having either been born without a hand or having lost a limb. They are spending five days with prosthetics experts and a design team from 3D software firm Autodesk, creating prosthetics that turn a replacement hand into something much more special.
"We started asking: 'Why are we trying to replicate the functionality of a hand?' when we could really do anything. Things that are way cooler that hands aren't able to do," says Kate Ganim, co-founder and co-director at KidMob, the nonprofit group that organised this project in partnership with San Rafael, California 3D software firm Autodesk. KidMob first ran this type of project at Rhode Island's Brown University in 2014.
KidMob's previous projects have included designing a fence for a school and creating a youth center for an area devastated by a typhoon. The group recently applied to work on the XQ Super School Project to rethink US high schools, funded by the late Steve Jobs' wife, Laurene Powell Jobs.
KidMob conceived the Superhero Cyborg project after discovering RoboHand, an open-source design for a prosthetic hand that anyone can 3D print at home. While the hand serves a purpose, its functionality is limited and it looks like a cyborg attachment rather than a traditional hand.
Instead of thinking of a missing limb as a disability, the Superhero Cyborgs project reframes it as an opportunity. If you don't have a hand, then you can have anything – it's a blank slate.
At the end of the project, the children showed off their creations to Autodesk employees and were paired with a mentor that could help them refine their idea over the next few months.
"The goal for them is to really prototype and walk away with a working design model, or one that is really close that they can continue on with," says Sarah O'Rourke, a marketing manager at Autodesk and Superhero Cyborgs project lead.
Details of each superhero prosthetic are being posted on the DIY site Instructables and hacking site Project Ignite in the hope that it inspires other groups, schools and individuals to follow suit. "A classroom might work on building a project and then donate a finished hand to someone they know or appoint it to someone in the community who is in need," O'Rourke said.
Designing the superhero accessory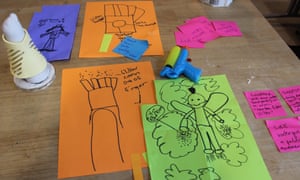 The children designed their superheroes on a piece of paper and then shared it so that the other children could add their own ideas and suggestions. Before the prosthetics could be built, each child had their limbs modelled in plaster and 3D-scanned. That 3D image was then used to design a custom-fitted plastic cuff, seen below, that would form the basis of their prototype.
3D-modeling their designs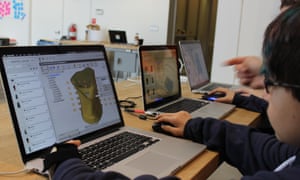 The children were given a crash course in some of Autodesk's 3D design programs including TinkerCAD, which allowed them to modify the shape and design before its prototype was 3D-printed.
David's 'sport splint'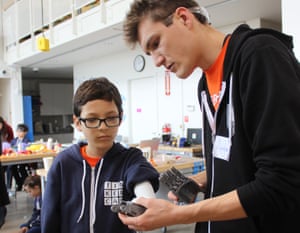 David Botana, 13, had an idea to take a traditional hand and turn it into a pen knife of sorts with a number of different modular attachments. He initially wanted to include a "hidden blade" to use to annoy his sister but compromised instead by including a hidden pencil. He also wanted an attachment to operate a water pistol and another to help him hold the reins when riding a horse.
One of the challenges of organising this type of project, says Ganim, is there aren't typically very many children with a similar disability living in the same geographic location. For this project, two children were local to California, but the other four travelled to San Francisco from across the US, with some travel costs paid for by Autodesk and Airbnb.
Keiran shows off his 'Nubinator'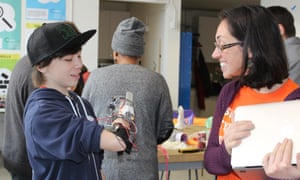 Thirteen-year-old Kieran Blue Coffee designed an "e-NABLE" hand with LED lights and an aluminum attachment that can carry heavier loads.
Other designs included a grip for a detachable bow and arrow by Riley Gonzalez, 10, and a water gun activated by an elbow movement that 12-year-old Sydney Howard said would help her beat her siblings in a water fight.
"It's really about this approach human-centered design," says O'Rourke. By having the children there, working on their own prosthetics, they were able to customize them to fit their own very specifics needs and dreams. The only limitation was their imagination.
A five-day hack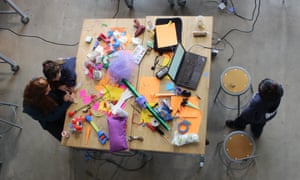 "They did a lot of sketching, and we walked them through design thinking goals," says O'Rourke. Prototyping was an important part of the process, and started with sketching out plans on paper. In addition to design experts, a prothetic expert helped to ensure that each child's creation fit properly; prosthetic limbs need a design that is snug enough to stay on, but not so tight that it causes discomfort.
3D printing enables cheaper prototyping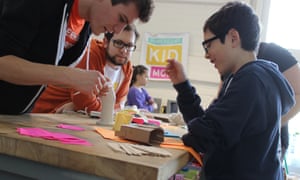 Andreas Bastian, left, is a 3D printing research scientist at Autodesk who worked with the group on prototyping their designs. Bastian also works with the nonprofit organization e-NABLE, which designed an affordable 3D-printed prosthetic hand. The hand can be printed by anyone in the world and has a materials cost of less than $100, putting it within reach of most who might need it. That hand was the base for some of the children's designs.
Jordan's glitter-shooting arm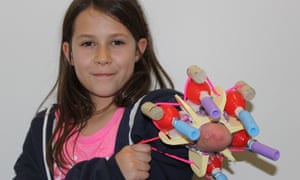 "One of the things we're trying to set up with this workshop is kids will get partnered with a maker to collaborate with them for three to four months after the workshop to push the design even further," says Ganim. "Obviously five days is not a lot of time to learn about design, learn a whole bunch of skills, design something, and make a final something. We're pushing the prototypes as far as we can, but encouraging the kids to think of bigger ideas." That means that over time, this glitter-shooting arm could get a whole lot more elaborate.
"When they first came in, they didn't really know each other. Quickly by lunchtime, it was a like a big, dysfunctional family had erupted," says O'Rourke. In addition to helping each other out with their projects, by the end of the event several of the kids were even dressing and wearing their hair alike, forming friendships – and perhaps even a secret crime-fighting superhero posse.
["source-theguardian"]