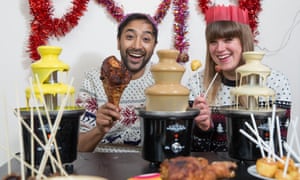 On the first day of Christmas, the Guardian said to me: "What if Felicity Cloake wrote some canapé recipes, and you made them using inappropriate gadgets? Like a gadget hack, with seasonal synergy?" I told them it was the worst sentence I had ever heard, and would void several product warranties. "Don't forget to wear a funny jumper!" they said.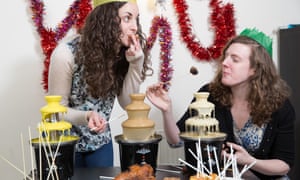 There is talk of a gravy fountain and champagne made in a SodaStream. They said they would send Felicity to my flat, and we would co-host a party. Like a tipoff on a Mafia hit, I don't really believe it until the knock at the door. Felicity bustles in with head-girl vigour, thick fringe and personal assistant Wilf, who is a cairn terrier, in tow. "I've got turkey legs brining, and a cashew custard," she says. I realise too late she has been sent here to make me look bad. Until now, I have been pushing a coathanger through oranges dried in a dehydrator to make a mouldy wreath. "Fine," I think, the grace of the season upon me, "let battle commence."
She has an advantage as she's done some homework, the swot. She takes a bag of boiled sprouts, quite possibly out of her pocket, and begins encasing them in sausagemeat. Picking up a child's cake pop maker, she griddles the baubles in the spherical moulds and pierces them with lolly sticks, conjuring fabulous treats in minutes. "Sprout pops!' she says. "Sprout pops!" echo Alice and Catherine, our guests, who have just arrived. My wreath, hanging on the back of the door, is pushed into the wall when they enter.
Time to wrestle back dominion of my house. "Pass me the drumsticks," I bellow like Brian Blessed impersonating Keith Moon, hefting a digital deep fryer on to the counter. Felicity passes me the turkey joints, or the forelegs of a diplodocus. She is doubtful that they will fit in the machine's modest basket, because she's a rule-abider, and not a bloody maverick. I take out the basket, fill the machine with a million gallons of oil, and set the thermostat to very high. I drop a test leg in and it boils over, a lethal froth that nearly takes my face off.
Meanwhile, Felicity is spiralising a persimmon with a far-off look in her eye. "I can see why they got carried away in the French Revolution," she says, guiding the fruit on to the implacable blades. She is quite a weird woman, I think to myself. "I drank a lot of eggnog this morning," she says, alarmingly. "Now I want to spiralise a sausage."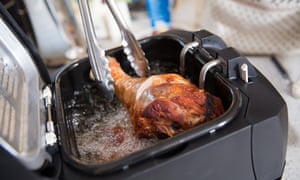 Catherine and Alice refuse point-blank to eat the deep-fried turkey drummers; it reminds them of an episode of Peep Show in which they eat a dog's leg. Time for some booze. My editor's suggestion is that, instead of buying sparking wine, why not fizz up cheap plonk in a SodaStream to see if it can make a passable shampagne? "They do sometimes explode," she added, "so do it in the bath." Does Trevor McDonald get asked to work in the bath? I climb in, SodaStream between my legs, a canister of CO2 perilously close to my drumstick.
A single bottle of cheap chardonnay doesn't reach the flask's fill line, so I top it up with a different chardonnay. (Hey, it's blended.) I press the heavy carbonation button – and become aware that I am begging for electrical death. The machine starts to buck and hiss violently. I'm convinced the canister will blow up. Attracted by the screaming, Felicity enters and sits on the toilet, holding an empty glass and laughing. The fizzy wine overflows, running between my legs as if I've soiled myself. I'm not absolutely sure I haven't. (Like I said: blended.)
We chink glasses, sploshing champagne on to an extension socket (I've more or less accepted I am going to die today). It's OK, but the bubbles don't last. "Bit flat on the finish," agrees Felicity. "Lacking the characteristic acidity of champagne – but I've drunk worse." Catherine is less kind. "It tastes like it's been made in a toilet," she says. Perhaps the delay in serving didn't help: "If I wanted a flat white, I'd have gone to a coffee shop."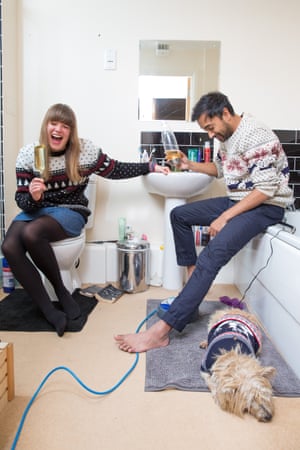 Time for the piece de resistance: three chocolate fountains, hacked to cascade gravy, eggnog and cheese sauce. A trifecta of gouty genius. We'll need to work together to pull it off: Felicity cooking three tricky dishes concurrently; me, er, turning the fountains on. It starts OK – she makes a rich gravy and an unctuous cheese sauce, both delicious. But the consistencies are wrong. The gravy is too thin to be propelled up the fountain's central shaft, while the cheese is too heavy, clogging the mechanism. "Thin this," I say, pointing at them, "Thick this." ("Thick this" isn't really English, but time is running out.)
She stirs in milk and cornflour while knocking up eggnog, roasties and pigs in blankets for dipping. She's like a foodie octopus, her skin flashing different colours to indicate she's stressed. After I accidentally dip a roast potato in eggnog, I add turmeric to the cheese to differentiate it. It turns nuclear orange. "That's nacho cheese!" someone jokes. "It certainly isn't," she says, eyeing the transformation sadly. I experience a rush of compassion and have to sit down while she plates up and turns the fountains on. Somehow, we've done it. The sauces flow.
I go back to the kitchen to congratulate Felicity. She is drinking directly from a plastic tub, head tipped back, party crown at half mast like a fallen halo. It's an awkward moment. "So … what is eggnog, exactly?" I ask, trying to be normal. "It's just a nog," she says. "A noggy nog."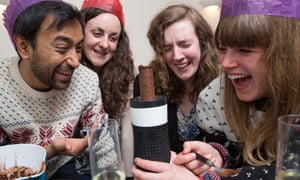 We still have two puddings to prepare, one of which is like reopening the gates of hell. Since I reviewed the Egg Master a few months ago, it has become a sex-toy-shaped albatross around my neck. If you don't know, it is a vertical grill that extrudes abominable egg logs. If there is a devil, he has two of these instead of hands. I'm unsure what Christmas food can be made in it. Felicity has whipped up a chocolate egg mix; I think we'd be safer with garlic and holy water. I pour it in. At first, nothing happens. Then there is a gurgle. Which turns into squeaking. Chegg Log is ready to be born: it rises from the device, stands erect, before flopping over and slithering down the side like a slug, on to the plate. There is silence.
This has taken hours – our guests are starving, drunk and sitting in the dark. In fact, it's beginning to feel a lot like Christmas. Wilf is staring at the wall, an image made more depressing by his adorable little jumper. But Felicity has one last spell in her. "Did someone say trifle?" she says. "It's vegan, and raw." The look on everyone's faces suggests no one said that. But when she brings it out … spiralised persimmon and apple, folded under a chia seed pudding, with banana and cashew custard, topped with goji berries. It's architectural, astonishingly beautiful, and tastes like a dream. Everyone starts eating it directly out of the bowl. It's a perfect pudding, cooked with a kitchen gadget.
Finally the guests are happy. Felicity may be strange, but damn, she can cook. I've contributed nothing; yet have somehow risked disfigurement, castration and death. Who is to say that isn't an achievement of sorts? Moreover, we're all still here, which is frankly a Christmas miracle. A noggy nog to us all – every one!
The perfect co-host: Felicity Cloake
The blind going hand in hand to the Christmas party from hell is how I'd describe my seasonal collaboration with Inspector Gadget. Rhik, as I was to discover when he nearly electrocuted my terrier, owns at least two extension cables, while I have trouble operating a microwave. On the other hand, this is a man who can burn himself making coffee. Who could turn down an invite like that?
The Trevi Trio
In theory, the fountain is brilliant – a thrilling, endless cascade running over and over into your gaping maw – but the chocolate kind has seen one too many hen dos to seem anything but faintly tawdry. No guest could fail to be impressed, however, when they behold the majestic gravy fountain flanked by sophisticated sentinels of liquid cheese and lethal eggnog. This trio says: weep, peasant, for everything that comes after will be a letdown. Or, at least, it did to us. The viscosity required varies from fountain to fountain: a practice run is advisable so you can thicken with cornflour or thin with liquid as required (I speak from bitter experience).
The gravy train
I can't tell you how happy this idea makes me: all the best bits of Christmas dinner, in dippable form. Everyone loves a dip, apart from, I suspect, Rhik's landlord. (Top tip: make sure your table is level before attempting to shoot hot gravy everywhere.) Serve with the sprout pops below, and roast potatoes and pigs in blankets on skewers.
1 tbsp goose fat
1 shallot, peeled and halved
Sprig of thyme
1.2l good chicken stock
2 tbsp cornflour
120ml madeira
Heat the goose fat in a wide saucepan or roasting tin over a medium-high heat. Add the shallot and thyme and cook briefly, then add a ladleful of stock. Turn down the heat and stir in the flour to a smooth paste. Cook until pale brown and nutty-smelling, then gradually whisk in the madeira and the rest of the stock and cook until thick. Season to taste and remove the thyme and shallot before serving.
The lava of cheese
The only thing better than cheese is, of course, waves of molten cheese. I deny responsibility for the alarming colour – Rhik didn't feel the creamy hue of melted stilton looked "cheesy enough", so dyed it to the shade of a well-tanned Wotsit. I cannot stress enough how optional this step is.
The evaporated milk stops it hardening as it cools in the fountain – if you're serving it warm, in a bowl, like a normal person, you can use the fresh stuff. (It also makes an excellent, Homer Simpson-style nacho cheese if you swap out the festive stilton for cheddar or red leicester.)
125g young stilton, grated
150g young gouda, grated
1 tablespoon cornflour
450ml evaporated milk
Toss the grated cheeses with the cornflour and put into a medium pan over a low heat. Add the evaporated milk and allow the cheeses to melt, stirring regularly, until smooth.
Eggcellent nog
With the party trifle a tragically custard-free zone, I got my fix by downing several pints of this dangerously alcoholic version of the American holiday classic from the pan before our guests arrived. If you'd like to do the same, rather than serve it as a dip for amaretti biscuits and fruit, omit the cornflour.
1 nutmeg, smashed
250ml bourbon
6 egg yolks
150g caster sugar
1 tbsp cornflour
900ml double cream
250ml sweet sherry
Combine the nutmeg and bourbon and infuse for a few hours. Beat the yolks in a heatproof bowl until thick and pale, then whisk in the sugar and cornflour. Meanwhile, bring the cream to a gentle simmer in a medium saucepan. Pour the hot cream on to the yolks, whisking all the time, then return to the pan and cook over a low heat, stirring, until thick. Allow to cool, then stir in the booze.
Sprout pops
I've never been so proud of a recipe in my life. Who wants a "cake pop" when you can have a sprout lovingly wrapped in fruity, citrussy sausagemeat? Even Wilf, who disdains all greenery except for dead frogs, couldn't get enough. If you haven't been lumbered with a cake pop maker yet, you can bake these at 180C/350F/gas mark four until brown (note that they burn very quickly when some idiot is distracting you by flooding the flat with gravy).
400g smallish brussel sprouts, trimmed
450g plain sausagemeat
35g dried cranberries, roughly chopped
Zest of 1 orange
½ tsp mixed spice
Flour, to dust
Vegetable oil, to grease
Steam or boil the sprouts until al dente (about four minutes). Drain and cool under cold running water.
Mix the meat, cranberries, zest and spice in a bowl. Roll each sprout with flour then take a small ball of stuffing mixture, flatten and coat the sprout. Grease the cake pop maker and cook for about four minutes, until golden.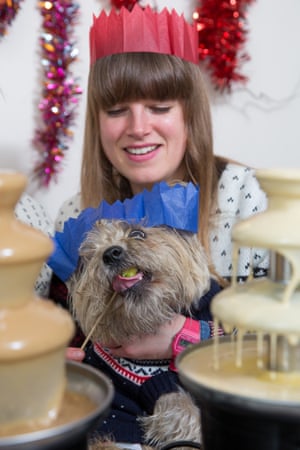 The Egg Master's chocolate log
After a fun guessing game of "food or dog poo", this cocoa-flavoured pancake went down surprisingly well with our guests, especially those who missed it emerging from the Egg Master's murky tunnel. Fry the batter in a pan if your Egg Master's in the wash.
5 large eggs
2 tbsp neutral oil
55g flour
35g cocoa
70g sugar
Pinch of salt
Whisk together the eggs and oil. Blend the flour, cocoa, sugar and salt. Stir into the egg mixture until smooth. Put in the Egg Master. Hide.
Deep-fried, dry-brined turkey drumsticks
My dream of an all-American deep-fried turkey is scotched by Rhik, who isn't keen on a cauldron of boiling fat on his balcony after learning that cooking fires soar 230% every Thanksgiving. I scale back my ambitions to a mere drumsticks, which we still have trouble wedging into his miniature fryer as the hot fat froths dangerously close to our Christmas knitwear.
2 star anise
1 cinnamon stick
5 cloves
70g coarse salt
2 tbsp light soft brown sugar
Leaves from 2 sprigs of thyme
2 turkey drumsticks
Vegetable oil, to cook
Toast the spices in a small dry frying pan until fragrant, then allow to cool. Grind until smooth, then add to the salt, sugar and thyme. Rub all over the turkey legs and refrigerate overnight. Rinse and dry very thoroughly with kitchen paper (this bit is important!). Heat the vegetable oil to 170C/325F and fry the turkey, in batches, for about 15-20 minutes, until cooked through. Serve with bread sauce, to dip.
SodaStream 'shampagne'
A cool-climate chardonnay is your best bet for this – Chile or northern Italy are likely to offer the best value, although anything described as crisp, refreshing or appley rather than full-bodied, oaky or tropical will probably work. Make sure it's very cold before adding the fizz. And remember to hide the bottles.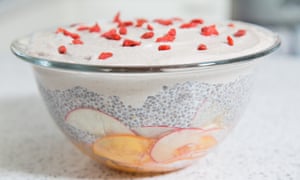 On-trend trifle
The obvious coda to the cheese fountain and deep-fried drumsticks, this fashionably "clean" dessert manages to be raw, vegan, spiralised – and surprisingly edible. The guests fall upon it like ravenous beasts who have drunk too much fake champagne, but Wilf, who steers clear of alcohol, won't even lick the bowl. Make of that what you will.
170g chia seeds
1l unsweetened almond milk
3 tbsp raw agave syrup or raw honey
Pinch of ground cinnamon
200g cashews
120ml apple juice
4 ripe bananas
Seeds of 1 vanilla pod
2 apples
Juice of lemon
2 firm persimmons
Sun-dried goji berries, to top
Put the chia seeds and almond milk in a large bowl, stir in the agave syrup and cinnamon, and leave to plump until you have a firm, almost jellied consistency (about four hours). Sweeten to taste.
Soak the cashews in the apple juice for two hours, then add the banana and vanilla seeds. Whiz together to puree.
Spiralise the apples, toss with lemon juice and arrange in the bottom of a glass bowl. Spiralise the persimmon and carefully put on top. Spoon over the chia pudding, then the banana custard. Decorate with berries.
The verdict
Gravy train with deconstructed Christmas dinner for dipping: Outstanding visual appeal, excellent taste, the 'scotch egg' style sprouts earning particular praise for their warming citrussy kick of Christmas. 4.5/5
Deep fried turkey legs with bread sauce: A little unwieldy, less of a canape and more Asterix snack, but a genius solution to dry turkey. 4/5
Shampagne: One naysayer aside, general consensus was that the psychological impact of being offered a flute of something cold and bubbly that didn't "taste bad", coupled with the £3.50 price tag made this a success of sorts 3/5
Spiralised trifle: The beige hue and vegan label lowered expectations for the trifle. Which made its success all the more pleasing – a taste and textural sensation 5/5
Eggmater's revenge: The Chegg Log was considered "edible" – a giant leap for the Eggmaster. 1/5
["source-theguardian"]