Takeda Pharmaceutical Co. will expand its footprint in the U.S. oncology market with the $4.66 billion purchase of Ariad Pharmaceuticals Inc., adding one potential blockbuster in lung cancer and another already on-the-market therapy.
Takeda will pay $24 a share for Ariad, the companies said in a statement Monday, 75 percent more than its Friday close of $13.74. The deal will give it Ariad's drug brigatinib, an experimental therapy being tested in lung cancer, and Iclusig, which is estimated to have brought in $170.5 million ins 2016.
Shares of Ariad jumped 73 percent to $23.79 at 9:31 a.m. in New York, the biggest intraday move since May 2003. The announcement came at the start of the J.P. Morgan Healthcare Conference in San Francisco, the year's biggest gathering of health-care investors and companies. Ariad canceled plans to speak at the conference.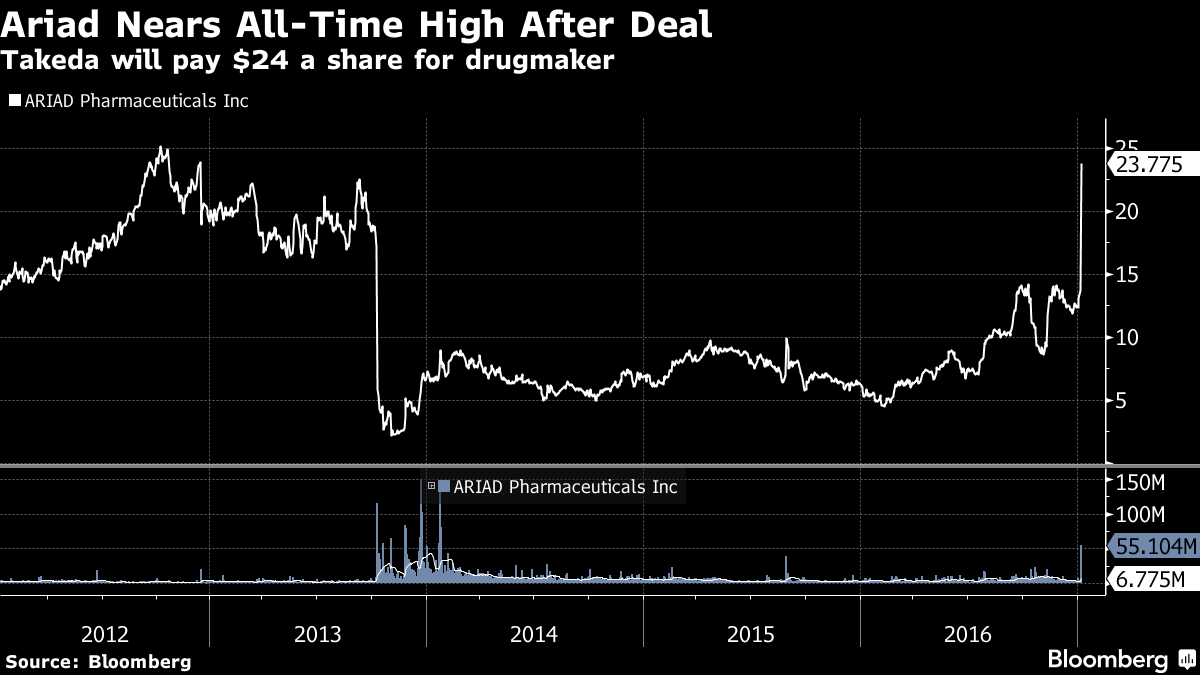 Takeda, based in Osaka, has been on a hunt for new drugs to replenish a flagging pipeline after patents have expired on some of its biggest products. As international drugmakers have spent billions on acquisitions in the last two years, Japanese drugmakers stayed largely on the sidelines. But they are now facing increased pressures at home, as the government attempts to lower the prices of many branded medicines and put a greater focus on generics to manage its health-care spending.
Ariad has submitted brigatinib to regulators at the U.S. Food and Drug Administration for review, with an expected decision by April 29. Meant to treat a form of non-small cell cancer, the companies said the therapy could have annual peak sales of more than $1 billion.
Expensive Drug
The Cambridge, Massachusetts-based company's drug Iclusig treats a rare advanced form of the blood cancer leukemia, and has been the subject of controversy for its pricing of the pill. In October, Senator Bernie Sanders decried the company's "greed" in setting the list price of the drug at almost $200,000 a year.
Last January, Ariad elevated a new chief executive officer, Paris Panayiotopoulos, amid pressure from activist investor Alex Denner. The drugmaker then slashed 19 percent of the company's workforce and undertook what it called a "strategic review."
Takeda said it plans to fund the deal with as much as $4 billion in new debt, and the rest in cash. The transaction is expected to close before the end of February, the companies said.
["source-smallbiztrends"]