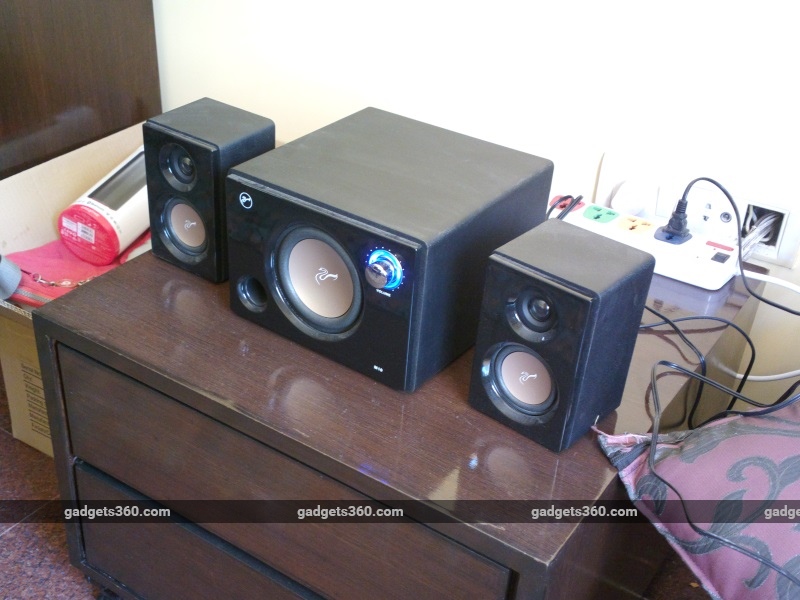 A small but growing company, Swans enjoys a fair amount of recognition and success in audio enthusiast circles. The company is based in California, but has its production base in China and develops a wide range of speakers and home audio products. One of its most popular products is the Swans M10 2.1 speaker system.
Made up of two satellite speakers and a subwoofer, the Rs. 7,499 M10 is meant to be used anywhere at home but is ideal on a desktop, handling your computer's audio. This is a popular model the world over for its price-to-performance ratio, and we're keen to try it out. Read all there is to know about the Swans M10 system in our review.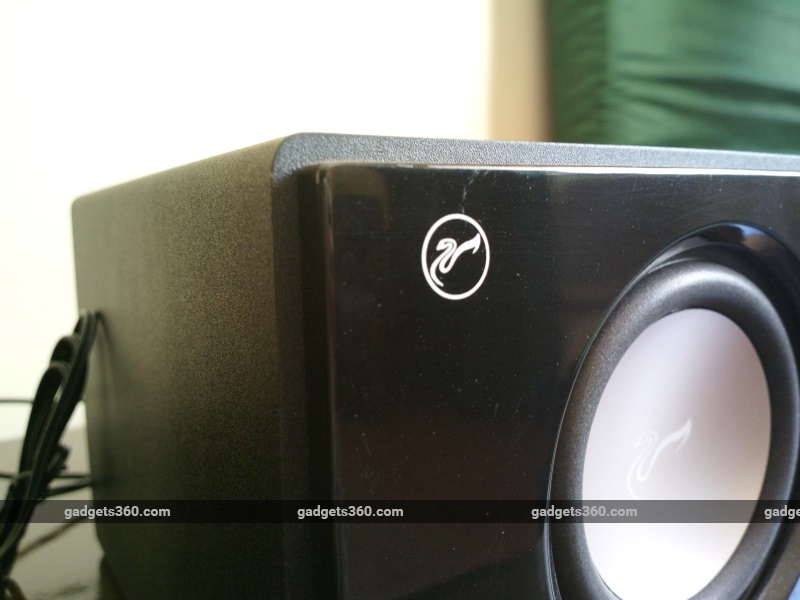 Design and specifications
The Swans M10 package consists of two satellite speakers with 20mm dome tweeters and 3-inch woofers, with a frequency response range of 140-20,000Hz. The combined amplifier and subwoofer has a 5-inch woofer unit with a frequency response range of 42-5,000Hz. The front of the unit has only a volume knob, while the rear has a bass control, RCA sockets for the satellite speakers and a pair of stereo RCA sockets for input. The amplifier comfortably powers all three components.
The sales package includes an RCA-to-3.5mm stereo cable but nothing else. The satellite speakers have non-detachable wires, and plug into the amplifier using RCA plugs. The power cable is also non-detachable at the base unit, and our review sample came with a North American NEMA-type plug.
The package looks simple and sophisticated, thanks to uniform design across the speakers and the amplifier/ subwoofer unit. The fronts have a smooth, glossy layer on top of a rough, matte material that extends over the rest of the bodies. There are no speaker grilles, so all driver units are exposed and visible. The subwoofer has a front-firing woofer unit and bass port, which means that it need not be placed on the floor and can even be kept on a table-top.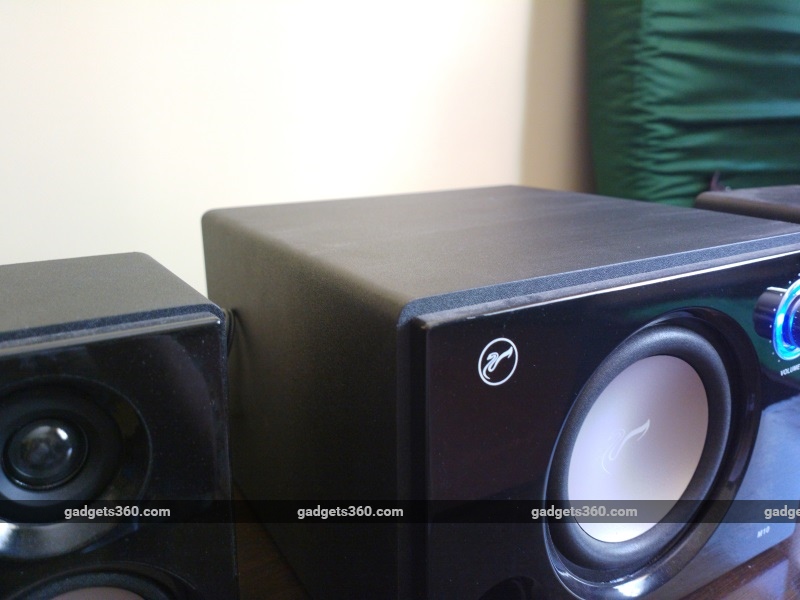 Surprisingly, there is no remote, which means that you will have to reach for the base unit every time. The volume control on the front also has a blue indicator light, which tell you when the unit is switched on. Although useful, the light is a bit too bright and uneven, so it's likely to get distracting and bothersome. The bass control is on the rear, which we would rather have had on the front, since this is something we often found ourselves adjusting.
Connectivity is limited to just the sole auxiliary RCA input, with no USB or Bluetooth. This means that ordinary 3.5mm-to-3.5mm cables cannot be used with the system. The lack of Bluetooth and USB connectivity means that you'll have to leave your source device plugged in and walk over to it every time you want to use it or change the track (in the case of smartphones or portable media players). If you're using the system only with a desktop computer, this may not be too bothersome, but if you're using it as a standalone home audio system, the lack of a remote and wireless connectivity will be a limitation.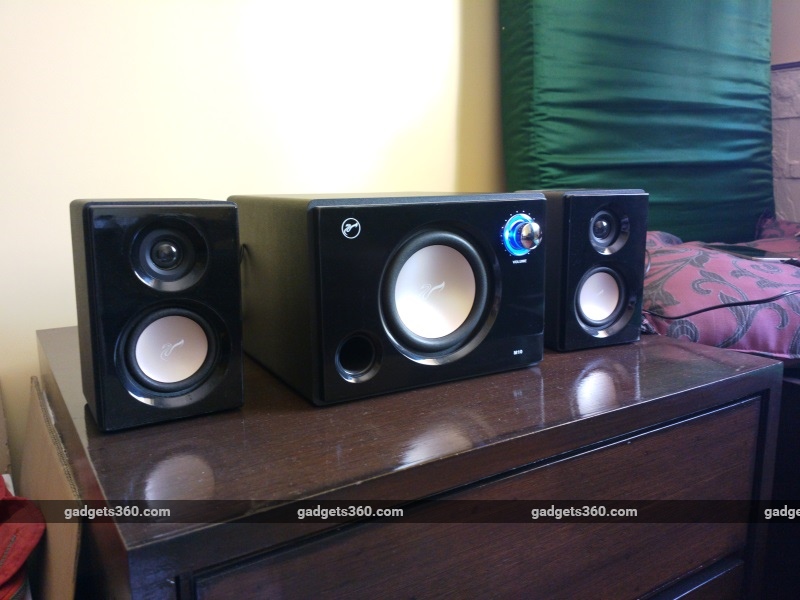 Performance
We had the Swans M10 system plugged in at home and placed on a low table. Audio was fed to it using an Android smartphone and our reference Fiio X1 high-resolution audio player. Focus tracks for the review were Bonobo's Kiara, Maroon 5's Sugar, and The Verve's Love Is Noise.
Starting with the beautifully mellow Kiara, we were treated to a loud, clean sound with crisp mids and highs. Sound quality was generally good, with enough clarity and sharpness to keep us impressed. The bass has a tendency to overpower the rest of the range if kept too high so it's good that it's independently adjustable. At a reasonable setting, the responses across all frequency ranges work brilliantly together to offer a wholesome sonic signature that gives each range its due. Lows from the satellite speakers are poor, because the amplifier is tuned to send the lows to the subwoofer.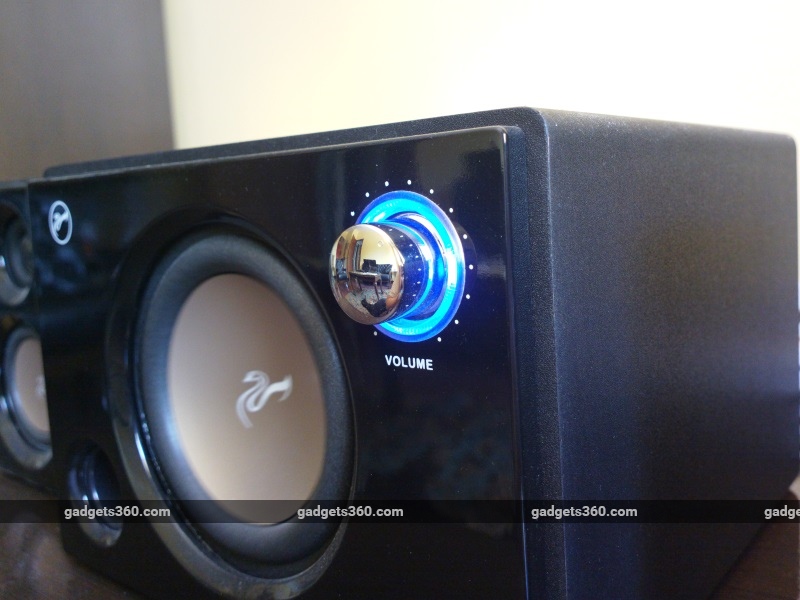 Speaking of which, the subwoofer can be either excellent or overbearing, depending on how you look at it. At a low volume you're still able to hear the lows for what they are, but turn it up even a little too high and it turns into pure thump and attack, which tends to disguise the actual low frequencies. This can be fun in its own way, when the system is generating enough bass to shake everything in the room and the mood calls for it. Since it's adjustable, you have the option to increase the attack or tone it down at will. With the bass level turned all the way up, responses are tight, and watching the driver vibrate is quite enjoyable.
Moving on to Sugar, with the bass level reduced, we found that the Swans M10 offers a sonic signature that is comfortable, easy to listen to, and incredibly enjoyable. Imaging and soundstaging are not as good as we've heard on other speakers, lacking some three-dimensionality and stage-like sonics. However, it's certainly acceptable for the price.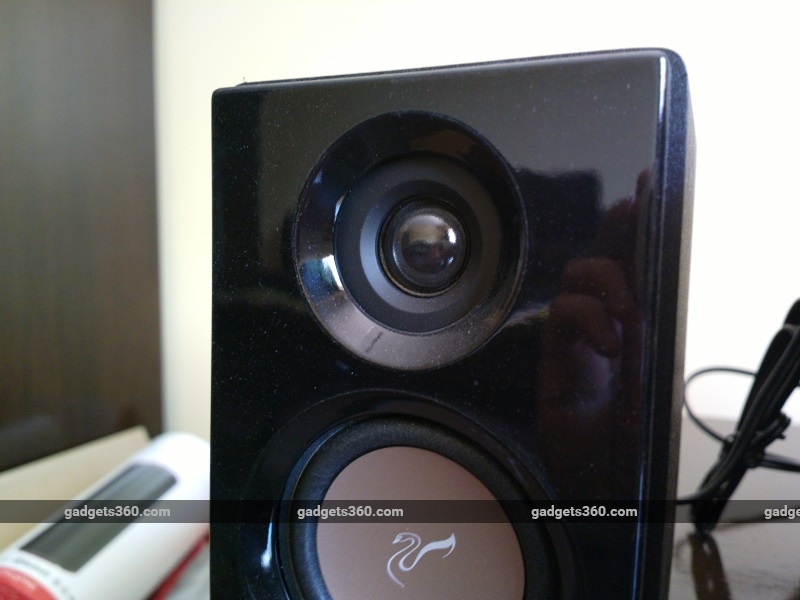 Finally with Love Is Noise, we heard just how sharp the highs and mids can be when the recording is good enough. The M10 stops short of being too sharp, which is easy on the ears and excellent in terms of comfort and quality. In general, the speakers offer a fairly neutral sound signature through the mids and highs, and are also capable of seriously loud, room-filling volumes. Despite the small size and low price, the M10 set is capable of producing an entertaining sound, and can easily be your primary home audio system without being limited to desktop use.
We also tried the system connected to a TV, and watched a few shows on it. While not quite as good as a decent soundbar in terms of quality, the Swans M10 definitely offered better sound than the TV's own speakers, and boosted the volume significantly. The M10 works well in all home uses, and makes sense to use if you don't have a dedicated soundbar or home theatre system.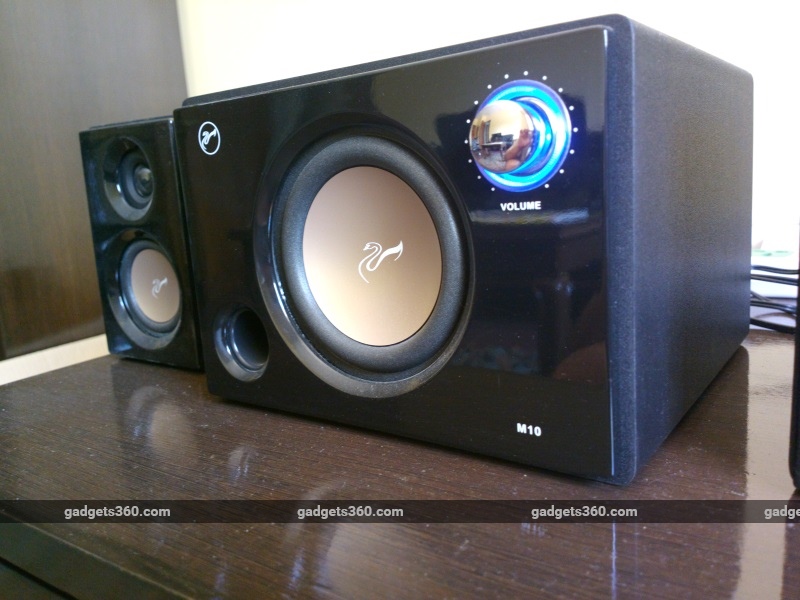 Verdict
The Swans M10 is designed to be a desktop speaker system, and has serious shortcomings in terms of connectivity as a result. Other than one single stereo cable, there is no way to connect a source device to the system, and the lack of Bluetooth, USB and a remote control are all shortcomings in our opinion.
However, the system offers sonic quality that far surpasses the norm in its price category, and if you're okay with its flaws, this system is perfectly capable of providing a loud, clear, room-filling sound. The key purpose of reproducing music is achieved with remarkable finesse and capability. The Swans M10 is a great option if you're looking for a decent 2.1 speaker system under Rs. 10,000, whether you want to use it on a desktop or otherwise. The Swans M10 is available now at ProAudioHome.
Price (MRP): Rs. 7,499
Pros
Simple, sophisticated looks
Clean, crisp mids and highs
Bass can be adjusted to your convenience
Excellent all-round sound for the price
Cons
Satellite speakers deliver poor lows
No Bluetooth or USB connectivity
No remote
Ratings (Out of 5)
Design: 4
Performance: 4.5
Value for money: 4
Overall: 4
["Source-Gadgets"]