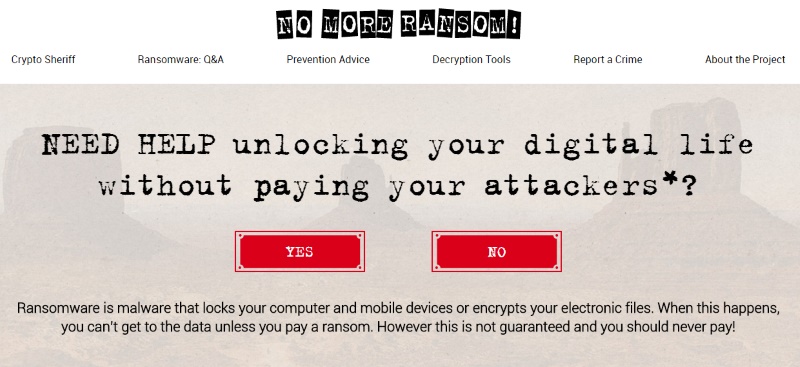 Imagine having all the files on your computer – your documents, your photos, your videos – locked and held hostage by hackers who demand a payout just because you opened the wrong email attachment or clicked the wrong link. That's the nightmare scenario facing victims of ransomware, a type of malware that quietly encrypts files on a computer so that only a digital key held by the attacker can release them.
But a new initiative called No More Ransomware may offer a glimmer of hope for victims. The project, a collaboration among Europol, the Dutch National Police and cyber-security firms Intel Security andKaspersky Lab, launched a website this week featuring tools that can help some victims decrypt their data without paying off the criminals.
The site offers four decryption tools, each designed to help unlock data from different strains ofransomware. Once a user has removed the original source of the malware, which can be done using common anti-virus programs, the tools will try to unlock the files using digital keys known to be used in some versions of ransomware.
The tools won't be able to help all ransomware victims because researchers don't know all the keys that attackers have used, but it's still a major step forward according to Raj Samani, Intel Security's chief technology officer for Europe, the Middle East and Africa.
"In the past, your only choices were losing your data or paying the criminals," he said. "We're giving people a third option."
Ransomware has been on the rise in recent years. The number of users attacked by the malware rose from 131,000 in 2014 to 718,000 in 2015, according to Kaspersky Lab.
The digital scheme has hit everyone from individuals to police departments and even hospitals. In fact, hospitals seem to be particularly targeted by criminals because they depend on keeping computers up and running to care for patients. Health care was the industry most targeted by ransomware attacks in the second quarter of 2016, according to a report released Tuesday by cyber-security firm Solutionary, accounting for 88 percent of the attacks the firm detected.
One such attack hit some Washington residents in March when a likely ransomware infection forced local health-care giant, MedStar, to turn patients away and resort to using paper charts.
To guard against ransomware's consequences, No More Ransomware's top tip is to regularly back up your data, either to a cloud service or a local external hard drive. If you take the external hard drive route you'll want to keep the drive disconnected from your computer when it's not backing up files so that it doesn't get infected with the rest of your system if ransomware strikes, according to the site. Using a trusted antivirus program and keeping other software on your computer can also help fend off attackers.
The initiative also warns people to be constantly skeptical, even of files that appear to come from friends or colleagues, because they could be part of an elaborate phishing scheme.
After all, "the best offense is a good defense," Samani said.
© 2016 The Washington Post
["Source-Gadgets"]