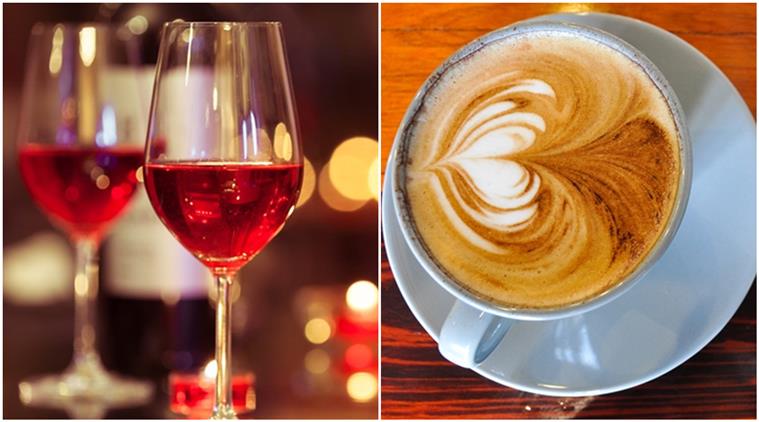 After getting some sleep at the end of a hard day's work, waking up in the morning is one of the most difficult things to do. Mornings are dull and monotonous for most people, and they just can't seem to leave the sheets. To get a burst of energy, most people use coffee as the source of zest. Are you one of those who can't do without their cup of coffee in the morning? Well, here's some good news for you.
Now, coffee is available with a flavour of wine in it! Can't believe it? Well, it's the truth. Molinari Private Reserve has been experimenting with bewitching ingredients from the scenic Napa Valley where it is situated. Their latest trial run with coffee and red wine has minted magic.
By successfully infusing the two, their flavoured coffee smells just like red wine, and makes the drink extra enchanting. Moreover, it also tastes like a glass of vino. Adding milk to the coffee beans brings out the essence of wine which will stay on your lips. The French Press also boosts the blueberry essence.
 The reserve describes it as "this full-bodied coffee relaxes in a beautiful wine, absorbing the wine's nose and history, then the coffee is carefully dried and hand-roasted in small batches."
Also specifying how to make the drink, they wrote the method on their website. Here it is:
"To release the best flavor this coffee has to offer we suggest using filtered or bottled water with a pot press (French press), although a drip brew works, as well. For a small pot press, use .6 oz or for a large press 1.5 oz, of a medium grind. Put grounds in the bottom; pour in hot water half way and stir, this will make a small head of foam. Fill to ½ inch then put top on. Wait 2.5 minutes and slowly press down, if hard wait a few more minutes."
"For a regular machine use slightly less than normal. DO NOT let it sit on a burner or use a warming plate – this will keep cooking the coffee. MPR can be enjoyed many ways, it makes a great espresso. Adding milk will change the format and bringing the wine taste out first, then the balance of coffee second. Any leftovers can be put in your refrigerator and served cold."
Even though it has an aroma of wine, the beverage is non-alcoholic. So, if you're hoping to get the dazed feeling, you'll be disappointed. So, what are you waiting for? Place your order on the Molinari website.
["source-indianexpress"]