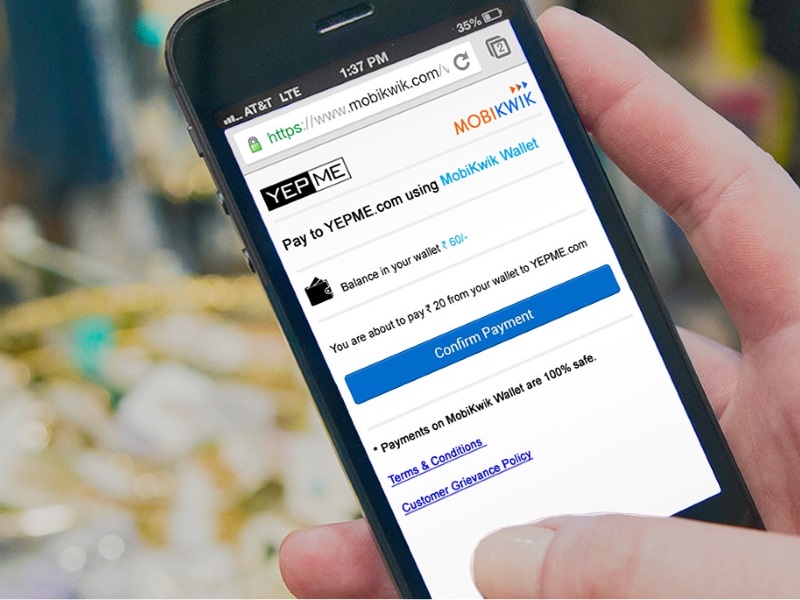 MobiKwik is a digital wallet that focuses on recharges and bill payments. In practice, this makes it pretty similar to the Paytm app, which most people might already be familiar with. The difference is that it doesn't include an e-commerce marketplace, and focuses only on these transactions, and there's a lot of importance given to the speed with which you can carry out your transactions, even on low-speed data connections. Having used the app for over a month now, it has been a very convenient way to pay various bills, and its use is not just limited to bills you pay online either, with offline partners like WH Smith and Big Bazaar.
You can also send the money in your Mobikwik wallet to your bank account immediately using the Immediate Payment Service (IMPS) – all you need to do is enter the account name, account number, and IFSC code. This can be used to send money to other people as well, if you want to. The minimum transfer is Rs. 500, and Mobikwik also charges a processing fee of 4 percent for bank transfers; or you could send the money to the recipient's MobiKwik wallet, and all you need is the other user's phone number or email ID. The only thing missing now is that you can't send money to other wallets – so someone who is using a Paytm wallet is not connected to you, for example. But that's the case for all wallets out there, so it would be unfair to single Mobikwik out.
The offline payments are a big draw of using MobiKwik though. For instance, Cafe Coffee Day accepts payments via MobiKwik, and the process is fairly simple. Once you're ready to pay your bill, just tell the staff that you will be paying using the MobiKwik App, and give them your phone number. Whenever we tried this, an OTP was sent to the phone and once you give that to the cashier, the payment is done without any delay. The whole process was not any longer or more complicated than using a debit card, and entering a PIN.
What's more, using the wallet for payments meant instant discounts – there's a 15 percent cashback at Cafe Coffee Day (with a maximum of Rs. 200) – that gets credit to your wallet account. MobiKwik has tie-ups with stores like Big Bazaar, WH Smith, and also with restaurants including Sagar Ratna and Bercos in Delhi, to name a few. And of course, you can also use the money you got as a cashback, in any other way, so you could recharge your phone, or pay your electricity bill (and earn more cashbacks).
The one thing that is missing in the app is a section that shows you nearby offline stores, or tells you if you're near a store that will accept MobiKwik payments. It is not widespread enough to assume that anyplace you visit will support MobiKwik, so telling users to find out where it can be used would have been helpful.
On the other hand, MobiKwik also has tie-ups with other apps and online platforms, so you can purchase groceries from Grofers, or pay your Uber bill using your MobiKwik wallet; some e-commerce sites also allow you to pay using MobiKwik. And you can also fill up the wallet without using a debit card, or netbanking – just cash is enough to get your money online. To do this, select the "Add Cash" option in the app, and tap on "Cash Pick Up". This option is available in Delhi, Mumbai, Gurgaon, and Jaipur right now. When you press this button, a MobiKwik agent comes to your address to collect cash to deposit in your wallet, with a minimum amount of just Rs. 100. The service is available between 10AM and 6PM.
You can also deposit cash at ICICI Bank branches, with just a deposit slip – instead of a savings account number, you just enter you MobiKwik wallet number. This is useful, and the app also shows you the location of nearby ICICI branches, which is handy. If you have been using a Payback card, you can link that to your MobiKwik wallet as well, and 4 Payback points give you one rupee on MobiKwik, which you can then spend anywhere.
In terms of the app itself, MobiKwik doesn't really stand out from the competition, but these partnerships make it something that is definitely useful, when compared to other mobile wallets. You can download MobiKwik free on Android, iOS, and Windows Phone.
Download the Gadgets 360 app for Android and iOS to stay up to date with the latest tech news, product reviews, and exclusive deals on the popular mobiles.