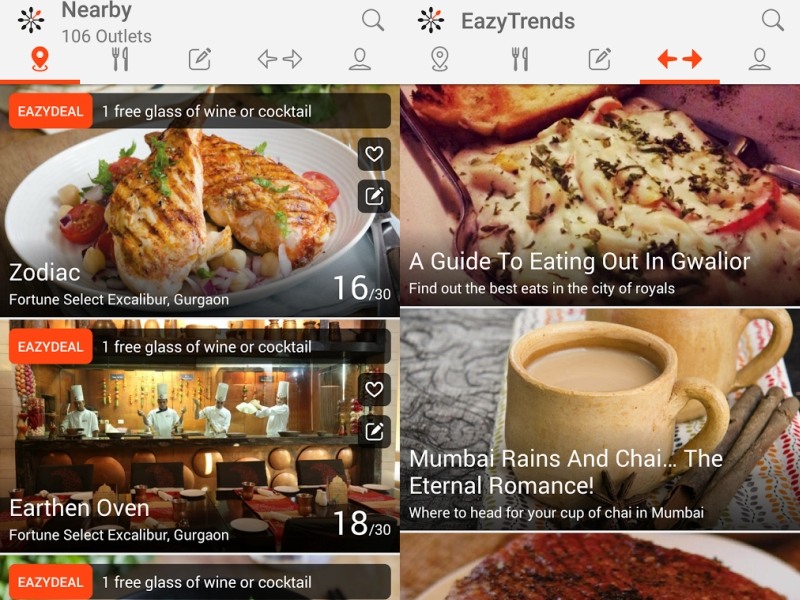 The EazyDiner app is a restaurant discovery app by none other than the famous editor and food writer, Vir Sanghvi. The app promises huge deals with every table booking you make through it, and enables you to make reservations without any charges. There are over 800 restaurants listed in the app, across Delhi NCR and Mumbai, and the service will be extended to Bengaluru and Pune by the end of this year.
When you use EazyDiner, you can read reviews, glance through menus and find out the latest trends in the world of food.
On launching the app, you will see five main tabs: Explore, Nearby, Book, Trend, and Me. Explore helps you find deals – you can see which restaurants are offering 50 percent off, which ones are offering a free dessert or glass of wine, and which ones have other offers such as buy one, get one deals. The Nearby section lists restaurants and bars around your location. While deals are an interesting addition, this part of the functionality isn't very different from existing apps like Zomato. What makes EazyDiner particularly useful though, is the Book section.
Here, you can search for your favourite restaurants (or you could find them via Explore or Nearby) and then just book a table by selecting the date and time for the reservation. It's a great way to book a table in seconds, and it's much more convenient than having to call up, and be kept on hold while someone at the other end of the line may or may not be able to understand what you want. But in case the booking is confusing you, then you can also press the call button to speak to the EazyDiner concierge, who can help you with any bookings.
The Trend section meanwhile is a very interesting part of the app; it's not directly useful, but if does provide interesting stories to read for foodies, by foodies. The article 'Cult of Bottle Water: It's just water tight', explaining how you are probably paying a premium for what's just 'regular' water, for instance, was a great read that you won't find anywhere else. The Me section meanwhile shows you all your table bookings.
Visiting the various restaurant pages also shows you the different deals, insider tips on what to order, and also, Vir's Verdict and Phantom Speaks, reviews by EazyDiner's well known and anonymous critic, respectively. You can also see restaurant menus, user reviews, and photo galleries, much like the Zomato app, but the additional features such as the insider tips make EazyDiner an appealing choice. What's missing though is Uber integration; look up a restaurant with Zomato and you can book a cab right away to take you there.
Every booking you make with EazyDiner comes with one of the deals from the Explore section, ranging from 50 percent off on the whole meal, to a free dessert.
As such, EazyDiner appears to be a good alternative to Zomato – of course, its reach is very limited in comparison, but if you're looking for restaurant information in Delhi or Mumbai, then there are more than enough listings to keep you occupied, and the expert's reviews, insider tips, and of course, deals, make it much more appealing.
You can download EazyDiner on both Android and iOS, for free.
Download the Gadgets 360 app for Android and iOS to stay up to date with the latest tech news, product reviews, and exclusive deals on the popular mobiles.
["source-ndtv"]