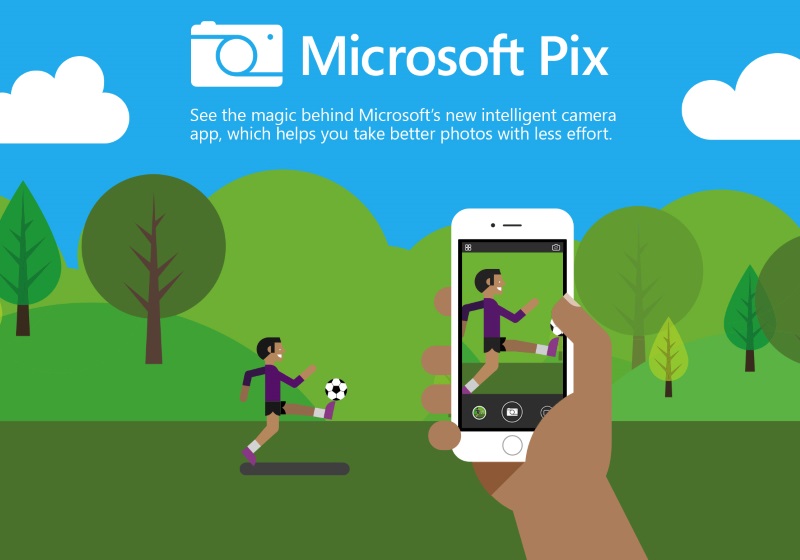 HIGHLIGHTS
Pix also creates short looping videos called Live Images
The app enhances the quality by using artificial intelligence
The app has no settings to un-complicate the clicking process
Ever wished for a camera app that un-complicates everything and does its primary function effectively? Microsoft's camera app 'Pix' on iOS aims to do just this for you. The app has no settings. We are not exaggerating here; the app literally has no manually adjustable settings and uses artificial intelligence to give you best possible pictures with a single tap.
This might sound like a nightmare for the photo-enthusiasts who like to adjust every possible camera setting to their liking, but this app is meant specifically for those who want to just click the pictures without any complications associated with the process.
Interestingly, the app captures frames before you even tap on the shutter and always clicks a burst of photos and chooses the best one from among them by analysing the traits like quality, sharpness, as well as facial traits like smiles and whether the people in the frame had their eyes open.
Microsoft's Pix – currently available only in the US -prioritises focus on people present in images after facial recognition and adjusts various aspects like brightness, contrast, white-balance etc. on its own. The app uses de-noising on the images by collecting data from other burst shots and enhances your image in real-time.
The app also features a 'compare' option, so you can see the differences made by the app compared to a 'normal' click.
The app detects any "interesting motion" in your shot and then stitches together a burst of shots into a short looping video called Live Image, the company says on its description page. The feature is available for iPhone and iPad models that are iPhone 5s and later, unlike Apple's Live Photo feature that is available for recent models only.
Share a screenshot and win Samsung smartphones worth Rs. 90,000 by participating in the #BrowseFaster contest.
["Source-Gadgets"]