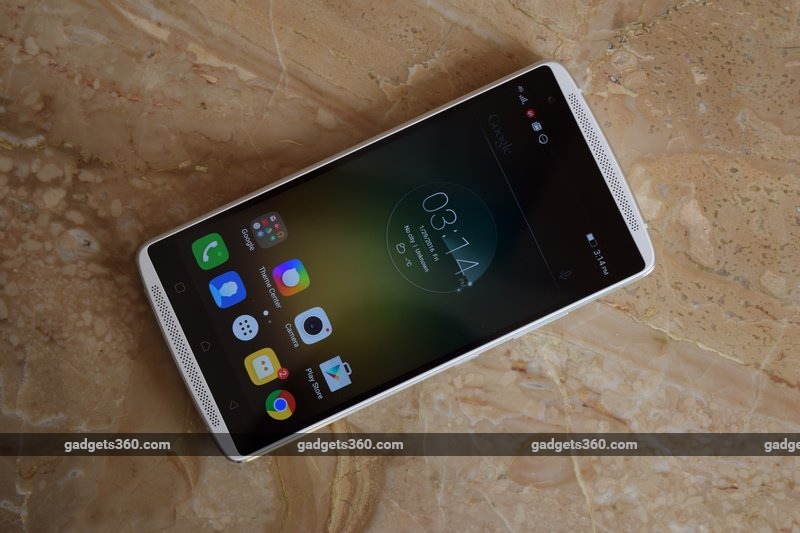 Lenovo has been on a bit of a spree, launching a number of new smartphones in quick succession. The company is good at creating models that cater to specific needs, such as the Vibe P1 (Review | Pictures) with its oversized battery, the Vibe Shot (Review | Pictures) for camera lovers, the Vibe S1 (Review |Pictures) for those who care most about looks, and most recently, the Vibe K4 Note for the budget segment. We now have with us the brand new Vibe X3, which takes its place at the top of the heap as Lenovo's latest flagship.
The Lenovo Vibe X3 costs just Rs. 19,999 but packs a number of features and attributes that might make it a competitor to phones that cost way more. The spec sheet alone would give us quite a bit to dig our teeth into, but Lenovo has also tossed in a few things that it says improve the user experience in less tangible ways. We'll have to dig deep to find out if that's just a marketing line or if the Vibe X3 really does blow all its competition away.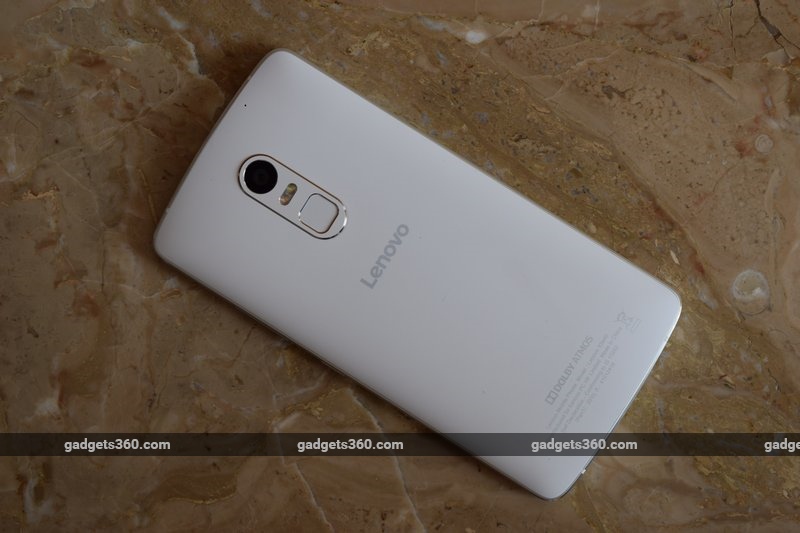 Look and feel
The Lenovo Vibe X3 looks nothing like the multi-coloured Vibe X2 (Review | Pictures) which launched in late 2014. In fact, it has a very strong resemblance to the Vibe K4 Note, which shouldn't be surprising considering the latter is sold in some territories as the Vibe X3 Lite. The phone comes in a slick oblong box, and you'll find a neat clear plastic case and adhesive screen protector along with the usual charger, USB cable, and headset.
At first glance, the screen appears to be enormous, with only narrow white plastic strips for the twin stereo speakers above and below it. However, what you see is actually the black Gorilla Glass 3 extending beyond the screen to encompass the front camera, sensors and status LED on top, and capacitive navigation buttons below.
The power and volume buttons are on the right, though a bit too low for our liking. There's a Hybrid SIM tray on the left, which means you get one slot for the first Nano-SIM and another slot for either a second Nano-SIM or a microSD card. This arrangement forces you to choose between a second line and additional storage, which we are never in favour of.
There's a 3.5mm audio socket on top, with a small IR emitter to keep it company. You can use this in conjunction with an included app to control a variety of devices. There's also a standard Micro-USB port on the bottom which interestingly allows you not only to charge and sync the phone as usual, but also to use the Vibe X3 as a power bank to charge other devices.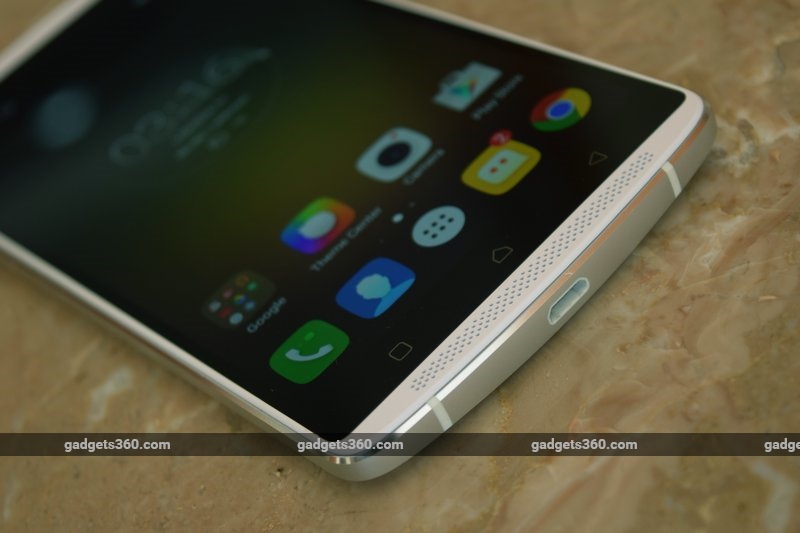 Around the back, you'll see the primary 21-megapixel camera and fingerprint sensor right below it. This is also where the phone's NFC radio is located, and Lenovo says that wireless payments will be supported when such services launch in India. You can also see a pretty big Dolby Atmos logo on the bottom.
The battery is sealed inside the phone's aluminium unibody. Lenovo says the matte white finish is resistant to smudges and fingerprints, but we found a few scuffs within minutes of taking the plastic cover off. We also noticed a few scratches on the silver chamfered edges after a day or two of careful usage.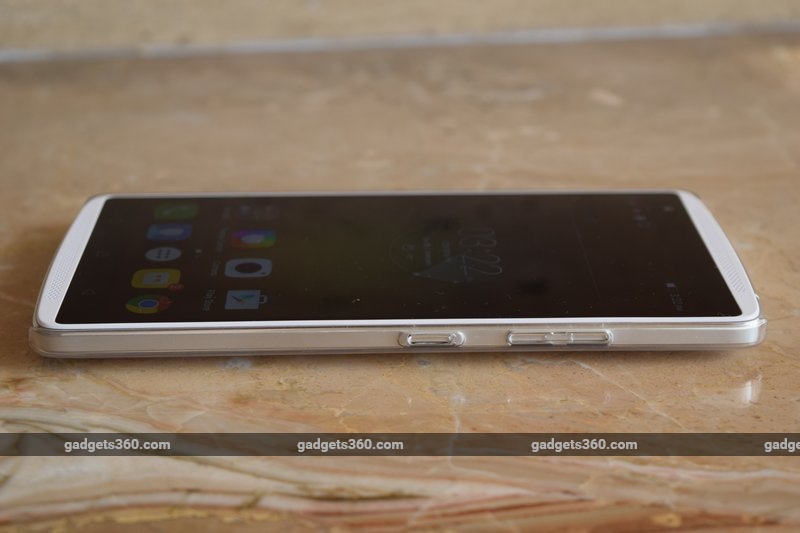 The Vibe X3 is 9.3mm thick in the centre but this is masked quite effectively by the curvature of the back. It fits nicely in a palm, but using it one-handed is literally a stretch. The 175g weight is not as easy to compensate for, and you'll definitely feel it when using this phone for any length of time.
It isn't easy to reach the capacitive buttons on the bottom without feeling like the Vibe X3 will tip over. Amazingly for a phone that isn't scraping the bottom of the budget barrel, the buttons are not backlit. It would have made a lot more sense for Lenovo to have gone with on-screen buttons on this phone. The ergonomics are just not quite as good as we expect of a phone that claims to be its manufacturer's flagship.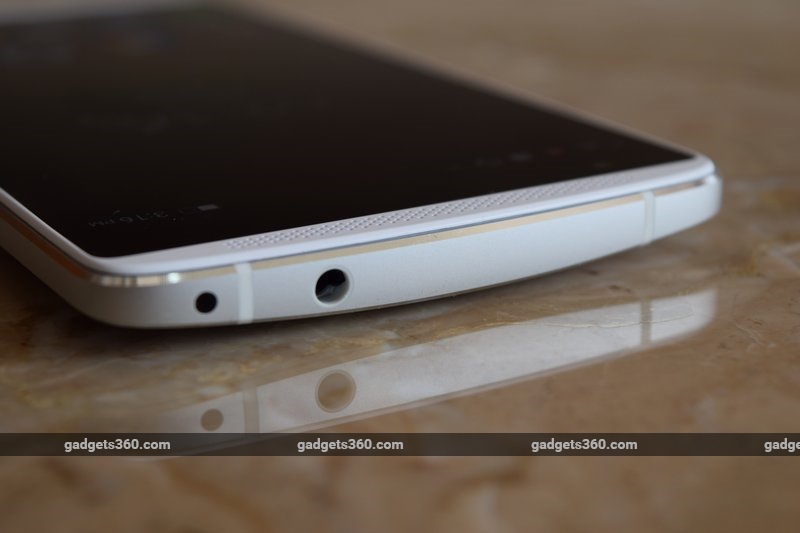 Specifications
Lenovo has struck a balance between cost and performance, and so the Vibe X3 has at its heart a Qualcomm Snapdragon 808 processor, which is one step below the current top-of-the-line Snapdragon 810, offering six CPU cores and integrated Adreno 418 graphics. There's also 3GB of RAM which should keep things chugging along smoothly. The 32GB of storage can be bumped up by 128GB if you're willing to forego a second SIM. Surprisingly, only 24.37GB was reported to be free on our review unit when we turned it on for the first time.
The screen measures 5.5 inches diagonally and has a resolution of 1080×1920. Again, this is one step below what other companies are offering on their flagships, but considering the price, we feel that this is probably the right balance of features for most people. Lenovo is quick to point out that the screen can reproduce 100 percent NTSC colour gamut, and that colours are consciously not oversaturated.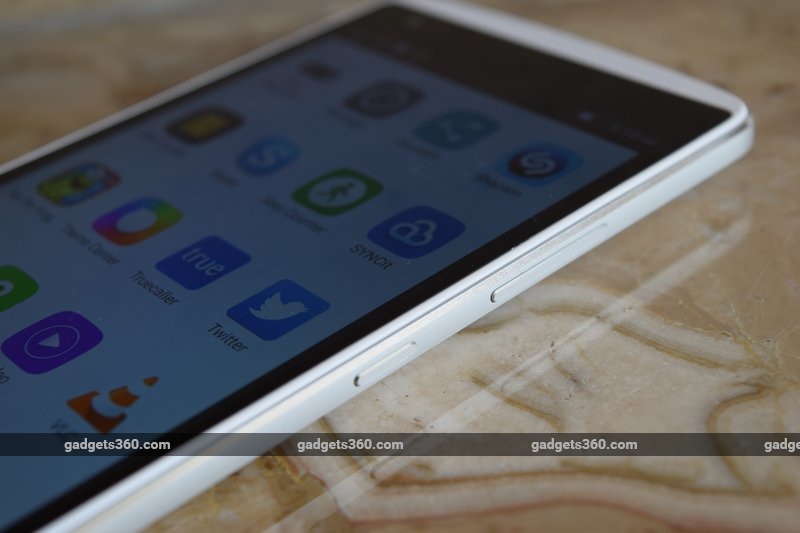 You get Cat 6 4G LTE on Indian bands with support for carrier aggregation, if and when that is supported by service providers here. There's also Wi-Fi 802.11ac, Bluetooth, GPS, and NFC. USB-OTG functionality lets you store more files on a Micro-USB pen drive or a standard one using a dongle. The battery has a capacity of 3500mAh which should be more than enough to get through a full day of heavy use.
One of the most interesting facets of the Vibe X3 is its claimed high-end audio credentials. There's a Wolfson 8281 processor with a three-mic array to handle phone conversations, and an ESS Sabre 9018C2M DAC with three TI-OPA1612 OP amps which kicks in when you're playing music or videos. Lenovo also says the 3.5mm audio output is "studio grade" and "lossless".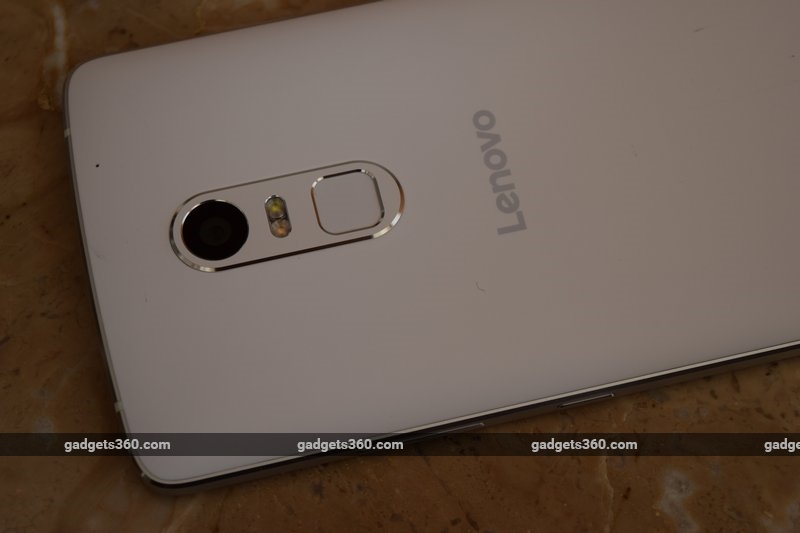 Lenovo is also promoting its TheaterMax headset, which works with this phone and its cousin, the Vibe K4 Note. It sells for Rs. 1,299 extra which is a lot less than most VR headsets will cost. What it does is give you a cinematic experience when playing movies – you don't have to have specially prepared content. While interesting, it's not something you can wear on your daily bus or train ride, so we're not sure how much it will catch on. Lenovo did not send us a headset along with the Vibe X3, so we can't say anything about the experience yet.
Software
Lenovo has cleaned up its Vibe UI, which we're very glad to see. The default UI is a lot more like stock Android, including its dedicated app drawer. You can still switch back to the single-layer launcher if you like, but we don't think anyone will. There are of course customisations, most noticeably the notifications shade which has lots of additional quick-access toggles and a unique log feature that shows notifications you've dismissed in the past.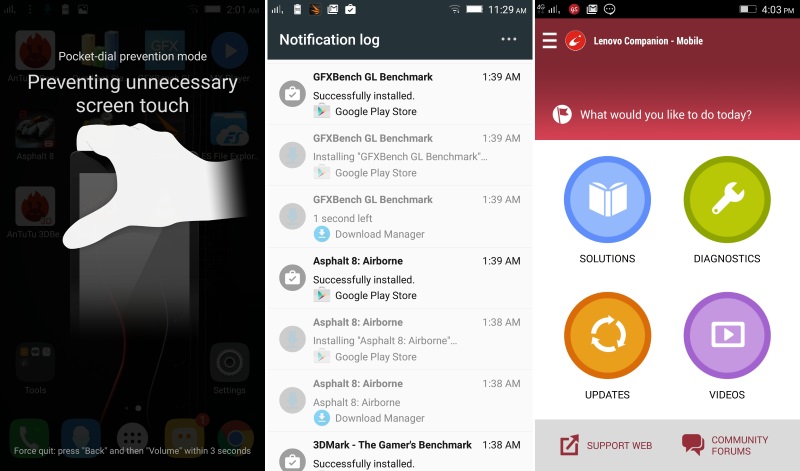 The icons still seem childish to us and we didn't find any adequate replacement packs in the Theme Center app. Lenovo has preinstalled quite a lot of apps, ranging from its own SHAREit, SYNCit, and Lenovo Companion support app to Evernote, Facebook, Guvera Music, McAfee Security Route 66 Navigate, Shazam, Skype, Step Counter, Truecaller, Twitter, UC Browser, WeChat, and WPS Office. Game Store has some low-quality games that you can play after setting up a profile. Peel Smart Remote ties in to the IR emitter and shows program guides for local TV channels. There's also one game, Tap the Frog. All of this might explain all the missing storage space, but thankfully you can uninstall most of them.
There are also quite a few custom settings that help you get more out of the phone. You can double-tap the screen to wake the phone, and also flip it over to lock it immediately. You can take a photo directly from sleep by double-pressing either volume button, and use the fingerprint sensor as a shutter button. If you need to get something done with one hand, trace a C shape on either side of the screen to shrink the display by about two-thirds, making everything easier to reach.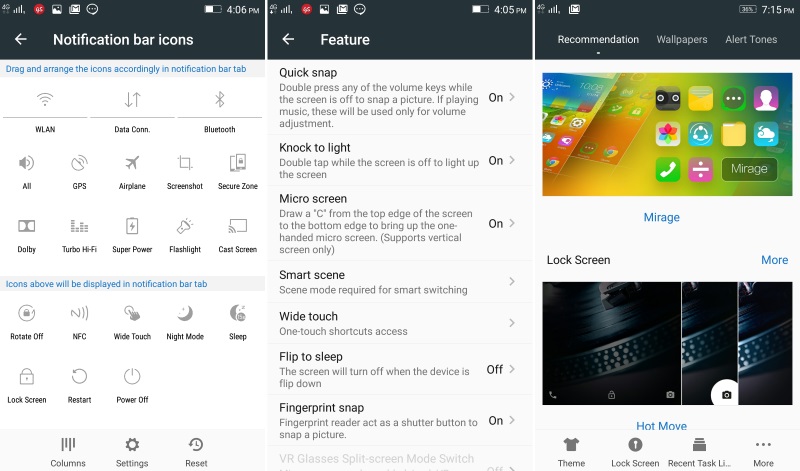 Cameras
The Vibe X3 has a 21-megapixel rear camera with phase-detection autofocus and an aperture of f2.0. You can record 4K video, though this isn't enabled by default. There's also a front-facing 8-megapixel camera. Lenovo promises multiple features for photographers, which mostly have to do with the software interface, but we didn't find much to be impressed with.
Lenovo's custom camera app takes a second or two to load and has been over-simplified. The app automatically detects lighting conditions and makes adjustments, but you can disable this if you like. There are also scene modes including Panorama, Art Nightscape, Artistic HDR, and Blur Background. Most options are two or three taps away and not really labelled well – in fact you can't get to the video settings when in video mode; you have to dip back into the standard photo mode, tap twice to get to the settings, and then once again to see video settings.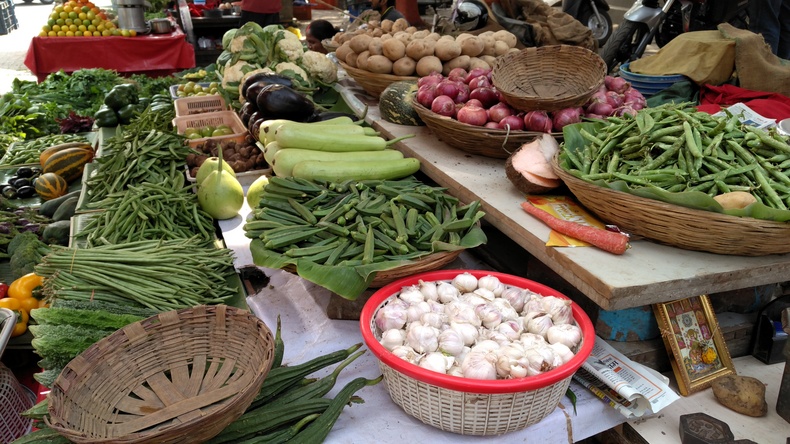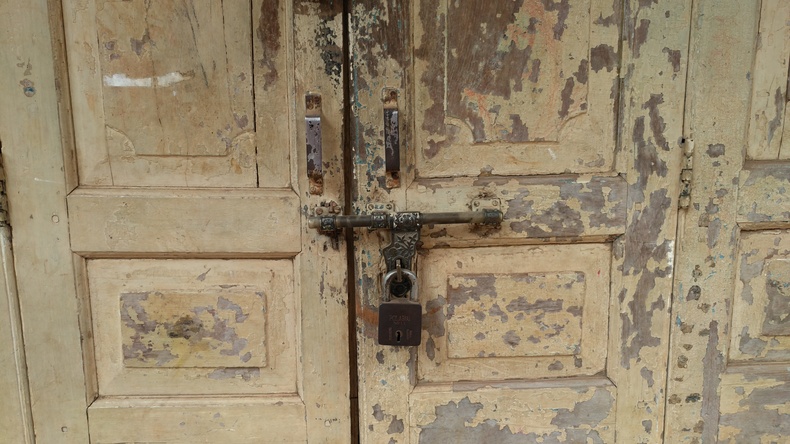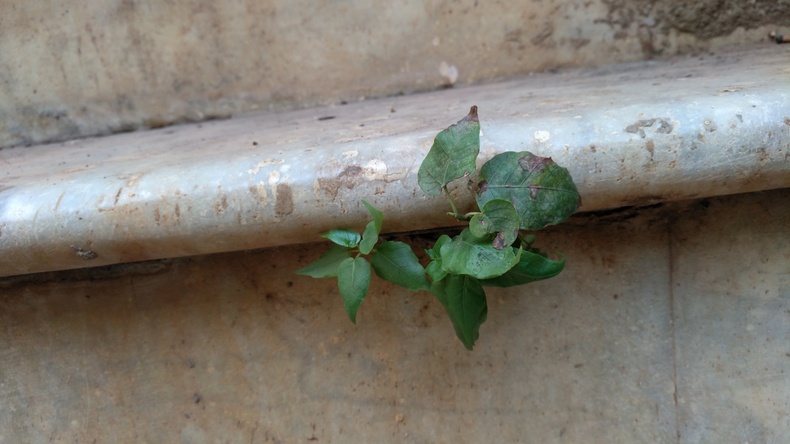 (Tap to see full sized images)A Pro mode surfaces controls for some settings including shutter speed and focal depth, but there really isn't much you can do even so. Surprisingly, a menu appears when you switch to the front-facing camera, giving you control over mirroring, shutter release gestures, quality, and making the screen go bright for a second in lieu of a flash.
Photo quality is okay most of the time, but a few of our daylight shots were overexposed and shaky. Details and textures seemed to be artificially smoothened out with over-aggressive software compression. Colours were a bit on the dull side. Low-light shots came out okay but again, we wouldn't want to use them for anything other than casual social media sharing. You won't get anywhere with this camera if you need to zoom in to photos and see them at their actual size. On the other hand, 4K and 1080p videos came out looking crisp and motion was smooth.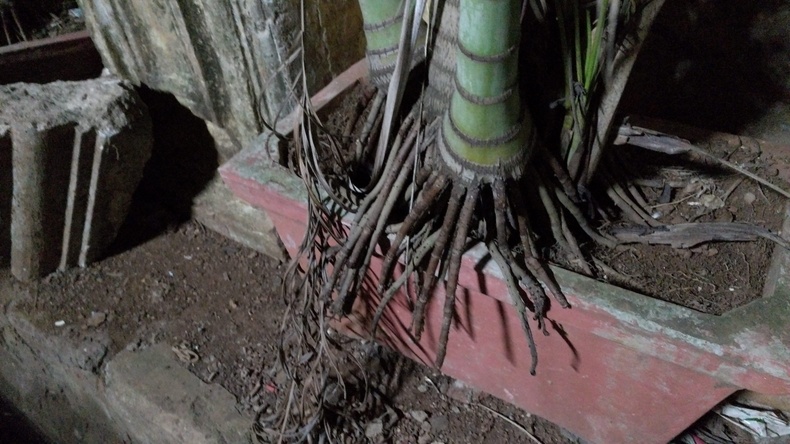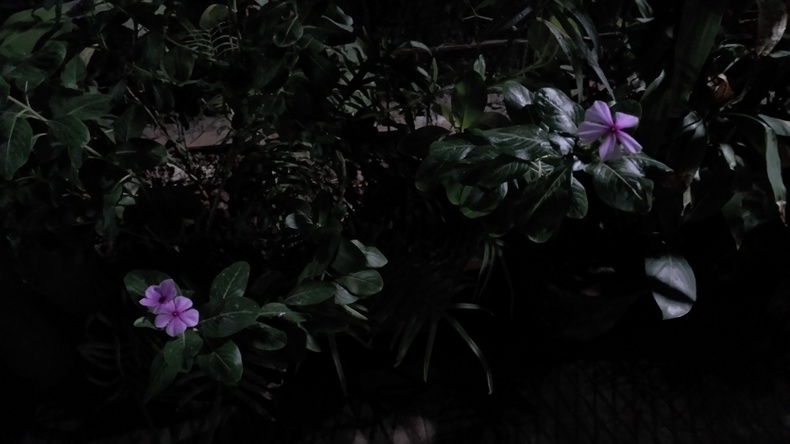 (Tap to see full sized images)Performance
One of Lenovo's main pushes with this phone is its screen, and true to its word, colours are vibrant and engaging without being oversaturated. Brightness can be pushed up to blinding levels and outdoor visibility is not a problem at all. As far as the Vibe X3's audio pedigree goes, there certainly is an improvement to sound reproduction when using good headphones. Dual front-firing speakers are always nice to see, and while these are loud, the sound isn't especially clear or engaging.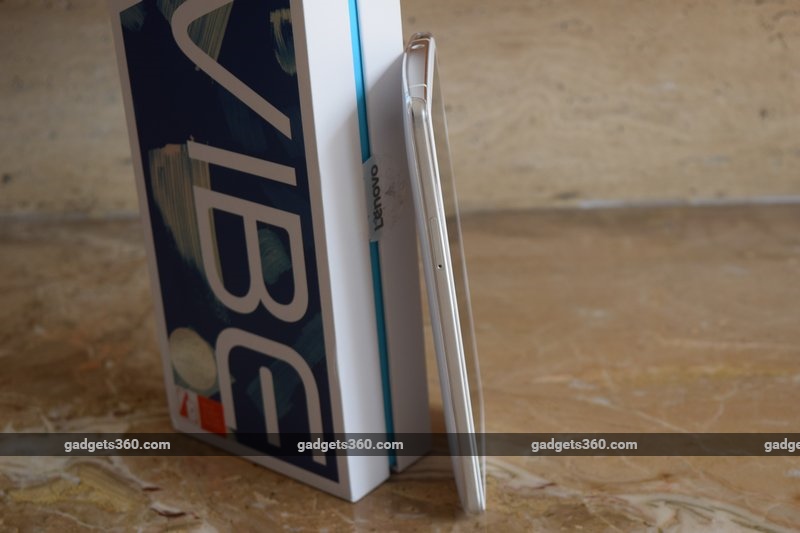 The Vibe X3 was comfortable to hold, though the capacitive buttons were definitely awkward. Since this phone is pretty much perfectly symmetrical, we often ended up jabbing the wrong side and getting frustrated when watching videos in landscape, especially in the dark. We also would have preferred it to have been a lot lighter. The rear did get slightly warm when we played games and ran benchmarks, but not enough to become a problem.
Formal benchmarks showed that this phone has quite a lot of power on tap. We got scores of 69,044 in AnTuTu and 26,200 overall in Quadrant. GFXBench ran at a very impressive 34fps, and 3DMark Ice Storm Unlimited managed 15,453 points.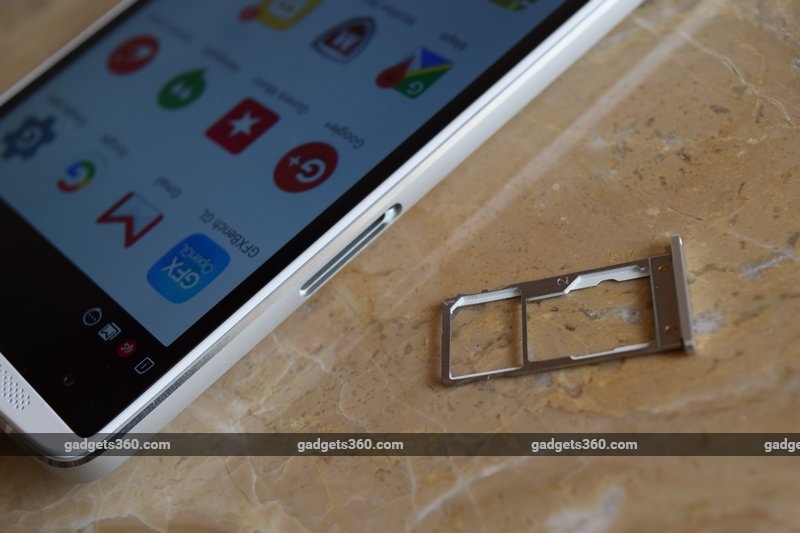 The Vibe X3's battery lasted all day with plenty of usage including short bursts of 4K video recording, lots of Internet usage, and a bit of gaming. Our video loop battery test ran for 9 hours and 33 minutes, which was just a shade below our expectations.
Verdict
Lenovo has delivered very nearly the best components in circulation right now, and considering that the price is just shy of Rs. 20,000, this is not a bad thing by any means. The Vibe X3 aims to undercut popular phones such as the OnePlus 2 (Review | Pictures), Moto X Play (Review), and Nexus 5X (Review| Pictures) but is doing so on its own terms, by making the fight more about the end-user experience than raw specs alone. We were impressed with how much Lenovo has been able to cram in to a phone at this price, not just in terms of specifications but also the little touches. Unglamorous things like the notification shade improvements and the ability to charge small devices over USB show that a lot of thought has gone in to the creation of this product.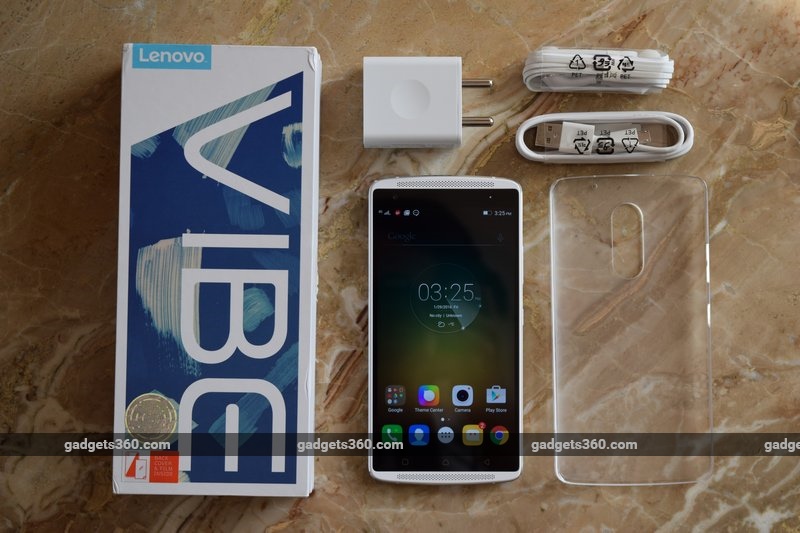 On the other hand, if user experience is what matters the most, Lenovo has some rough edges to polish. The Vibe X3 is a bit too bulky and heavy, and not the easiest to hold or use. The biggest disappointment was the camera performance, and then there are other annoyances such as the hybrid SIM tray and off-balance capacitive buttons.
If you can live with these things, you'll find that the Lenovo Vibe X3 delivers excellent value for money. Lenovo has joined a growing list of companies that have made it hard for a lot of people to justify spending double or triple this amount of money for a flagship Android phone from a top-tier manufacturer.
Missed the news? Here's a list of all phones launched at MWC 2016 on one handy page – or catch our full Mobile World Congress coverage.

Lenovo Vibe X3
ALSO SEE

Lenovo Vibe X2-AP 32GB White

₹ 10,379

Lenovo Vibe X S960(Silver, 16 GB)

₹ 20,900

Lenovo Vibe X S960 (Silver)

₹ 20,999