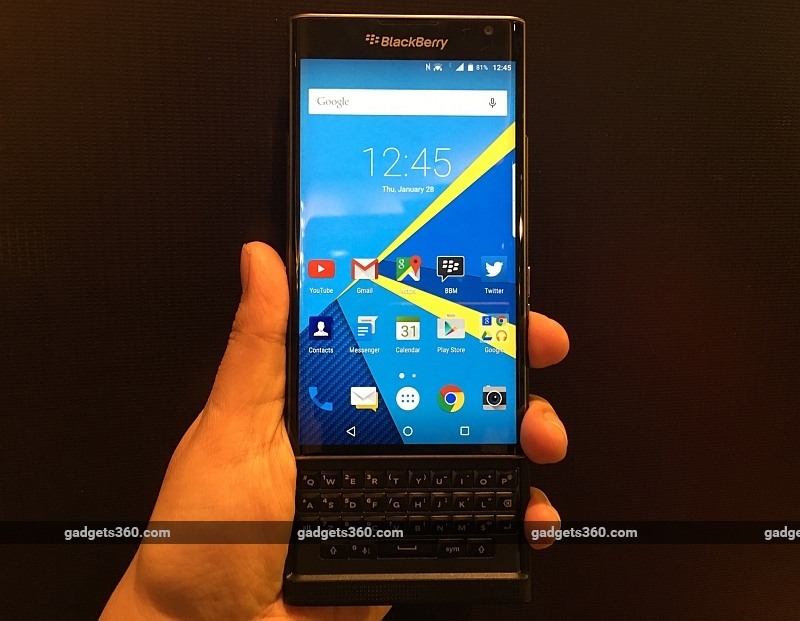 BlackBerry launched its first Android smartphone, the BlackBerry Priv, in India on Thursday. The phone represents a big reboot for the company that once ruled the smartphone world back when it was called Research In Motion (RIM). A lot of water has flown through the Grand River since, and we need not waste any more time talking about the rise of Android and iOS, leaving the likes of Nokia and BlackBerry in disarray.
Not too long ago, BlackBerry was in another transition, moving away from its 'Classic' OS to a newer operating system designed with touch devices in mind. It's safe to say that BlackBerry 10 failed to take off in any meaningful way, and while the Priv does not represent another transition in the same way that BB10 did – the company will continue to make smartphones based on its own OS – it says a lot about the state of BlackBerry that it's launching an Android phone in a bid to stay relevant.
Inevitably, one of the questions asked at Thursday's launch was if the company had left it too late to make an Android phone. Equally predictably, the answer touched upon not wanting to be yet another "me too" Android OEM, and how the company waited till the right time, and how BlackBerry Priv is different from other Android phones.
Whether BlackBerry waited too long before taking the plunge is the topic of another day, so let's give you over initial thoughts about the device itself. At first glance, the Priv looks just like any other touchscreen phone and, indeed, you can use it just like that without realising there's a slide-out keyboard underneath. A physical keypad underneath a touchscreen sounds awkward on paper, but BlackBerry has managed to implement it with a lot of polish, in a package that's surprisingly thin and light, especially when you consider there's a large 3410mAh battery on the inside.
The BlackBerry Priv keyboard has the familiar four rows of keys and the keys seemed to have a good feel in the rather limited time that we spent with the device. BlackBerry also made a few tweaks to make navigation easier while you use the keyboard. You can, for example, slide your fingers across the keys to swipe left or right on the home screen.
The BlackBerry Priv runs Android 5.1.1 and the UI will look familiar enough to existing Android users, whom the company says it is targeting with the smartphone. Concepts like BlackBerry Hub have been borrowed from BB10 OS, and while it's just a swipe gesture away, it obviously doesn't feel as integrated here as it does on BlackBerry's own OS.
The Priv comes with Google Play, which means you can install any Android app available on Google's app store, but BlackBerry says you cannot install apps from third-party/ unknown sources. You also cannot replace the stock launcher that ships with the phone, which is not surprising given the number of customisations the Priv ships with.
Prove stands for Privacy, and apart from the various tweaks that BlackBerry says it has done in a bid to make the OS more secure, the biggest consumer-centric facing change in this regard is an app called DTEK. This app gives an overall security status of your phone, which sounds as useful as the terror threat level that the US government used to share a few years back, but there are some other features that may prove to be more useful.
The app can, for example, monitor what resources each app used, and log it with the time and place. In a demo, BlackBerry showed a popular torch app on Android had activated the microphone of the device on 3 different occasions recently, complete with the time and place where it was activated, along with the number of seconds it was active. Sounds like a very useful way of identifying rogue apps.
The biggest news about the Priv of course is its price. The BlackBerry Priv has been priced in India at Rs. 62,990, which makes it more expensive than pretty much every other smartphone out there. The pricing suggests BlackBerry is happy to sit with the 'premium' tag, and won't be going after marketshare anytime soon. You may feel you already know the answer, but to find out if the BlackBerry Priv is worth that kind of money, stay tuned to Gadgets 360 for a detailed review.
Missed the news? Here's a list of all phones launched at MWC 2016 on one handy page – or catch our full Mobile World Congress coverage.

BlackBerry Priv
ALSO SEE

Lenovo VIBE P1m(White, 16 GB)

₹ 7,999

Lenovo Vibe K4 Note (Black) : A70101a48

₹ 11,999