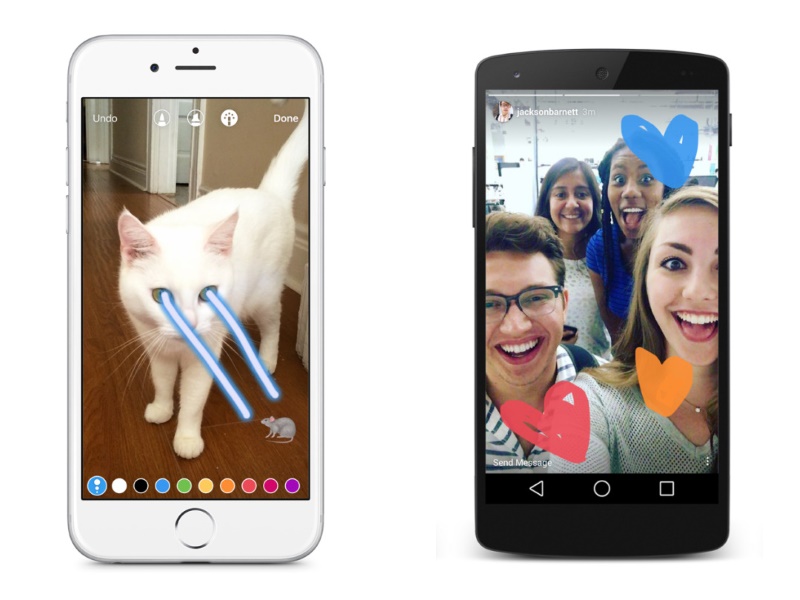 Instagram's New Stories Feature Is Basically a Snapchat Clone
HIGHLIGHTS
Instagram Stories will be rolling out to users in the next few weeks
Users can doodle, draw on the images and videos on Instagram
It's not yet clear whether the Stories can be saved or not
Instagram on Tuesday announced a feature called Stories — which will look very familiar to anyone who uses Snapchat.
Instagram Stories, as revealed in a company blog post, will let users string together multiple shots or videos into a single video that can be shared with friends. Users can type or draw on the images. And, after 24 hours, the videos disappear.
Friends on Instagram will know when you've got a new story when they see a colored ring appear around your profile picture. Users can browse through the stories of friends, celebrities and brands they follow. Viewers tap to move through a single story and swipe to jump between stories.
Instagram's new feature is very similar to Snapchat's Story feature, but it's not clear whether users will be able to save their Stories as they can on Snapchat.
Instagram Stories will be rolling out to users in "the next few weeks" on iOS and Android.
This sort of copying follows the usual style of Instagram's parent company, Facebook – particularly when it comes to Snapchat. Ever since Snapchat came onto the scene, Facebook's been trying to buy it or incorporate some of its more successful features into its own product. Facebook tried to make its own ephemeral messaging service in the past, for one, back in 2012. And its acquisition of the photo filter company MSQRD this spring was seen as a direct move against Snapchat.
In an interview with the New York Times, Instagram chief executive Kevin Systrom openly acknowledges that "other companies deserve all the credit" for coming up with the idea of ephemeral messaging, though he doesn't mention Snapchat by name.
That said, adding a Stories feature makes sense for Instagram, which has its own growth goals in mind. Instagram and Snapchat reach a younger demographic than Facebook does, and have become important advertising platforms for brands trying to reach millennials and Generation Z.
With Stories, Instagram seems to be trying to keep engagement high among its younger users, who often use it as a tool to cultivate a very particular image to the outside world. Teens in particular often delete posts that don't fit that image – and can also keep users from posting in the first place. That's not great for Instagram, and this behavior encourages the idea that Snapchat is the place where users can be themselves without the same kind of pressure.
Adding in content that disappears can help Instagram tackle that problem. A telling line from the company's blog post is: "With Instagram Stories, you don't have to worry about overposting. Instead, you can share as much as you want throughout the day – with as much creativity as you want." Later in the post, there's another line that reinforces this point: "Instagram has always been a place to share the moments you want to remember. Now you can share your highlights and everything in between, too."
Stories follow the same privacy settings as other posts on Instagram, so users can choose to make them public or not. Users also will be able to selectively block stories from particular users — even from followers. Instagram also will provide users with detailed viewing information, saying users can "swipe up to check out who's seen each photo and video."
But users can't like or comment on Stories. Any feedback given will have to go through direct messages, making Stories an even more private feature.
© 2016 The Washington Post

Share a screenshot and win Samsung smartphones worth Rs. 90,000 by participating in the #BrowseFaster contest.
["Source-Gadgets"]