reen Man's absurdly lush site nestles in the palm of a long verdant Welsh valley, with the River Usk snaking through it and the Black Mountains scooping steeply upwards into the mist behind the main Mountain Stage, one of the most beautifully positioned in all festivals.
The festival turns 15 this year with another 20,000-capacity sellout. Strong headliners have undoubtedly done their part to help shift tickets, but the roots of Green Man's popularity lie in what it stands for: a booking policy plotting a path from the bucolic to the banging, commercialism without aggressive corporate sponsorship, a self-policing ethos of looking out for one another, and love for the land. In a world where such values are hardly winning right now, it feels like a valuable micro-experiment in a kinder and more sustainable society.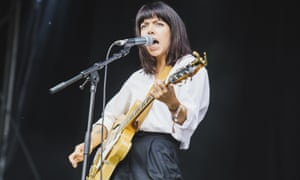 No weather app can predict the climactic eccentricities of this strip of the Brecon Beacons. Rays of hot sunshine often slice through the clouds and warm our backs; other times it rains heavily, even if Sunday's threatened deluge mercifully never quite falls.
Numbers in the Settlement, where guests stay for a week preceding the festival, are up to more than 3,000 this year. You don't necessarily see hippies hugging trees, but the deep tangled roots of a great oak do invite a restorative nap after a visit to the on-site ale festival. People defy the worst of the rain and swap stories with new friends in open-air hot tubs (you can bathe fully au naturel if you feel so bold, and many do). Between the reusable beer cups and omnipresent litter pickers, dropping mess on the grass feels about as socially acceptable as chucking rubbish on your mate's carpet. Eco-friendly glitter is the prevailing shiny fashion statement – even 82-year-old godmother of English folk Shirley Collins has her cheekbones garishly sparkled as she performs on Saturday afternoon.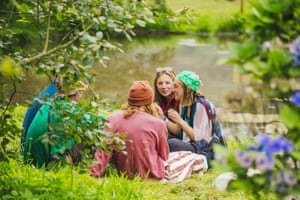 Artists from the US seem to arrive in an almost apologetic mood, mindful of how deeply politically troubled their country looks right now. "We are American and we come in peace," announces Hurray for the Riff Raff's former freight-train hopping frontwoman Alynda Segarra. Conor Oberst castigates Donald Trump from the main stage on Sunday afternoon; weekend-stealing Friday headliners Future Islands' frontman Samuel T Herring refers to sinister times back home, among his usual plethora of righteously uplifting chat about love, life and believing in yourself, man. It would be ripe cheese if he did not imbue everything he does with such flaming earnestness, to the point of dancing so hard to his band's air-punching synthpop that he manages to rip the crotch of his trousers.
Green Man by day resembles a giant outdoor creche, with kids of all ages scurrying around playing among art installations and learning about science and nature in Einstein's Garden. The Far Out tent offers a cornucopia of dark and much more adult delights late on Saturday: Liars' sinister electro-punk, screeched by Angus Andrew while creepily dressed in a white wedding gown; Oh Sees' double-drummer powered assault of scorching garage rock; Jon Hopkins' transcendent acid techno DJ set.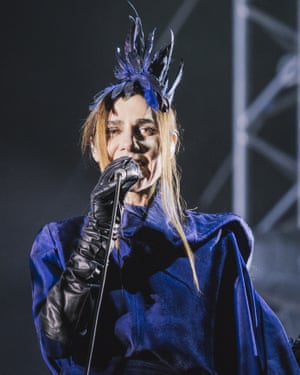 Dressed in double denim and occasionally disappearing in almost comic overabundances of dry ice, nobody brings rock-star swagger like Ryan Adams. When he's good – playing generously melodic songs from his evergreen debut album Heartbreaker, and from his excellent latest album Prisoner – he's wonderful. But a preponderance of sludgy guitar solos and an aversion to speaking to his audience feels out of keeping with the engaging spirit of the weekend. The crowd visibly thins out as his set progresses.
Underlining Green Man's nurturing of talent, Julie Byrne – the alt-folk singer-songwriter from Buffalo, New York, whose career was helped by a memorable performance here three years ago – returns to support one of the finest albums of 2017, Not Even Happiness. Her gentle Sunday-afternoon turn is spellbinding, her long fingers dancing gracefully across the fretboard of her guitar even if she has to blow on them between songs to keep them limber in the cold.
In PJ Harvey's dramatic Sunday headliner set, based principally around her most recent two albums Let England Shake and The Hope Six Demolition Project, she and her mean-looking coterie of nine dark-suited dudes let Wales shake with bone-rattling guitars and low-down dirty sax. No sooner have the last strains of River Anacostia faded out than black-cloaked and gold-glittered torchbearers lead a parade to the ritual burning of the giant Green Man sculpture. The ensuing pyrotechnic fantasia makes for an aptly communal finale, as flames spit from a dragon's mouth and fireworks arc gracefully into those unpredictable Welsh skies.
Source:-theguardian