Google Search Results Will Soon Let You Try Android Games Without Installing Them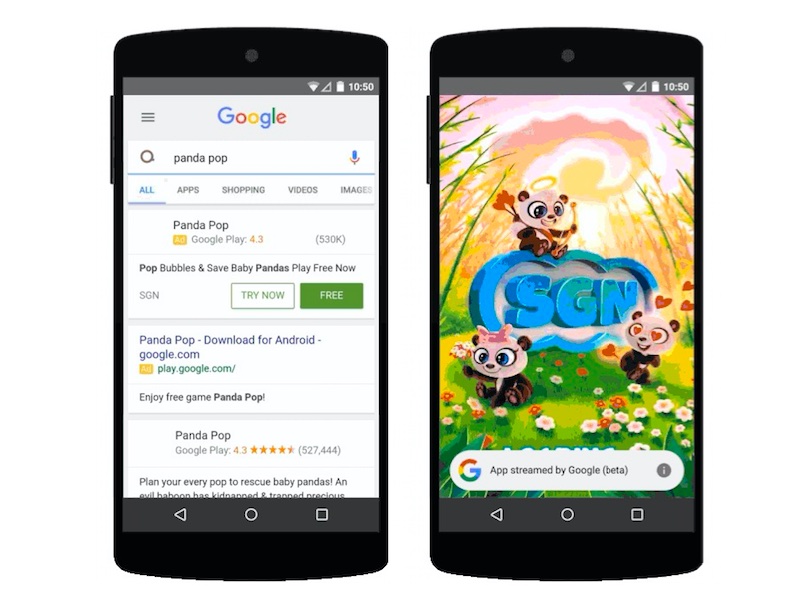 Google has announced a number of interesting features for Play Games, one of which is essentially an interactive ad. The feature, dubbed Search Trial Run Ads, will allow users to try out games for a few minutes without having to install them on your Android device first.
The new feature is an extension of "app streaming" that Google had announced in December 2015. The feature allows users to test an app without going through the hassle of downloading and installing them first.
The implementation is pretty user-friendly too. As shown by Google in a blog post, a user when searches for a game title in the built-in search bar (presumably, it also works in Google Chrome) or theGoogle Search app, in the result they will see a "Try now" button. Clicking this begins the free trial for up to 10 minutes. The feature will begin in rollout within the 'next few weeks'.
These ads will only appear for smartphone users who're connected to the Internet using Wi-Fi. The idea is to give users as well as developers a better ad experience. Instead of shoving ads and dividing a user's attention, Google wants them to try out apps without feeling any obligation to download the app later. For developers, this gives them a bigger chance to showcase their work to potential customers. "Using this format, you can drive qualified users who are likely to stay engaged with your game after install," Google wrote in a blog post.
Google also took the opportunity to announce the launch of Indie Corner. It's a collection on Google Play that will showcase the best games by indie developers. If you're a developer, you can nominate your game for consideration. Google also announced ​Game parameters management, a feature that will allow developers to update gameplay and game economy parameters without the need for APK changes or submitting their app. Another feature called Video Recording API will allow developers to add video recording capability to their app, and allow users to share videos, including live streaming, with their friends or on YouTube.
On the sidelines, Google also said that it is working on Portrait Video Ads, a feature that will allow developers to more efficiently cater to users who have their devices on portrait mode. The company says that it will also roll out a new type of feature that will allow developers to push ads to users who have spent more than 30 minutes playing games. All of the aforementioned features will be available in the coming few weeks.
Download the Gadgets 360 app for Android and iOS to stay up to date with the latest tech news, product reviews, and exclusive deals on the popular mobiles.