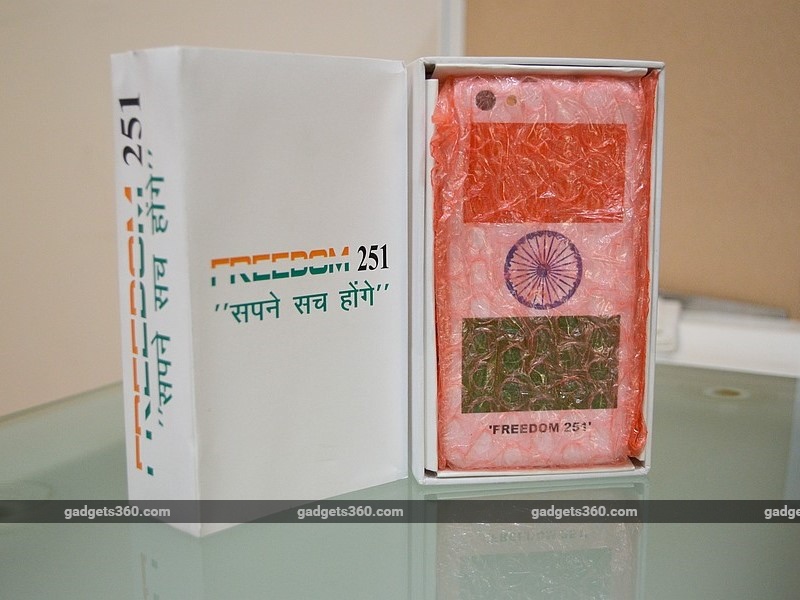 Ringing Bells, the maker of the Freedom 251 smartphone, announced on Saturday that it is no longer taking bookings on Freedom251.com for the Rs. 251 Android handset that grabbed the attention of a nation. The company is citing heavy demand as the reason for stopping bookings.
Announcing the closure of booking, the company said, "We are humble and extremely grateful for your overwhelming response and trust. Respectfully, this is to advise that the response far exceeds the number that we had expected and therefore, we are now closing the invitation to bookings in this phase 1."
The notice on the website read: "We appreciate and acknowledge that we may not have been able to meet the needs of all, but will definitely look forward to serving you again in the next phase."
The company said it has received 37 million registrations on Day 1 and 24.7 million on Day 2 (as of 1949 hours). Touted as the world's cheapest smartphone, the Freedom 251 has been in news globally for several reasons. There were allegations that the company had showcased a rival company, Adcom's handset, as its own. Also, the icons on the device looked similar to that of global technology giant, Apple.
(Also see: Freedom 251 Smartphone: More Questions Than Answers)
Ringing Bells President Ashok Chaddha clarified that it "wanted to show a sample or prototype of what the handsets will look like. This is not the final piece".
"In view of the shortage of time and given that these were to serve only as prototypes to a limited list of persons, we went ahead. We would clearly mention that the final Freedom 251 manufactured/assembled in India would be to identical specs – i.e. no change," he added.
Industry members have also complained against the company to the Telecom Ministry to dig deeper into the issue. The ministry has sought a clarification from Ringing Bells for marketing its 'Freedom 251' mobile phone without a BIS (Bureau of Indian Standards) certification and has also asked the Uttar Pradesh government to check the firm's credentials.
Besides, it has also come under the scanner of excise and income tax departments with the IT Department looking into the financial structure of the Noida-based company.
According to sources, the department has obtained documents, including those from the Registrar of Companies (RoC), in this regard.
["Source-Gadgets"]