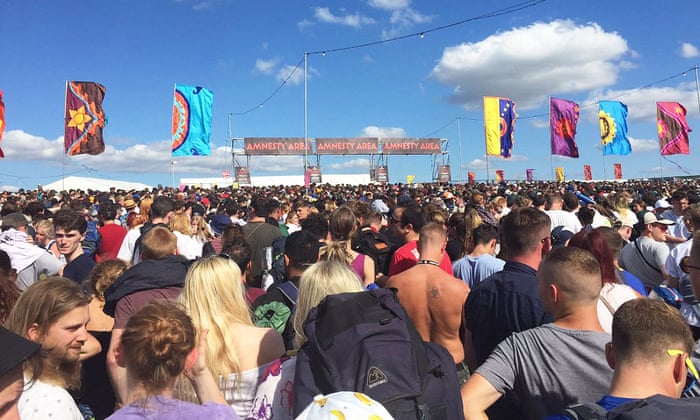 The long wait to enter the Boomtown Fair festival in Hampshire. Photograph: Twitter
Festival-goers have queued for hours in hot weather to enter the Boomtown Fair music festival, with some people suffering fits and panic attacks. Music fans started lining up for the event at the Matterley Estate in Hampshire on Thursday morning, but delays meant many were left stranded for hours with limited access to water.
Aaron Day arrived at the site by coach at midday and queued for seven hours. In that time he saw one person in front of him suffer a panic attack and another hit on the head by a water bottle. He described entering a mass of people queueing for the entry gates with no lanes to separate them and no access to water, food or toilet facilities.
The 26-year-old said: "We were stood there all day, in the heat, and moved about 20 feet in about seven hours."
Local reports suggested that a problem with the ticket scanners was to blame and that event organisers had to look up each ticket holder's details before admitting them. The organisers said water and toilet facilities were available, but Day said that these were only accessible to individuals who had passed through the entry gates.
He described water bottles being thrown into the crowd and said he only managed to stay hydrated because he had a two-litre bottle with him. He gave up queueing at 7pm and arranged for a lift back to his home in Chelmsford, Essex.
Day, who went to the festival to see punk and reggae acts on the Chinatown stage, said the crowd was very tightly packed. "I almost had to fight my way out of the centre of the crowd to leave the queue."
Alex Orton said that his group arrived at 5pm and were still queuing at 9pm. He saw someone having a fit in front of him, but said staff arrived quickly to help the person. He said he was expecting to get in after moving to a smaller entry gate but that "people outside the main 'blue' gate are likely to be there overnight".
The festival had billed itself as "a city of wonderment, theatre, escapism and community, with breathtaking and intricate stages and streets just waiting to be discovered". It featured 11 "districts" and said each "is filled with fully immersive venues and beatnik characters".
Francisco Hurtado, who was attending the festival with his wife and friend, said they left the queue after a fight broke out. He said: "There's no crowd control, there's no information for us and no stewards in sight. People are getting very angry as the hours go by. It's not a queue, but a mass of people. We got here at 3pm, but we moved about 20 metres in two hours and then someone started fighting, so we've left the queue. It's not safe."
Police said on social media that they were aware of the incident and were assisting organisers where possible. Hampshire police and the festival organisers have been approached for comment.
The organisers of the event tweeted that everyone queueing on Thursday would get in, but that no more people should set off for the event this evening.
["Source-theguardian"]