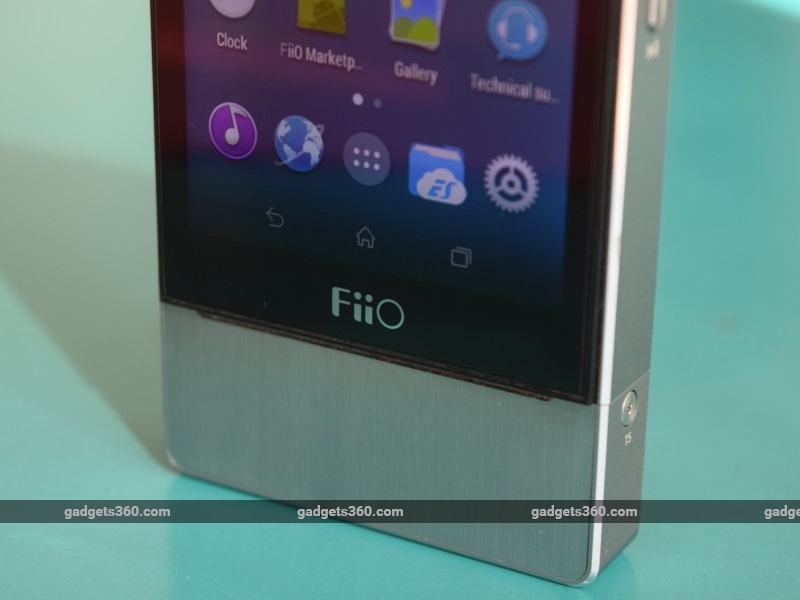 Personal audio players have slowly been losing their appeal, thanks to improvements in audio quality and increasing storage capabilities on smartphones. Options such as the Lenovo Vibe X3 even have special components and functionality meant to improve audio output, and an increasingly large number of smartphones today support high-resolution audio formats up to 24-bit/192KHz.
Despite this, there's still a booming market for high-resolution audio players, and there's one particular manufacturer that has achieved a lot in this field. Chinese audio specialist Fiio has been at the forefront of pushing high-quality audio players to users, and has a product range that goes from the affordable Fiio M3 to the high-end Fiio X7, which we have on review today. This super-premium high-resolution audio player costs Rs. 42,299, runs on Android 4.4, and offers listeners the promise of the ultimate personal audio experience. We put it to test.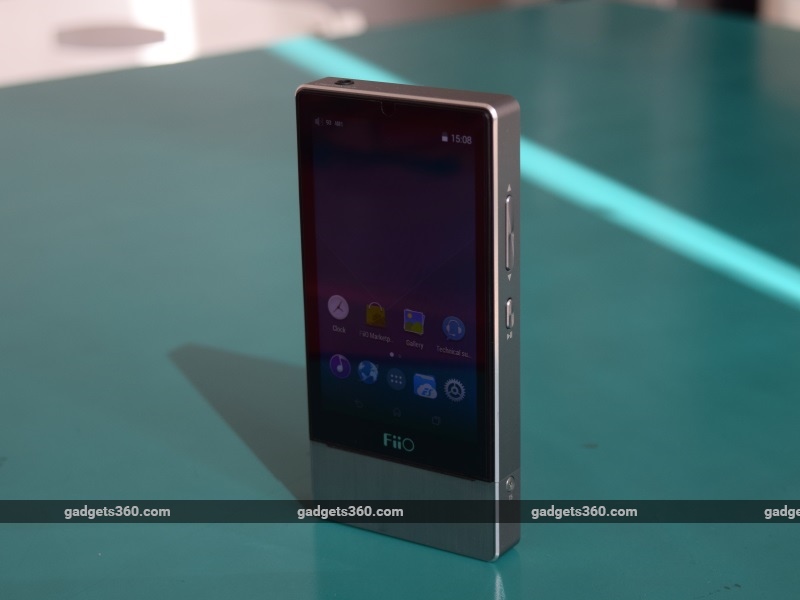 Design and specifications
While the older Fiio X1, X3 and X5 have all stuck to a standard design formula, the Fiio X7 changes things significantly for the range. The new flagship product disposes of the track-dial of the earlier models, replacing it with a 4-inch 480×800-pixel capacitive touch screen. The device is also much larger, thicker and heavier as a result. Many who saw it mistook it for a rather unique-looking smartphone.
Made entirely of metal, the Fiio X7 weighs 220g and feels substantial and solid to hold. There is a big chin below the screen, which is where the detachable amplification unit sits. The device comes with the basic AM1 unit, which is ideal for standard in-ear monitors and capable of driving headphones within an impedance range of 16-300Ohms. Although Fiio has detailed different amplifier units, including more powerful ones that will be able to drive high-impedance earphones comfortably, availability information is still unknown. However, the basic amplifier can potentially amplify high-end headphones as well, although it won't do quite as good a job as a dedicated headphone amplifier.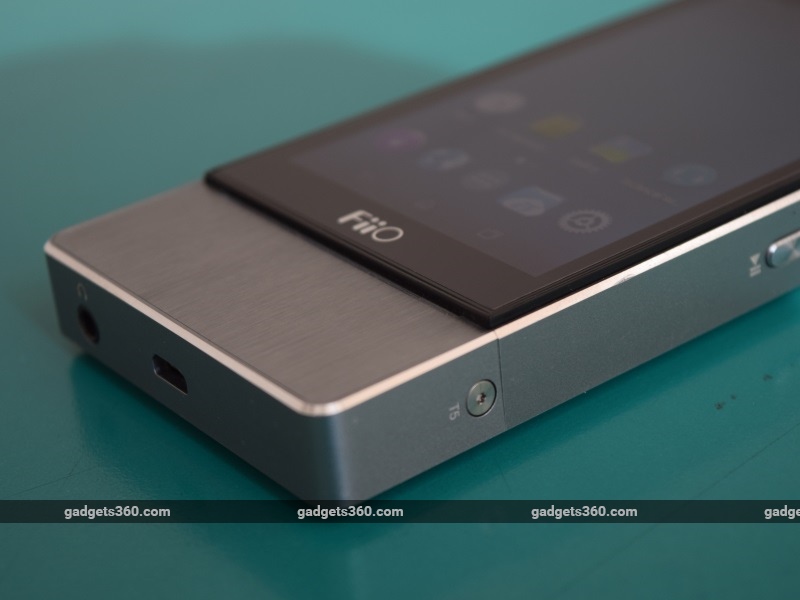 The device has physical buttons on both sides, with power and volume on the left, and play/ pause and next/ previous on the right. There is a microSD card slot on the left which is exposed. This has both pros and cons; you can quickly swap out cards if you choose, but this also makes it a bit easier to lose your microSD card. The top has a socket for line/coaxial out, while the bottom has a 3.5mm socket for ordinary headphones and the Micro-USB port for charging and data transfers.
The Fiio X7 uses a Rockchip RK3188 1.4GHz SoC with 1GB of RAM, and also has Wi-Fi and Bluetooth 4.0 connectivity. Thankfully and unlike previous Fiio X-series players, the X7 also has 32GB of in-built storage, and can read microSD cards up to 128GB. It has a 3500mAh battery that ran for about 8-9 hours on a full charge while playing high-resolution audio files. Despite the relatively large battery, the device has smartphone-like battery life, even though it doesn't have mobile radio.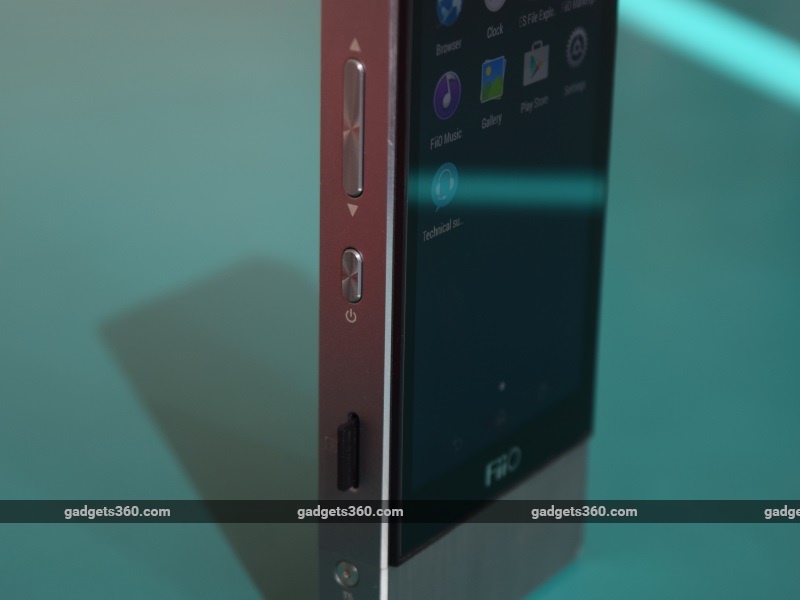 One of the biggest changes in the Fiio X7 is the fact that it runs Android 4.4, a marked improvement over the proprietary interface of the previous models. The software can run in two modes: stock Android mode, which resembles a typical Android interface, and Pure Music mode, which disables most of the Android interface, leaving only the Fiio Music app and basic settings active.
The Android interface is simple and functional, resembling stock Android with on-screen soft-keys and a typical app drawer and pull-down menu. There are two app stores in place: the Google Play Store and Fiio Marketplace. Strangely, no app from the Play Store will actually install, so the Android operating system on-board is incredibly limited. There are a handful of apps on the Fiio Marketplace that do install, but these include services such as Tidal and Spotify which aren't available in India, and a handful of apps in Chinese languages. In these circumstances, we found it easier and more convenient to use the Fiio X7 in Pure Music mode.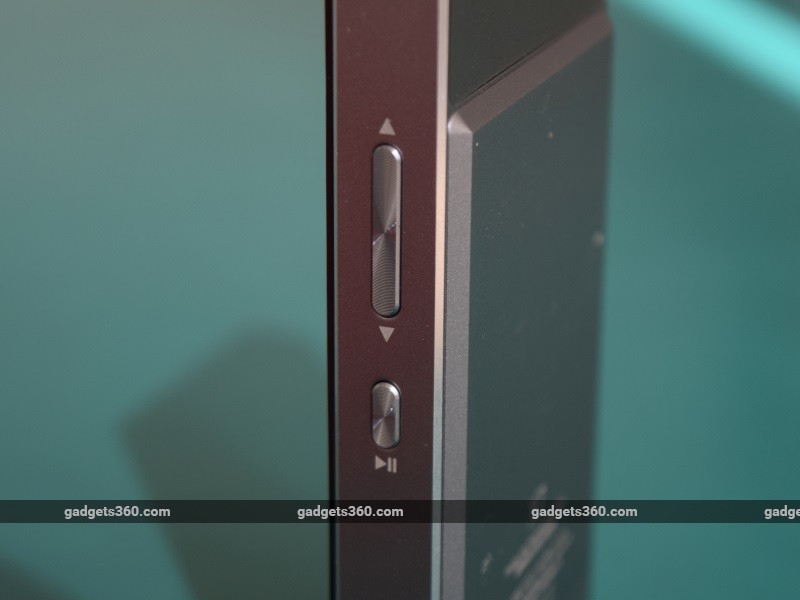 The Pure Music interface is simplified to deactivate all Android functionality except settings and basic connectivity, especially if you don't intend to stream music and want to use the device to play stored music. The app itself is a huge improvement over the previous devices, as it lets you search individually, create playlists and browse around your library easily. The ability to control with touch makes all the difference in simplifying basic navigation.
The Fiio X7 uses the ESS Technology ES9018S digital-analogue converter, which is considered one of the best portable DACs in the world. It supports 32-bit-384KHz audio files, and can read a wide-range of audio formats including dsd, dxd, Apple Lossless, aiff, flac, wav, wma, mp3, aac, wma and ogg. You can pretty much play any popular audio format on the X7, and that's a great thing. The box comes with only a USB cable, and doesn't include a charging adapter, headphones or a storage card. The latter two are understandable and you're likely to have your own, but the lack of a charging adapter at this price level is bothersome.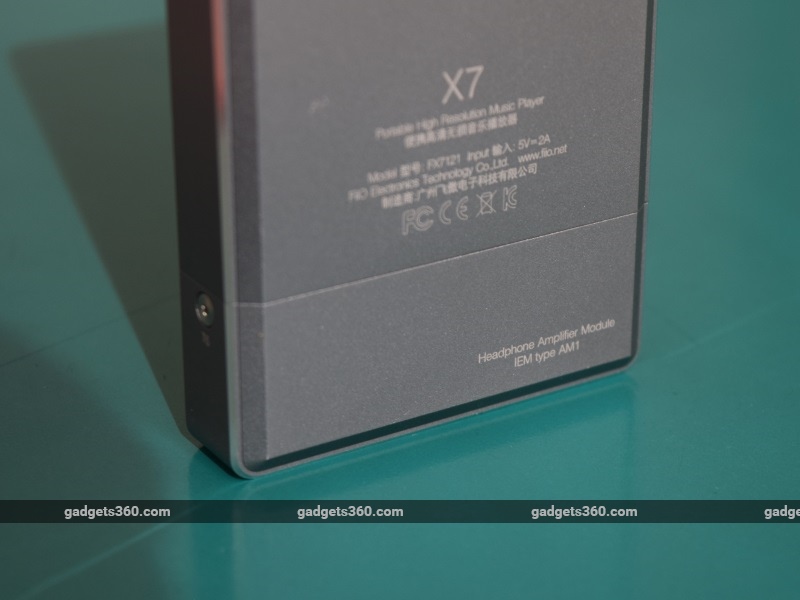 Performance
We used the Fiio X7 with an assortment of headphones, including the B&W P3, Trinity Audio Delta andAudio Technica ATH-WS770iS, along with an Android smartphone, Windows laptop and the Fiio X1 for comparison. Focus tracks for the review were Vanilla Ice's Ice Ice Baby, Enigma's Age of Loneliness and Azari and III's Reckless With Your Love (Tensnake Remix).
Starting with Ice Ice Baby and the Trinity Audio Delta, we were immediately treated to incredibly true-to-life sound that accurately maintained and promoted the sonic nature and qualities of the headphones. Building on the fantastic tone and drive of the Delta, the X7 showcased how it can be bassy when needed, neutral when required, clean, tonally solid and incredibly accurate. The low bass notes of this hip-hop classic were rendered beautifully and accurately.
Moving on to Age Of Loneliness and the B&W P3 headphones, we found that the Fiio X7 succeeds in digging out a little bit more detail than the X5, which is surprising because of how good the predecessor was. However, the differences are subtle, and the increase in price isn't really justified considering the improvement in sound is incremental at best. There are definite improvements in amplification and interface, so this will be a better option if you use premium high-end headphones. Provided you have the right pair of headphones that suits your tastes, the Fiio X7 is supremely entertaining to listen to.
Finally, with Reckless With Your Love and the bass-happy Audio Technica ATH-WS770iS, we enjoyed a sonic signature that was loud, powerful, aggressive and incredibly fun. The soundstaging and imaging was spot on. This is reference-grade audio at its finest, making everything sound true to the recording, realistic and tonally superior. In conclusion, the Fiio just about exceeds the capabilities of the Fiio X5, offering value additions in the form of a better interface, build, and specifications.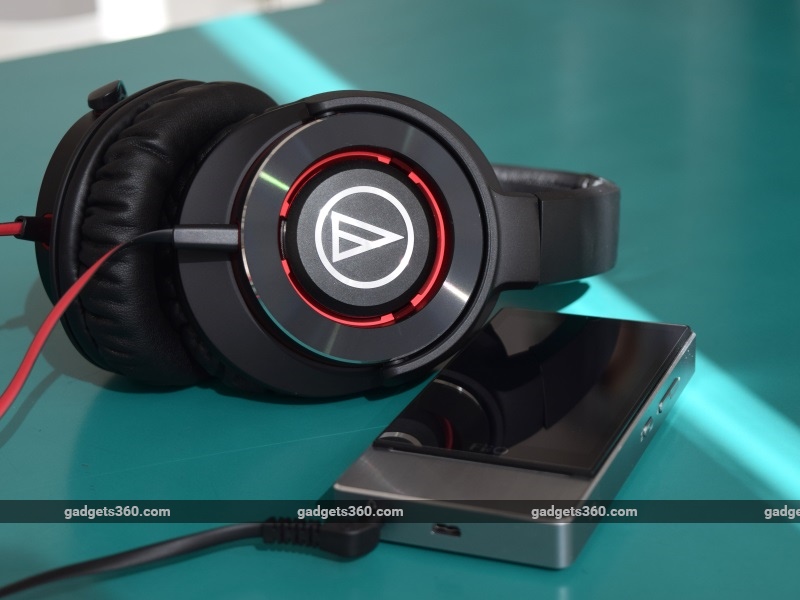 Verdict
The idea of spending flagship smartphone money on an audio player won't agree with the vast majority of people, and we expect that everyone but the audiophiles won't even give the Fiio X7 a second look. Additionally, there isn't much of an improvement in pure performance over the much cheaper Fiio X5. However, if you are an audiophile and have equipment that compliments the quality of the Fiio X7, this should be a no-brainer of a purchase.
The Fiio X7 is the pinnacle of personal audio, and represents the true capabilities of portable high-resolution audio. It's unflinchingly loyal to the recording and headphones, and brings out the best in any audio set up. If budget is no bar and quality sound is your goal, the Fiio X7 is the audio player you want.
Price (MRP): Rs. 42,299
Pros
Looks and build quality are fantastic
Sound is true to the recording and headphones
Good touch screen interface and controls
Excellent file format support
Superb DAC
Cons
Battery life is a bit weak
Very heavy and bulky
Android user interface is limited in functionality
Expensive
Ratings (Out of 5)
Design: 4.5
Performance: 4.5
Value for money: 2.5
Overall: 4
Missed the news? Here's a list of all phones launched at MWC 2016 on one handy page – or catch our full Mobile World Congress coverage.
["Source-Gadgets"]