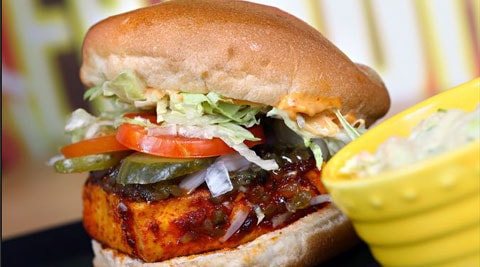 Fatburger the sign says, beaming at us, beckoning us forth. The interiors are muted yellow and red, shades which researchers and several dozen factoid websites say are best suited for stimulating the appetite, a la McDonald's. We don't know about the colour scheme, but the fully open kitchen, with the sizzling sound of the grill, the smell of meat cooking and the sight of burgers being assembled sure make our stomachs resemble Rottweilers.
The first Indian outlet of Los Angeles-origin burger chain Fatburger, the menu includes a mix of rolls, salads, and appetizers. Though there is a nod to its surroundings in some of the dishes, we are mercifully spared another aloo patty anomaly.
We begin our meal with a bowl of Vegetarian Chili and the Famous Wings in Franks' Red Hot Sauce (choose between portions of five to 15 wings). The chilli , accompanied by in-house nachos, comes smothered, nay, deluged, with a layer of gratinated cheese over which are spilled freshly chopped onions which give the chilli a bite. We don't know who Frank is, but he makes one hell of a hot sauce, searing and smoky, thickly coating the succulent wings. The accompanying blue cheese sauce proves ideal to temper this fire. We also get a Cookies and Cream milkshake which is handmade and both glutinous and delicious: little clouds of Oreo cream swirling amid a pristine ocean of blended milk and ice cream with an archipelago of cookie crumbs in the chilled white expanse.
Now it's time for the main event which features The Shroom and The Mexican Standoff. But first a caveat: when Fatburger started in the '50s, their burgers were in fact as prodigious as their customers' guts were going to be after several years. The company realised that stuffing your face with a burger probably wasn't the best calorific decision, and streamlined their fare to avoid table-side apoplexies. So don't go there expecting to make your dinner the butt, or the bun as it were, of fat jokes. Meanwhile, though they're svelte, both the Shroom and the Standoff are fat on flavour. The Shroom, featuring a textbook tenderloin patty topped with sauted mushrooms and melted Swiss cheese with a crispy bacon add-on is all consuming, leading us to ignore its sidekicks — french fries and coleslaw. The chicken Mexican Standoff is hotter than a Tarantino flick and is by far the spiciest burger in town. Burning has never been so delicious.
Speaking of hot things, our dessert of Brownie with ice cream comes steaming, straight out of the oven, every mouthful molten with crushed walnuts providing the requisite crunch. This is a place we see ourselves growing fat and happy in.
Meal for two: Rs 1,000 (including taxes, excluding alcohol)
Address: Cyber City Hub,
Gurgaon; 4901611
["source-indianexpress"]