Local libraries, bookstores and your child's teacher are the best resources for finding chapter books appropriate for your first grader. Many popular chapter books for this age are written as part of a series. In fact, it's nearly impossible to find first grade chapter books that aren't part of a series. However, the advantage of this is kids find characters they love and tend to read and read, all the while improving comprehension and decoding skills.
Classics
These books have been delighting young readers for more than 20 years. Consequently, they tend to stand out as among the first chapter books teachers turn to when a child is ready to read longer material.
Henry and Mudge
The Henry and Mudge books follow the activities of a young boy and his dog, Mudge. The pair finds plenty to do every day on adventures first graders can relate to, making it perfect for kids finding it difficult to understand stories they read.
Cam Jansen
Cam Jansen books follow a young girl as she solves mysteries. Mysteries are great books for young readers, as it teaches them vocabulary, reading skills, and requires them to think ahead to how the mystery may be solved.
Amelia Bedelia
Amelia Bedelia is a mixed-up housekeeper who often takes things a little too literally. Her adventures in babysitting, camping, doctoring, and even construction are hilarious to first graders. Parents, librarians, and teachers can download a teaching guide from HarperCollins for teaching ideas.
Jigsaw Jones
Jigsaw Jones is a popular mystery series geared towards inquisitive sleuths. The series boasts 33 books and counting, so it's a great pick if you want something tried and true to go back to. The mysteries are somewhat campy (think Scooby-Doo without the ghosts), but kids love the book because the characters are relatable. While the books are not award winning, it's rare that a series continues for as long as Jigsaw Jones has – thus solidifying its status as one of the more popular early chapter books.
Frog and Toad
Frog and Toad is commonly assigned on first-grade reading lists and is part of the I Can Read collection. The beautiful illustrations show characters that teach lessons about friendship and loyalty. The writing is simple, and pages have only a few sentences on each. However, it's appealing to beginning readers because they feel a measure of success at finishing a real chapter book. Several books in the series have won awards. For example, Frog and Toad Together won the Newbery medal in 1973. Frog and Toad Are Friends was a Caldecott Honor book.
Nate the Great
Nate the Great is an oldie but a goodie, appealing to both boys and girls as he solves mysteries one case at a time. A big appeal of these books is they are written in such a way kids can work their way through the clues right along with the character. The newer versions are the same books but with additional activities, riddles, and other fun things kids will adore. While Nate the Great hasn't won any awards, its longevity speaks for itself. Over 40 years old, it has spawned the Olivia Sharp spinoff series, 26 titles in total, and a Theatreworks show.
Newer Reads
These books may not have graced your shelves when you were in first grade, but make no mistake, they are popular and well loved by today's early elementary students.
Mercy Watson
Written by author Kate DiCamillo (of Tales of Desperaux fame), Mercy Watson will engage and delight any animal-loving reader. The books are based on the premise that Mr. and Mrs. Watson have no children of their own. They pass a farmer selling an 'unusual pig,' and the rest is history. Mercy (the pig), is like the child they never had, full of mischievous and hilarious behavior. Adding to the fun, Mercy even has a website.
Nancy Clancy
If your child was reading Fancy Nancy picture books last year, she is likely to enjoy this 'grown up' version with the same character. Nancy Clancy is taking the sleuthing world by storm with a serious sense of style and panache complete with her rhinestone-bedecked magnifying glass. Written by Jane O'Connor, the books follow Nancy as she solves innocuous crimes like finding a missing item for a friend or figuring out a secret admirer.
Stink
It was hard not to love the antics of Judy Moody, and it's hard not to love the antics of her little brother, Stink. As the title implies, the books are all about Stink Moody, little brother extraordinaire. However, these books are packed with random facts, science adventures (like sleeping over at the aquarium, as one example), and other hilarious notes sprinkled throughout. Geared especially towards first grade boys, Stink will delight just about anyone. Stink has a website where you can design your own comic, guess Stink's middle name, and all sorts of other cool activities.
Notebook of Doom
Part of Scholastic's early chapter book line, Notebook of Doom combines fun illustrations with easy-to-understand text to help early readers learn to build reading skills. In the first book, the main protagonist finds a mysterious notebook of monsters. The plot revolves around trying to figure out what that notebook means, all the while meeting new and interesting 'monsters.' The humor is kind of slapstick comedy, and the books hold real appeal to kids who are interested in graphic novels, but maybe too little for the content of the graphic novel section.
For Advanced Readers
Sometimes, kids take to reading and are able to read more complex stories with harder vocabulary, much to the delight of parents and teachers. While this is great, it's often hard to find age-appropriate reading material. These books fit the bill by being both appropriate for younger audiences and a higher-than-average guided reading level.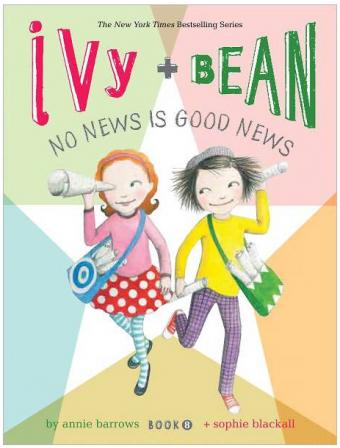 Ivy and Bean
It is hard not to love the antics of Ivy and Bean. Most of the books in this series fall squarely in the M guided reading level, with a few that are harder and a few that are easier. The two girls are polar opposites whose parents have thrust them together in the hopes that they will become fast friends. While they each think the other is weird, their life motto seems to be 'Why not?' – and from there, adventure always ensues. This series will have your first grade laughing out loud.
Junie B. Jones
The books in the Junie B. Jones series follow her as she progresses from kindergarten to first grade. Kids will enjoy reading the Junie B. First Grader books as she navigates her way through the same grade as themselves. Pick out some fun activities to do together from the official website, like completing a quiz or completing a word jumble.
Geronimo Stilton
Geronimo Stilton is an editor and journalist who has a penchant for finding himself in dangerous situations. The books are riddled with graphics, almost like a rebus puzzle, which makes them a fun read. The vocabulary can be challenging, but the graphics make the books seem more readable, which makes them great for reluctant older readers as well as advanced readers who maybe aren't willing to bite off a huge chapter book yet.
Gooney Bird Green
Written by award-winning author, Lois Lowry (of The Giver fame), Gooney Bird Green features a girl of the same name who loves to tell stories. The vocabulary is advanced for first grade, (in fact Gooney is in second grade), but for the advanced reader, Gooney's antics are so hilarious, your first grader will laugh out loud.
["source=fashion-history.lovetoknow"]