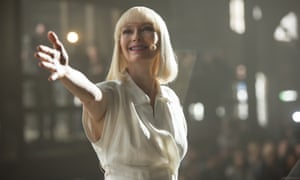 The Cannes film festival has waded into the war between Netflix and the global movie industry by banning films that are not released on the big screen from competing for its most prestigious prize, the Palme d'Or.
The festival, which begins next week, announced that any film that appears in competition at Cannes from next year will have to commit first to being shown in French cinemas.
This year marked the first time that films distributed by the Netflix and Amazon streaming services have appeared in competition at Cannes, a move greeted as by many as a nod to the future of film. Announcing the festival's lineup last month, its director Thierry Frémaux described it as a "laboratory" of cinema that was open to change.
But the move also prompted fierce opposition from the Federation of French Cinemas because neither of the Netflix offerings – Noah Baumbach's drama The Meyerowitz Stories, starring Dustin Hoffman and Adam Sandler, and Bong Joon Ho's fantasy epic Okja, starring Tilda Swinton – have been put forward for release in French cinemas.
In a statement released on Wednesday, Cannes said both films would remain in competition this year, but it had changed its rules to prevent straight-to-streaming films from competing.
"The Festival de Cannes is aware of the anxiety aroused by the absence of the release in theatres of those films in France," the statement said. "The festival asked Netflix in vain to accept that these two films could reach the audience of French movie theatres and not only its subscribers. Hence the festival regrets that no agreement has been reached."
After consultation with its board, the festival then decided to adapt its rules. "Any film that wishes to compete in competition at Cannes will have to commit itself to being distributed in French movie theatres. This new measure will apply from the 2018 edition of the Festival International du Film de Cannes onwards," the statement added.
[Source"timesofindia"]