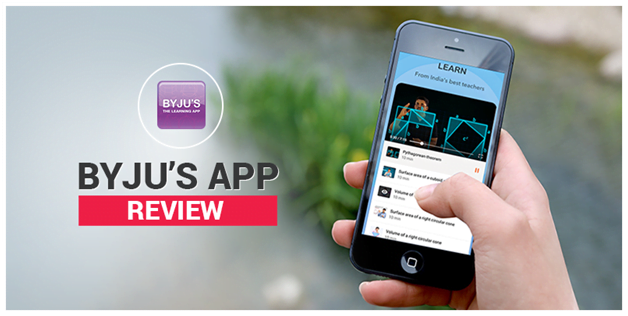 Nowadays, keeping students involved in studies is quite challenging  and requires a lot of effort to get them involved in studies. Byju's provides a revolutionary technology that redefines education and the way of learning and also making them fall in love with learning at the same time. Thousands of students are involved with Byju's as they learn different courses like CAT, IBPS, UPSC etc. With over 80 lakh downloads on the Google play store, Byju's has reached out to several students across the country.
Byju's- The Learning App is one of  the best e-learning smartphone app, which is designed for  the students from class 6 to class 12, with solved NCERT questions along with an ample number of examples. Different courses are  there for the applicants who are aiming for competitive examination like CAT, UPSC, Bank exams.
Let us have a look on some of the key features of the application:
Interactive video lessons- The videos are designed in such a way that even if a topic is complex  to understand, with engaging videos learning becomes easier.
An Innovative way of teaching- They provide classes in online mode with 3D animation which makes the students understand the topic practically along with the theoretical knowledge.
Covers complete syllabus- The videos covered all the modules of CBSE, ICSE and the state board according to their respective syllabus. And there are different videos on Quantitative Aptitude, Reasoning and other topics for the students preparing for the competitive examinations like JEE, AIPMT.
Adaptive Learning– The lessons are designed in such a way that it satisfies the need of every student. Byju's understands that every student doesn't have same acquiring power. Adaptive learning is provided to the students by regular assessment process after each topic, the candidates are provided with a set of question if they able to perform well in that particular test then the difficulty level will be increased and if not then the level will be decreased which makes candidates understand the topic at a level that they want.
The Subscribers- The number of subscribers are 500,000 who make the use of the app on daily basis. And with most of the subscribers returning back to the app every year, we have more than 2 lakh youtube subscribers also.
Funding by different organisations- In this age a lot of people give importance to the app. With one of the world's most renowned philanthropist organisation viz. Chan-Zuckerberg initiative has been invested in the company owing to the credibility in the educational sector.
Subscribe our youtube channel for engaging video channels
About author:
SupriyaPandey is an Engineer and an education counsellor by profession. She is presently working with Byju's as a content writer.
Mail- [email protected]