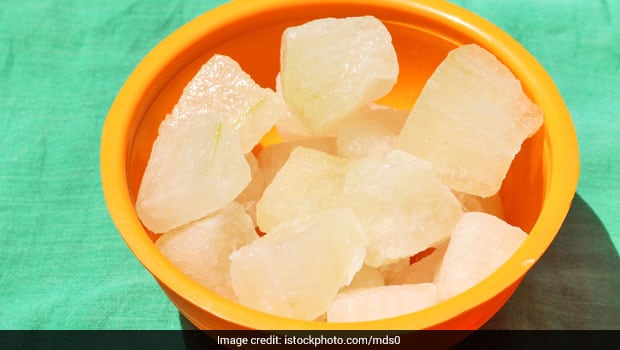 If there's something close to the fame and popularity of Taj Mahal in Agra, it has to be Agra's Petha, the desi candy. Petha is Agra's answer to the factory produced candies filled with additives and flavouring. Made from ash gourd (also known as winter melon or white pumpkin, Petha is one of the purest sweetmeats in the world as it contains only vegetable, water and sugar. The soft and translucent treat is now available in several flavour variants like Angoori Petha, Kesari Petha,then there are some mixed with nuts and some flavoured with kewda essence.
It is said that Petha was originated in the kitchens of Shah Jahan some 360 years back. For the longest time it delighted the palates of the Royal courtsmen, until the melt-in-mouth goodness came in the purview of the common public and became the local delicacy we all love.
Historian KT Acharya writes about Petha in his book, A Historical Dictionary of Indian Food, "Ash gourd, botanically Benicasa hispida, is perhaps native to Malyasia though long known in India. It is cooked as a vegetable, made into halwa and candied in hot sugar solution to give the fibrous and jujube-like Petha."
He adds, "Gourds and pumpkins are largely used as vegetables in India. The ash gourd is candied to yield Petha."
Here's a recipe by Chef Niru Gupta that can help you enjoy the gooey goodness at home –
Ingredients of Petha:
• 1 kg white pumpkin-large and hard
• 2 tsp chemical lime
• 3/4 kg (3 cups) sugar
• 3 cups water
• 2 Tbsp milk mixed with 2 tbsp water
• 1 Tbsp lemon juice
• 3-4 green cardamoms-peeled and crushed
• 1 tsp gulab jal
How to Make Petha:
1. Peel the pumpkin, remove the seeds and the soft, fibrous portion.
2. Cut into large thick slices.
3. Prick well with a fork all over.
4. Dissolve 1 tsp of chemical lime in enough water to cover the pumpkin pieces.
5. Soak them in this water and wash well. Cut into cubes.
6. Make lime water solution with the remaining tsp of chemical lime.
7. Soak the pumpkin pieces once more in the freshly made lime water for 2 hours.
8. Drain pieces and wash thoroughly, squeezing out water and rinsing again so that no trace of lime remains.
9. Boil enough water to take in the pumpkin pieces, add the pieces to it and cook till soft and transparent.
10. Meanwhile, fill 3 cups of water and the sugar in a pan; place over low heat, stirring till sugar dissolves. Bring to a boil.
11. Add the lemon juice and the cardamoms and cook till it reaches 'one thread' consistency.
12. Skim off any foam that may collect along the sides of the pan.
13. Keep the syrup warm.
14. When the pumpkin pieces are cooked, drain with a slotted spoon and transfer into the syrup.
15. Simmer for a couple minutes, take off stove and add the rose water and mix well.
16. Cool and serve.
Fragrant and delightful, we bet you can't stop at one!
["source-food.ndtv"]