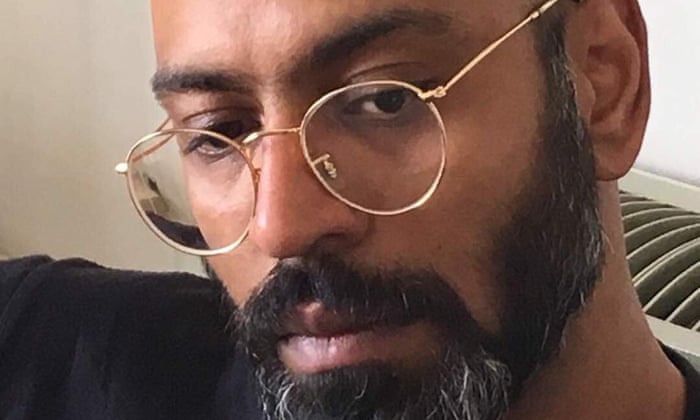 Ehsan Abdollahi has got no right of appeal to contest denial of a visa for Britain. Photograph: Handout
An acclaimed Iranian illustrator has been denied a visa to attend the Edinburgh international book festival amid growing criticism of the UK's handling of Iranian visas.
Ehsan Abdollahi, described by the festival's director as a "highly respected, award-winning Iranian illustrator of kids' books", was due to arrive in the UK early August, but he has received a visa refusal letter, issued by the British embassy in Dubai and seen by the Guardian. It states that he has "no right of appeal or right to administrative review".
Abdollahi, 37, who teaches at Tehran's top Honar (Art) University, has illustrated a number of children's books published in English by Tiny Owl, including When I Coloured in the World, by one of Iran's best-known living poets, Ahmadreza Ahmadi.
The independent publishing house has introduced Persian books for children in English, including The Little Black Fish, the most famous Iranian story for children written by Samad Behrangi and illustrated by Farshid Mesghali, winner of the Hans Christian Andersen award.
Delaram Ghanimifard, of Tiny Owl, said she was incredibly disappointed that Abdollahi's visa had been denied, saying it was the third consecutive year that Iranian authors and illustrators of children's books had been denied UK entry to attend book festivals.
"He will be very much missed this summer," she said. "Ehsan's books, When I Coloured in the World, and A Bottle of Happiness, offer unique visual perspectives which represent the wonderful diversity of the world we live in. We believe that books help us to understand other cultures and it is a great shame that children in the UK are being denied this access."
Abdollahi, speaking to the Guardian by phone from Tehran, said he was upset by the decision. "It would be a lie if I say I didn't get upset," he said. "I had planned for it for months. They have given very ridiculous reasons for rejecting the visa despite me having provided all the necessary documents."
Although London and Tehran have improved bilateral ties, the UK has significantly tightened up its visa issuance to Iranians, which is seen as a de facto travel ban on par with the one imposed by the US president, Donald Trump.