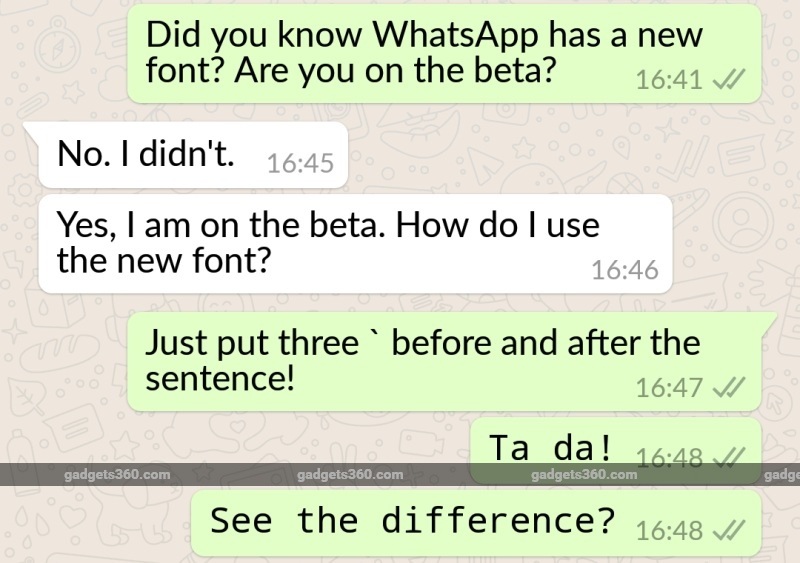 HIGHLIGHTS
The new font is being called 'FixedSys' by users
It appears to be similar to Microsoft's font by the same name
To use, just type ` thrice before and after the word or phrase
WhatsApp is testing the use of a new font in its beta clients for Android and iOS. It is uncertain when the font, called 'FixedSys' by users for its likeness to Microsoft's font of the same name, will roll out to the stable clients for Android and iOS.
Users of WhatsApp v2.16.179 beta for Android, which is available via Google Play's beta program, are seeing the new font, and so are users of the iOS beta reportedly.
All users have to do to use the new monospaced Fixedsys font, which is thought to help send snippets of code more easily, is type the grave accent (`) symbol thrice before and after the word or phrase. The text previews into the new font before users send it, and cannot be combined with other formatting options like bold and italics.
(Also see: 10 Crazy WhatsApp Facts You Probably Didn't Know)
Previous features released in beta that have not yet made it to stable releases include mentions and group invite links, as well as improved music sharing and larger emojis.
WhatsApp in June received a feature that allowed users to quote messages when replying. The user needs to long press a message in any conversation to see a reply option pop up alongside star, delete, forward, and copy.
Facebook-owned WhatsApp has been adding new features steadily, and the most anticipated is video calling, which was recently spotted in testing on the Android beta app. To recall, the last major update to the platform was in Ma – the addition of document sharing on WhatsApp Web. Shortly before that, the company rolled out its first desktop app for Windows and OS X.