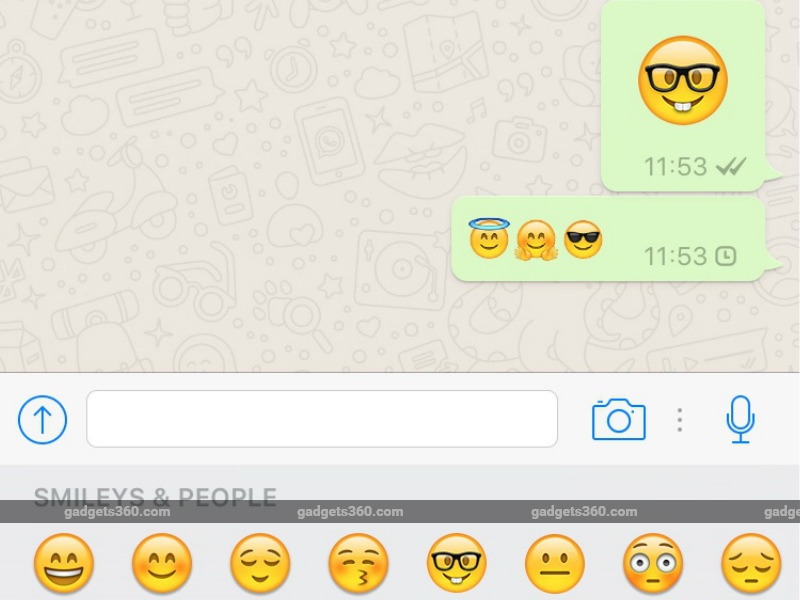 HIGHLIGHTS
Update also introduces zoom in and out for video recording
Edit button now allows multiple chats to be deleted at once
It does not allow deleting multiple group chats, though
WhatsApp for iOS has received an update, and it brings along a host of changes to the app. The emojis have gotten bigger, video recording gets a new zoom in and zoom out feature, and multiple private chats can now be deleted simultaneously.
As mentioned, WhatsApp for iOS version 2.16.7 brings along bigger emojis. When users send a single emoji symbol to group chats or private chats, it is displayed bigger in size. However, if the user decides to send multiple emojis in one go, then those will show up in their normal sizes.
The WhatsApp v2.16.7 update for iOS also introduces the ability to zoom in and out when recording video. The user needs to tap the camera icon next to the text bar in order to record video on WhatsApp. Recording starts when the user holds the shutter button on the iPhone display screen. Now, just by sliding up and down, users will be able to zoom in and out of a frame. However, when you zoom in and out the recording stops and will only start once you have set your desired frame. The option to zoom in and out simultaneously while recording live has not been introduced.
(Also see: WhatsApp for Android Beta Gets Call Back, Voicemail Features)
The Edit button on top of the WhatsApp for iOS app has been updated as well. Now, it allows users to delete, mark as read, and archive multiple chats at once. The delete button activates only for private chats, and group chats still need to be deleted one at a time. However, the Edit feature allows users to Mark as read, and archive all group and personal chats.
The IM app claims that it has also made some bug fixes and improvements that enable chats to open faster than they did before. Apart from this update, there is also a new Olympics emoji that WhatsApp has introduced ahead of the Rio Olympics 2016. The emoji is available for Android users next to the bowling emoji, while iOS users don't have it on their keyboards yet. Users will have to copy paste a symbol in its WhatsApp chats, and the symbol can be found here.
["Source-Gadgets"]