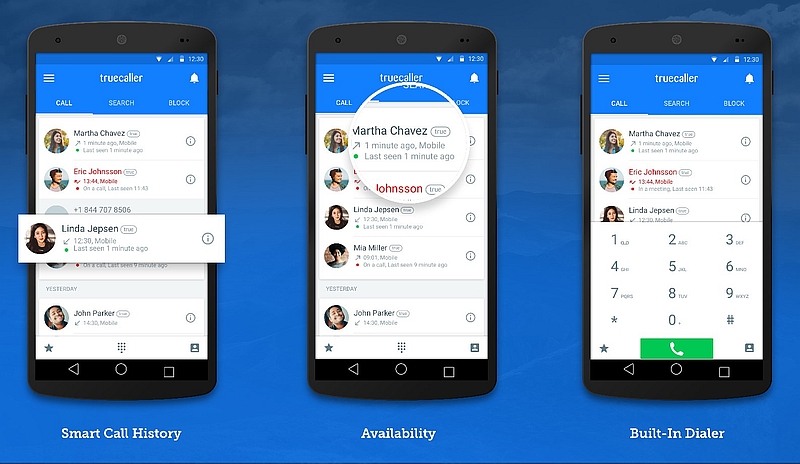 The popular caller ID and spam blocking app Truecaller has received an update to version 6.60 on Android. The latest app version brings in several Truedialer features, including 'smart call history', availability status, and a built-in dialler.
Truecaller v6.60's smart call history feature replaces unknown numbers with real names and faces in the call history inside the app. It is for those phone numbers that are not saved in the device's contact list. This would let users skip the process to save contacts on the handset's phonebook.
The app update also includes availability status feature, first introduced to the Truedailer app in September last year. The feature shows if the user's friends or contacts are free to talk before the caller plans to call them. The availability status is set to green if a person is free to take calls; otherwise it is switched to Red if the user in on a call at the moment.
The third inclusion on the Truecaller v6.60 is the built-in dialler. The feature would now let users make calls directly from within the Truecaller app. This would save the time taken to switch back to the handset's stock dialler to make a call. The latest app version is available to download from Google Play.
It's evident with the integration that the company is looking to do away with the Truedialer app, which itexplains on its blog, "In 2014, we launched Truedialer to bring similar improvements to the dialer, which had not evolved since the introduction of the smartphone. Truecaller is now bringing many of the great features from Truedialer and integrating them into Truecaller, giving you full control your entire calling experience with just one app… Existing Truedialer users will be gradually upgraded to the new Truecaller experience."
In an emailed statement, Alan Mamedi, Truecaller Co-Founder and CEO, said, "Now, you can completely replace your existing dialer and only use Truecaller for all your calls. We are also very pleased to see our OEM partners being so supportive of our mission."
Download the Gadgets 360 app for Android and iOS to stay up to date with the latest tech news, product reviews, and exclusive deals on the popular mobiles.