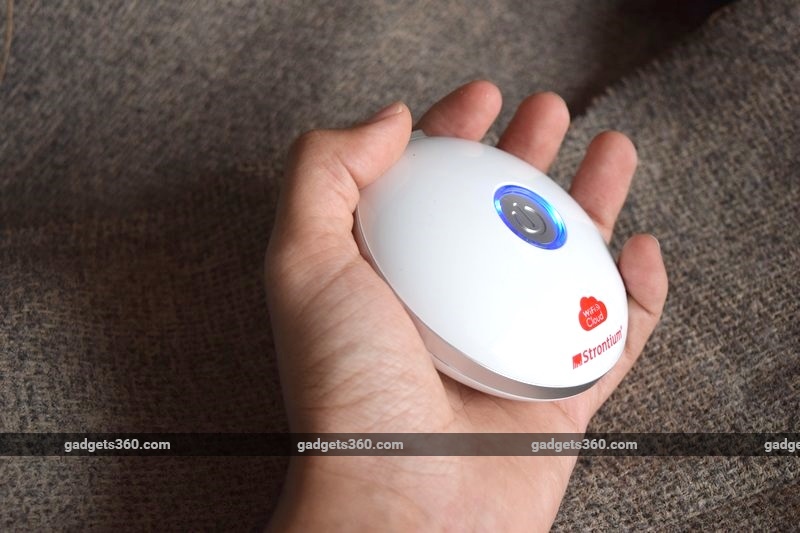 Strontium Mobile WiFi Cloud Review
HIGHLIGHTS
Use Wi-Fi to access the contents of connected storage devices.
Works with iOS, Android, PCs, smart TVs, consoles, etc.
3000mAh battery can be used to charge other devices.
Many smartphones, especially iPhones, are impossible to upgrade when you run out of storage space. All existing options are clunky and frustrating, and even then, moving data to and from them can become a hassle. One of the workarounds that can be exploited is using a smartphone or tablet's Wi-Fi to hook up to a network-attached storage device. One one hand, such devices can be simple, inexpensive, and flexible in terms of storage capacity and management. On the other, you have to remember one more thing to carry around and keep charged.
Strontium's Mobile WiFi Cloud is an unusual product for the company, in that it has no storage of its own. It doesn't do anything we haven't seen before, but it could be versatile enough to become the one accessory you just cannot leave home without.
strontium_mobile_wifi_cloud_front_ndtv.jpg
Look and feel
The Mobile WiFi Cloud is shaped like a large puck, which makes it a bit awkward to use and carry. It isn't very handy, as far as portable accessories go – it certainly cannot fit into a pocket. It seems a lot less practical than, for example, the Kingston Mobilelite Wireless, which offers pretty much the same feature set. That could be because of its higher battery capacity, and you'll have to decide if that tradeoff is worth it. However, if you carry a biggish power bank in your bag anyway, the Mobile WiFi Cloud could conceivably replace that.
The device's design and build quality aren't all that good. The plastic feels cheap, and the seams where the upper and lower plastic bowls meet the central ring are rough enough to scratch you quite badly. The pieces also seem to fit together quite poorly. The WiFi Cloud logo on top and the port labels at the back are printed a bit crudely, and you can see that the company's own logo is distorted because no one factored the curved surface into the design process. Curiously, the logos and even the product name printed on the device itself, the box, and one of the guide pamphlets are all different.
strontium_mobile_wifi_cloud_rear_ndtv.jpg
There's a big power button on top surrounded by a clear plastic ring with three LED indicators arranged within it. The button is loose and wobbly to the extent that you can hear it rattle if you pick up the device and shake it, and the ring diffuses light which makes it hard to tell which LEDs are on at any point and what they mean. There's a rubber ring on the bottom which keeps the unit from sliding around.
There's a full-sized USB host port on the rear, with a full-sized SD card slot to its left and a Micro-USB charging/ data port and reset button to its right. The SD card slot is upside down, and cards don't slide in or out smoothly. Strontium includes a microSD adapter which is a nice touch, and a Micro-USB cable which you can use to charge the WiFi Cloud or plug it into a PC for direct access to SD cards.
strontium_mobile_wifi_cloud_literature_ndtv.jpg
You get two folded paper pamphlets in the box: one labelled Installation Guide and one labelled Quick Installation Guide – the former illustrates Strontium's Android and iOS apps, and the latter, which isn't any quicker to read, outlines the hardware and physical setup.
Features and setup
The Mobile WiFi Cloud does not have any local storage so you're going to have to use either an SD card or USB media. Interestingly, hard drives are supported in addition to standard USB pen drives, as long as the unit itself is plugged in and receiving 2 Amps of power through the Micro-USB port. The contents of storage media can be accessed over Wi-Fi and also directly, if plugged in to a host PC via USB.
strontium_mobile_wifi_cloud_top_ndtv.jpg
When plugged in, the device acts like a standard card reader and you can drag and drop files through Windows Explorer. Media plugged into the USB port is detected as well, so the Mobile WiFi Cloud is sort of a passthrough – not particularly useful, especially since it only works at USB 2.0 speed. However, the hidden benefit is that you can plug the device into any Android phone that supports USB-OTG (though it will draw power from the host device rather than deliver power in that case).
When not plugged in to a USB host, the Mobile WiFi Cloud will broadcast a Wi-Fi signal that you can hook on to from any device. This establishes a network connection between the two, and browsing files is as simple as firing up any app that can work with network-based resources. Strontium of course offers its own, but we were also able to use VLC and standard file browsers thanks to support for UPnP and DLNA protocols. You'll also be able to pull media using a smart TV, game console, or other such appliance.
strontium_mobile_wifi_cloud_bottom_ndtv.jpg
It takes about a minute after the device is powered up for it to begin broadcasting a Wi-Fi signal. You can then connect to it from any device as you would with any hotspot. There's no security by default, which is something you should change immediately. One of the instruction leaflets told us to download an app called "Strontium WiFi Cloud: Wi-Fi Storage", though a quick search shows that it's actually listed as Strontium Hub.
We tested the app on an iPhone 5C and a fourth-gen iPad, both running iOS 9.1. The app is fairly standard, and like most others of its kind, lets you set up a passthrough Wi-Fi connection to your router which will let you re-establish your Internet connection – this means you can use the Mobile WiFi Cloud as a short-range Wi-Fi extender. You can also set up security for the device itself and for remote file access, which you really should do.
strontium_mobile_wifi_cloud_appsettings_ndtv.jpg
Usability and performance
The app is fairly crude in terms of design and layout, but it does work, for the most part. You can browse connected media by folder or see your files filtered into content-specific categories. Media format support depends on the app rather than the hardware, and we found that third-party apps did a better job than Strontium's own. For example, you can read Office file formats and PDFs, but not full-screen on an iPad. Some videos played in one corner of the screen and we couldn't find controls beyond the most basic playback options, whereas VLC played the same files flawlessly and even gave us control over subtitles, aspect ratio and speed. The company says that up to five devices can be connected and stream media from the Mobile WiFi Cloud at the same time.
You can copy files over to other devices – on iOS at least, they have to live within the Strontium app because of the way the filesystem is structured. You can then sling them across to other apps, mail them, attach them to messages, or upload them anywhere. The same holds true for copying or saving to the Strontium Mobile WiFi Cloud – you create duplicates within the Strontium app first and then choose to upload them to the device. You can copy files from your iOS photo library, which is pretty handy.
strontium_mobile_wifi_cloud_appphotos_ndtv.jpg
We tried a variety of storage devices and found that as far as USB pen drives and SD cards go, the Mobile WiFi Cloud is completely agnostic, which is great. However, a 2.5-inch WD My Passport Ultra hard drive did not work as claimed, even with a 2 Amp wall adapter. It was recognised by the Mobile WiFi Cloud but showed up as empty, with a capacity of zero bytes. That's a bit worrying, but what's worse is that there's no way to safely dismount and eject drives.
The app crashed on us a few times when trying to open files. We wound up ditching it altogether, especially after discovering the undocumented browser-based configuration page which is a lot better looking and easier to use than the app – you just type the device's IP address into a browser (10.10.10.254 by default) and everything's right in front of you, though again without the benefit of a password.
strontium_mobile_wifi_cloud_sdcard_ndtv.jpg
You can monitor the capacity and usage of connected storage devices, but unfortunately, there's no way to keep an eye on battery life. The device itself has an LED indicator but it isn't granular enough to tell you if you have enough time left to get through a movie, for example. Strontium promises up to 8 hours of continuous usage from the 3000mAh battery, but runtime will vary depending on how you use it and whether you charge other devices from it.
Verdict
The Mobile WiFi Cloud is a departure for Strontium, which has till now specialised in small products such as RAM modules and memory cards. The company needs to understand that the audience for this device is quite different, and pay a lot more attention to things like build quality, consistency, security, and the end-user experience. This is a device with a lot of capabilities, not all of which are obvious to users, so there also needs to be a much better guide or overview.
The shape and size of the Mobile WiFi Cloud are impractical for something that might be carried around every day. It's more likely to be something you pack only when going out of town for a few days. If you only need external storage, Android users would be better off with a simple USB-OTG pen drive and iOS users have a few Lightning-based options as well.
strontium_mobile_wifi_cloud_box_ndtv.jpg
As far as products go, the Strontium Mobile WiFi Cloud doesn't do anything we haven't seen before, but it does at least seem to be more versatile than other similar products. It's also much less expensive than other solutions, with no limit to the capacity of storage media you use. The Kingston unit we reviewed a year and a half ago is the closest parallel, but it has a smaller battery. Other products have card readers but not USB ports, making them useful for smartphone storage expansion but not necessarily media sharing.
Even if the functionality of the Strontium Mobile WiFi Cloud appeals to you, there is significant room for improvement. We saw similar software issues with the Strontium Nitro iDrive, which the company proactively rectified after we brought them to light, so we hope to see a much better version 2.0 of this product with a more polished user experience.
Price: Rs. 3,499
Pros
Cross-platform compatibility
Functions as a power bank
Works across platforms
Cons
Not very portable
Build quality could use improvement
App only has basic controls and features
Ratings (Out of 5)
Design: 3
Performance: 3.5
Value for Money: 4
Overall: 3.5
For the latest coverage from the Consumer Electronics Show in Las Vegas, visit our CES 2017 hub.
Tags: Mobile Wifi Cloud, Strontium, Strontium Mobile Wifi Cloud, Strontium Mobile Wifi Cloud Review, Strontium Mobile Wifi Cloud battery, Strontium Mobile Wifi Cloud features, Strontium Mobile Wifi Cloud performance, Strontium Mobile Wifi Cloud price, Strontium Mobile Wifi Cloud price in India, Strontium Mobile Wifi Cloud specifications
["source-ndtv"]