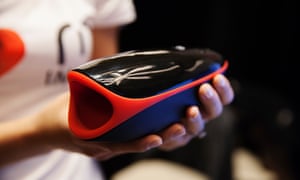 Today's entrepreneurial generation might not have invented sex, but they have invented bluetooth-connected sex toys.
Robina Gibb scoured Los Angeles's Sexual Health Expo in January, exploring some of the market's most innovative and intimate devices, from electronic stimulators for couples to smartphone-controlled pelvic floor exercisers.
The Piu masturbation toy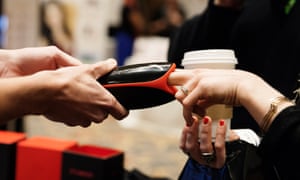 Made by IMTOY, this stylish men's vibrator has a shiny black and red exterior and a squidgy red silicone interior. Penises will be treated to a choice of 30 vibration patterns delivered by three different motors that are designed to give "a gentle butterfly flutter or a big thump", according to marketing director Matthew von Abo. The Piu costs $199, and syncs with an app that sells a selection of adult films designed to play in time with the app. Owned by a Chinese firm based in Shenzhen, the Piu is touted as the most luxurious and sophisticated male vibrator.
The Nova vibrator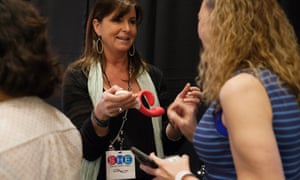 Tori Parker, director of business development at We-Vibe, shows off the company's new Nova vibrator. A flexible, two-pronged vibrator, it works with the We-Control app that also allows a partner to control the device remotely. This is known, in old sex-tech parlance, as "teledildonics". This chunk of sophisticated remote sex play can be yours for around $150.
We-Vibe's couples vibrator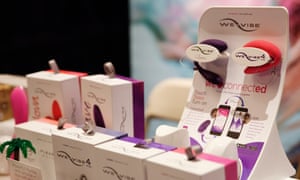 The We-Vibe 4 Plus comes with the We-Connect app, and is the latest smart version of what claims to be the world's top selling "wearable" couple's vibrator. Manufactured by Canadian firm Standard Innovations, the curved, ergonomic design looks something like a fleshy rubber staple gun and is designed to be worn by the woman during sex. Like the Nova, the We-Vibe 4 can be controlled remotely through the app, though the company also helpfully suggests that the "snug fit" and "whisper-quiet motors" make it ideal for a solo, discreet panty vibe. It is made of silky, medical grade silicone, comes in pink, purple and grey and sells for $179.
Welcome to California: dildos made of crystal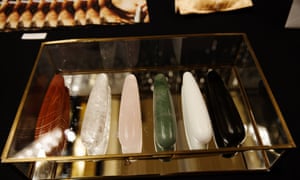 If internet-connected stimulation isn't quite your thing, you might prefer a softly polished wand or egg made of pure crystal. Chakrubs founder Vanessa Cuccia started her company to bring the healing power of crystal, or stone magic, to the realm of sex. Choices include Indian jade, white lotus and obsidian which, the company claims, will rid the user of any negative energy in their aura, and anywhere else they stick it. Prices range from $75 to $200.
Candy – the electric monitor for kegels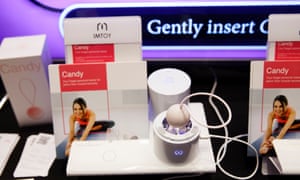 The Candy is another IMTOY "personal trainer" for women to help strengthen pelvic floor muscles. Kegel exercisers are a booming sector and this "smart" little 33mm diameter ball on a loop is one of cutest. Blush-pink and made of medical grade silicone, its internal pressure sensor collects "tension data" from the contraction-release movement of the pelvic floor muscles and communicates via bluetooth to the Candy smartphone app, with a pressure scale that peaks at 225. The app has a series of "workouts" with the tone of a motivational gym instructor. Packaged like an expensive bottle of perfume, it comes in a sleek white storage case that includes an ultraviolet transmitter for sterilization. Created by Chinese engineers who say they have mirrored the low 40dB ambient sound of a library in its tiny motor, the Candy costs $189.
The inseminating dildo you've been looking for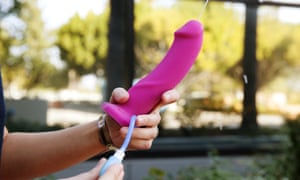 The POP is the latest version of the revolutionary Semenette, a sex toy that doubles as an inseminating device that mimics ejaculation. Inventor Stephanie Berman had failed to conceive with her partner using the "turkey baster" method and wanted to create a toy that was both pleasurable, functional and didn't feel like a medical aid. When Berman's partner became pregnant the first time they used it, she secured funding and patented the product's removable and replaceable tubing. It comes in a variety of colors, has a strap-on option and retails for $139.95 including three detachable tubes.
And finally…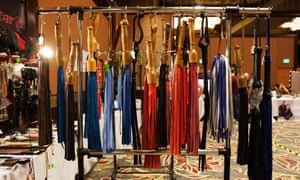 Edgeplay Gear toned down their selection of stock for the She event, displaying a modest selection of non-internet-connected velvety paddles and leather whips. For the unleashed version of ball gags, chastity cages and inventive ironmongery, see the Edgeplay Gear website.
["source-theguardian"]