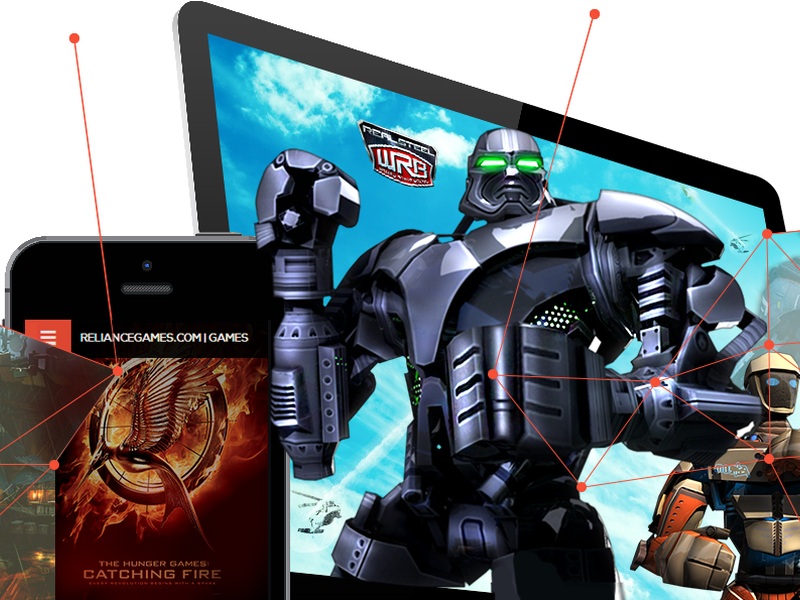 Reliance Games Wants Its Next Real Steel From Pocket Gamer Connects Bangalore
The second edition of game developer conference Pocket Gamer Connects Bangalore will take place this week. As with the first edition, Reliance Games will be hosting it. While there's the usual roster of speakers, the most interesting segment is The Very Big Indie Pitch. It's an event wherein Indian game developers can show off their up and coming titles to a panel of judges. Much like last year, Reliance is promising a cash prize and publishing deal for the winners. Though unlike last year, the company is hopeful that its efforts at courting local developers don't go in vain. We spoke to Reliance Games CEO Amit Khanduja to find out what to expect.
"This year's Very Big Indie Pitch will be bigger and better. 60 to 70 indies have submitted their games and the top 20 will come and present," Khanduja explains. "We are actually going to help them significantly compared to last year which was just about giving them press on the global front so they had the ability to get feedback from other platform providers. This year we're also saying, not only would we give them the big award for winning but we will also help them publish."
To us, it sounds a lot like what was promised before: a Rs. 10 lakh prize for the winner and a publishing deal with Reliance. We wondered how it would be different now.
"A lot of them came back to us saying they don't have the skill set or ability to take their games globally, technically or through marketing," says Khanduja. "We as Reliance will enable them to take it to the next level. Our technical, marketing and other skills will be used to make their game a success along with what we did last year as well."
reliance_games_list.jpg
One of the stickier topics of last year's Very Big Indie Pitch was that Reliance and most local studios could not agree on commercial terms. So much so that most of them backed out from the offer altogether, opting to publish their games on their own. And while it might seem like a complete loss for Reliance, Khanduja claims it has managed to get a couple of developers on board.
"[One such studio is] Ether Games. They had a shooting game that was at last PG Connects," he says. "We've been working with them for close to nine months now and if we look at where the game was and where the game is right now, you'll see a day and night difference in it."
(Also see: The Best Indian Mobile Games from Pocket Gamer Connects Bangalore)
Work on the game has reached a stage where wherein it's ready to be tested in different countries, Khanduja believes. The timing could not be more apt.
"We're actually going to start [country testing] that around PG Connects so that people see the benefit and see that what we've been asking the developer, they can actually showcase [to other developers] the benefit of what they've been able to get. Not just from us, but also from a technical and business perspective."
One would assume, given that most games showcased at last year's PG Connects were almost (if not completely ready) to launch, it should not have taken Reliance and its partners such a long time to get something out of the gate. But there's a method to the madness, according to Khanduja.
pgc_developers.jpg
"The strategy from a Reliance perspective is that we want have games which have a longer play cycle, where people are engaged with the game and continue to play not for weeks or for months but for years," Khanduja says. "Engagement and retention are very important KPIs to incorporate within the game, this is what the whole objective of the conference is, how can we bring the same learning to the developers here and how they can learn from players [through other developer experiences]?"
"If you look at it, some of the developers who did not end up working with us, most of the games have not done anything. Either they've not been launched or if they launched they just came in and disappeared," he adds. "Developing a game is one component, developing a game for global market is the second component, having some kind of success in the global market is a very different component altogether. And we told the developers at that time as well, we're not doing this for taking away their success, we're doing this for them to make the game successful."
Given the company's past record,there's enough of a precedent to make it happen.
"With Real Steel hitting the mark of almost four years, the next bigger game is Real Steel World Robot Boxing hitting two years, our drones game hitting 18 months… We want to bring the same user experience to India as well, so people feel the quality of the game is also very important," he says.
"We focussed a lot on the indies [last year]. It's going to be developers from indies and bigger developers as well," Khanduja adds. "This is because different companies are in different lifecycles of what they do. EA and Zynga do a great job of continuing live operations and supporting a game from the global perspective."
It will be interesting to see if the sentiment is reciprocated by a developer community that's wary of what to expect from bigger companies. Having said that, with discoverability on the App Store and Google Play being increasingly painful for game makers both new and established, this is a gamble that might just pay off for Reliance.
Tags: Indie Gaming, Mobile Gaming, PGC, PGC Bangalores, Pocket Gamer Connects, Pocket Gamer Connects Bangalore, Real Steel, Reliance
["source-ndtv"]