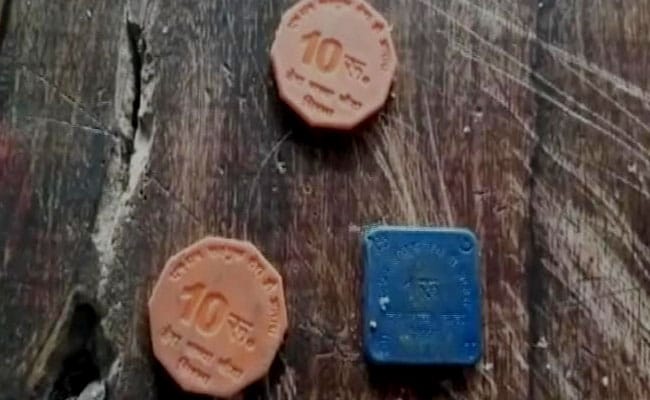 During Dera headquarters search operation, police recovered plastic currency used inside the campus.
NEW DELHI:
HIGHLIGHTS
Orange Rs. 10 and blue Re 1 coins found by search teams
Plastic currency molded in shape of coins, looks like child's money
Followers use currency if they don't have change in real currency
As the Dera Sacha Sauda's headquarters in Haryana's Sirsa were searched over a week after the sect's leader Gurmeet Ram Rahim Singh was jailed for rape, plastic money used by the self-claimed spiritual guru's followers was discovered. The plastic pieces molded in the shape of coins look like a child's toy money but actually carried value in the Dera's own shops within the campus, say followers. The words 'Dhan Dhan Satguru Tera hi Asara, Dera Sacha Sauda Sirsa' are inscribed on them.
The "money" found by the search teams this morning was orange Rs. 10 and blue Re 1 coins.
Shops owned by the flamboyant Ram Rahim's followers used the plastic coins as change if they didn't have real currency. The coins can be used again only in these Dera shops, which have the word 'Sach' or truth prefixed to their names.
dera plastic money
The plastic pieces recovered in search operations at Dera headquarters look like child's money.
A large amount of cash was also found in the raid which began this morning at the Sirsa base in the presence of hundreds of officers, police and commandos.
The nearly 1000-acre Dera headquarters is a self-contained township featuring schools, shops, houses, a hospital, a multiplex and a seven-star resort designed like a fantasy land with replicas of world-famous buildings.
ram rahim sirsa headquarters
Apart from his pink mansion, Ram Rahim's headquarters has models of the Eiffel Tower and Disneyland
The plastic money cannot be used anywhere outside the campus, but the Dera chief and his followers lived by their own set of rules.
["Source-ndtv"]