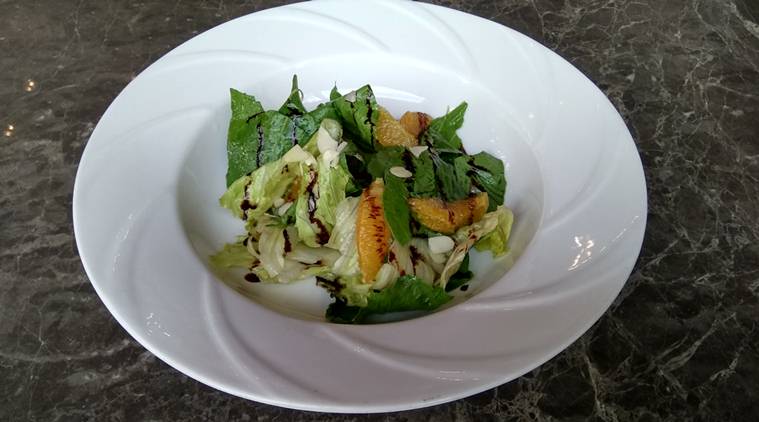 A perfect fruit salad can make your day and what if it also has all the healthy ingredients? This summer make the best use of your indoor stay by making some nutritious options of fruit appetisers at home.
Sujeet Singh, executive chef at Radisson Noida located in Sector 55, gives some healthy options one can try at home.
Grilled Watermelon and Feta Salad
Ingredients
* 1 pound watermelon
* 2 tbsp extra virgin olive oil
* 3 tbsp balsamic vinegar
* 2 cups arugula
* 1 tsp kosher salt
* 1/4 cup crumbled goat cheese
* Cracked black pepper, to taste
Method
* Preheat grill to medium-high. Slice watermelon into 2-inch by 3-inch portions. Brush watermelon with olive oil and grill on one side until marks appear. Rotate once at a 45-degree angle to create diamond grill marks. Set to the side.
* In a small saucepan, reduce vinegar by half over low heat and reserve.
* Place arugula in a small mixing bowl and season with half the salt and remaining olive oil.
* Assemble salad by placing half the arugula on a plate. Top with grilled melon slice and half the goat cheese. Repeat creating two layers. Drizzle reduced vinegar on top. Season with remaining salt and pepper.
Grapes and Mango Spinach Salad
Ingredients
For the dressing:
* 2 tsp extra virgin olive oil
* 2 tsp fresh squeezed lime juice
* Salt, to taste
* Crushed red pepper flakes, to taste
For the salad:
* 3-4 cups baby spinach
* 10 grapes, sliced
* 1/2 cup cubed mango
* 1/4 cup chopped red onion
* 2 tbsp pumpkin seeds
* 3 tbsp hemp seeds
Method
* In a small bowl, whisk together oil and lime juice. Season to taste and set aside.
* In a medium bowl, combine salad ingredients, top with dressing and toss.
Ashish Srivastava, Executive Chef, Regenta LP Vilas, Dehradun too has a recipe to share.
Mango Summer Salad With Cheese
Ingredients
* 500g ripe mango
* 10g mint leaves
* 50g mixed lettuce
* 50g onion
* 50g cherry tomato
* 10ml lemon juice
* 5g chopped mint
* 200ml olive oil
* 30g feta cheese
* 5g salt
* 6g black pepper
* 10ml honey
* 10g sunflower seed
Method
* Cut mango in cubes and add onions and tomato. Add some chopped mint leaves to the salad.
* Pour a few drops of olive oil and honey. Toss together with salt and pepper.
* Arrange salad in a plate with mix lettuce and pour remaining dressing on top of it. Garnish it with a few sprigs of mint leaves, feta cheese and sunflower seed
["source=indianexpress"]