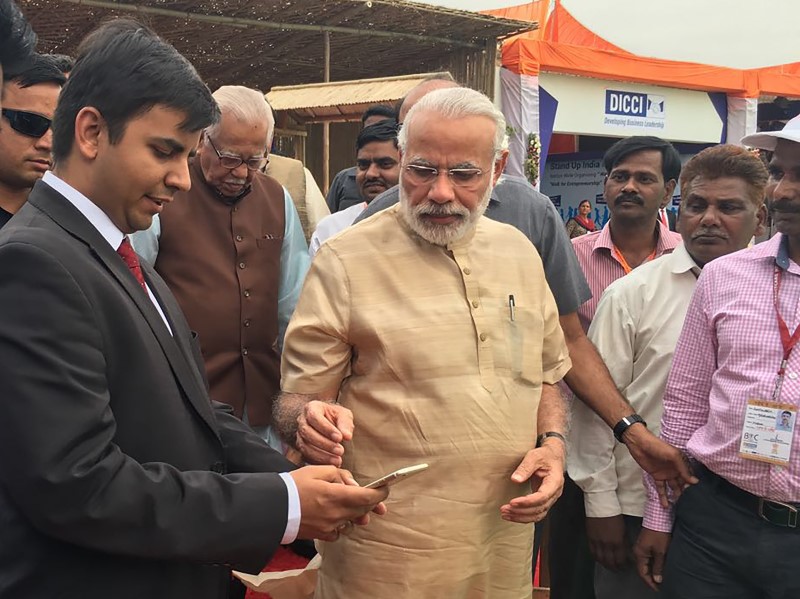 Cab aggregator Ola on Tuesday introduced electric-rickshaws – popularly known as e-rickshaws – on its mobile app, to enable reliable mobility in smaller towns and cities, a company statement said.
The first Ola e-rickshaw was booked on the Ola mobile application by Prime Minister Narendra Modi at the launch of 'Stand Up India' initiative aimed at promoting entrepreneurship, the statement said.
"The transportation needs of users in smaller towns and sustainable alternatives for cycle-rickshaw peddlers, will be solved with the introduction of e-rickshaws on the Ola app, which are affordable, environment friendly," said Pranay Jivrajka, Ola's chief operating officer.
According to the company statement, a total of 5,100 Ola e-rickshaws were launched in partnership with Bhartiya Micro Credit (BMC) at the event and deployed across Delhi, and suburban Gurgaon, Noida, Faridabad and Ghaziabad.
Prime Minister Narendra Modi at the launch of the Stand Up India initiative on Tuesday handed over 5,100 e-rickshaws to people from the weaker section of society to enable them to earn their livelihood with dignity.
Commuters can also call the e-rickshaw through Ola app.
These e-rickshaws were given to those who had to rent them for a livelihood.
"Earlier, manual rickshaw-pullers had to toil hard and earned much less. Now they can earn more with less labour by running e-rickshaws. Also, they would not have to pay anything as rent of the rickshaw. Instead, by paying out a small amount daily, they would become the owners of their e-rickshaw," the prime minister said.
The drivers who were given the e-rickshaws on Tuesday have been trained in driving and using the app to transact with commuters.
"Energy banks have also been established for these e-rickshaw drivers where they can charge batteries with solar energy. The entire initiative is environment friendly," Modi said.
Download the Gadgets 360 app for Android and iOS to stay up to date with the latest tech news, product reviews, and exclusive deals on the popular mobiles.