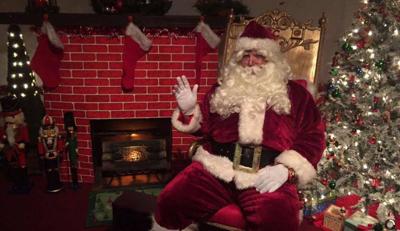 A family member's wish for a Huntington man to continue a jolly Christmas tradition has transformed his life purpose into helping needy families one by one.
Isaac Morgan, 36, grew up in Lewisburg, West Virginia, before moving to Huntington to study music education at Marshall University about seven or eight years ago. Since moving to Huntington, Morgan and his wife, Michelle, founded a charity called The Nice List with one goal in mind – to help spread Christmas cheer.
The Nice list formed out of Morgan's family traditions. He grew up in a large family, who all gathered at his grandmother's house each Christmas Eve to celebrate.
The family was special, as it had a yearly personalized visit from Santa before the night ended. Morgan had three uncles: Nick, whose Christmas display overtook any neighboring home; Mike, who never forgot to give a card or present; and Bo, who was the special Santa.
Bo would walk up and down the grandmother's street in Cabin Creek to visit with everyone to make sure families in need didn't go without seeing Santa, he said.
"It made Christmas magical for some reason. Santa always came to see us on Christmas Eve and then Santa would always go up and down the hollows to see all the other kids," he said. "I would always be told by my mom that Santa always did that because there were kids there that really couldn't afford going to the mall to get their photo taken with Santa and things like that."
Bo died of cancer in 2012, but after a final plea from Bo prior to his death, Morgan took over the suit with a promise to continue the tradition.
"I was like, 'I will do it once for you,'" he said.
It wasn't just once, however. He wore the suit the following year and his other uncles were able to see him prior to their deaths quickly after Bo. In honoring his uncles, Morgan has continued the tradition of Bo's wish for no one in need to go unnoticed.
While operating for about five years, the small charity incorporated in 2017 and is a nonprofit organization. The Nice List does not discriminate on who it helps. Anyone in need, or anyone who has fallen on hard times, could be the target from year to year, almost like a secret Santa.
Their goal could be as small as giving one child a toy, or as large as purchasing an entire wish list for a family. He also runs fundraisers throughout the year in which donors could win a gift card to a restaurant or something as large as a Yeti cooler.
It started with Morgan working gigs as Santa during the holiday season and fundraising, which helped The Nice List gather enough money to buy toys to donate to Toys 4 Tots. However, soon the company turned its focus onto individual families. He then found a very young girl, Ellie, who was fighting cancer, and gave her and her family a Christmas they wouldn't forget.
This year Ellie is again fighting cancer and Morgan plans to shift his focus back on her.
Another year, he helped victims of the 2016 West Virginia flood, which resulted in the deaths of 23 individuals, by returning to his home town and giving gifts to several families in conjunction with the Greenbrier East High School band.
The Barboursville Bob Evans manager's kindness isn't just specific to one season, however. He said when a flood victim family came into Bob Evans to eat one day, with no money to do anything else, he paid for their meal, bought them shirts and gave them a movie theater gift card for the family to use.
It's not the size of the operation that counts, Morgan said, it's the spirit.
"It's the season to spread goodwill. It doesn't have to be a corporate holiday. There don't have to be Black Friday riots to get the newest item," he said. "It could be something as simple as finding somebody that is just down on their luck and making their day brighter. You'd have no idea how much of an impact you make with people."
The holiday season kicked off for The Nice List with an annual Wrestle Cancer fundraiser, which will end with an All Star Wrestling show in Madison, West Virginia, on Black Friday. Morgan promises the event will have several prizes for anyone who gives a $10 donation at the door, anything from an autographed poster, to a T-shirt, to a souvenir chair from the 2017 Royal Rumble.
["source=forbes]