Bluetooth speakers are a hugely popular category now and everybody seems to have one these days. And apart from the entry-level speakers that cost around Rs. 1,000 or so, there are plenty of higher end offerings as well. Some, like the JBL Charge, provide a decent speaker that doubles up as a huge battery pack. The Altec Lansing Lifejacket 2 is nearly indestructible, and the recently launched Logitech UE Roll is waterproof and ultraportable.
Priced at Rs. 8,495, the Logitech UE Roll is certainly not cheap, but it has a unique design that will catch everybody's eye, and it's also waterproof, so you can sling it from the shower head and level up your inner bathroom singer. Gadgets 360 used the Logitech UE Roll for one week to see how it measures up as a speaker, and whether you should buy one. Read on to know what we thought about it.
Design
The Logitech UE Roll is a fairly unique looking speaker. Many Bluetooth speakers at this price, including the UE Megaboom, have a cylindrical design but the UE Roll goes for a small disc shape instead. It's a little thick in the middle, and tapers out towards the rim. It's 1.6-inches tall, with a 5.3-inch diameter.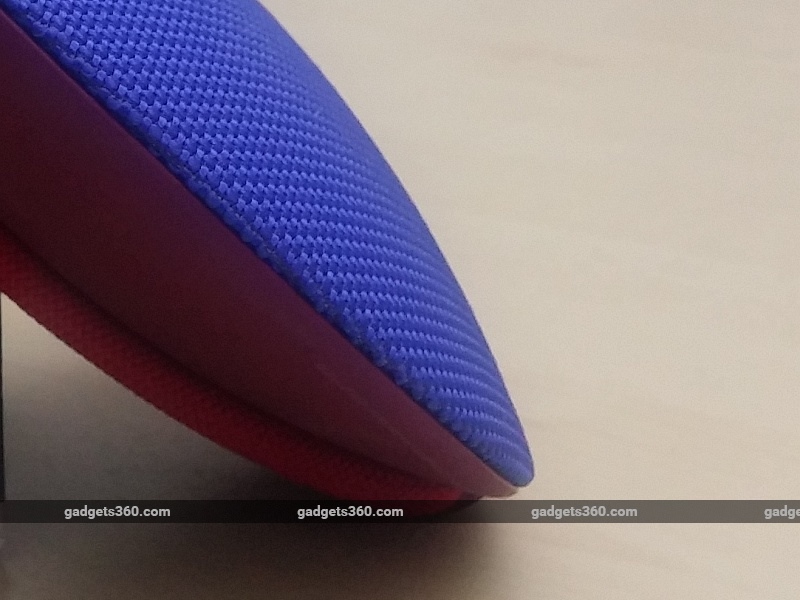 There are plenty of hockey-puck shaped speakers on the market, but absolutely nothing that looks like the UE Roll, and that's great. It's fun to look at, and makes a strong visual statement.
The top part of the speaker is covered in a fabric mesh – ours was plain, but there are plenty of bright patterns available – and there are two giant buttons stitched onto the top, a plus and a minus, to control the volume. These are the only buttons visible. If you put the speaker down on a table or other surface, then the sound is projected in all directions. However, this speaker has one more feature that makes it a little more directional.
Flip it over and you'll notice that there's an elastic loop on the back, hooked to a rubber lip on the other side of the speaker. This can be removed, and you suddenly have a carrying strap for the speaker. You could use this to clip it to something like your backpack strap, or, to hang it from something, like the handlebars of a cycle, or from your shower head. Hanging like this, you obviously need to point the top of the speaker towards you.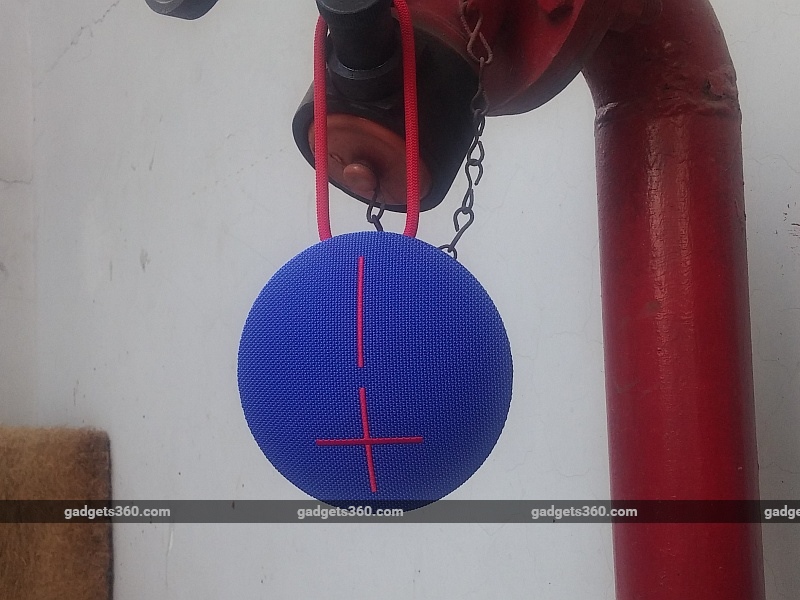 On the bottom, apart from the elastic strap, there's a rubber port that can be lifted to expose a 3.5mm jack for a wired connection, and a Micro-USB port to charge the speaker. The speaker is waterproof, and you don't actually need to close the flap – though it's advisable to do so, of course.
There's also a power button and a Bluetooth button on the bottom of the speaker – you don't need to use them too often, so it makes sense that they're tucked out of sight under the speaker.
There is no battery display light, but you can press the plus and minus buttons at the same time to get a status update on the battery. You can also connect two devices to the speaker at the same time – if you're listening to music playing from your tablet and decide to switch to something playing from your phone, it works seamlessly, stopping playback from the first device to play the second one. The only thing missing is a microphone, to allow you to use the speaker as a hands-free device.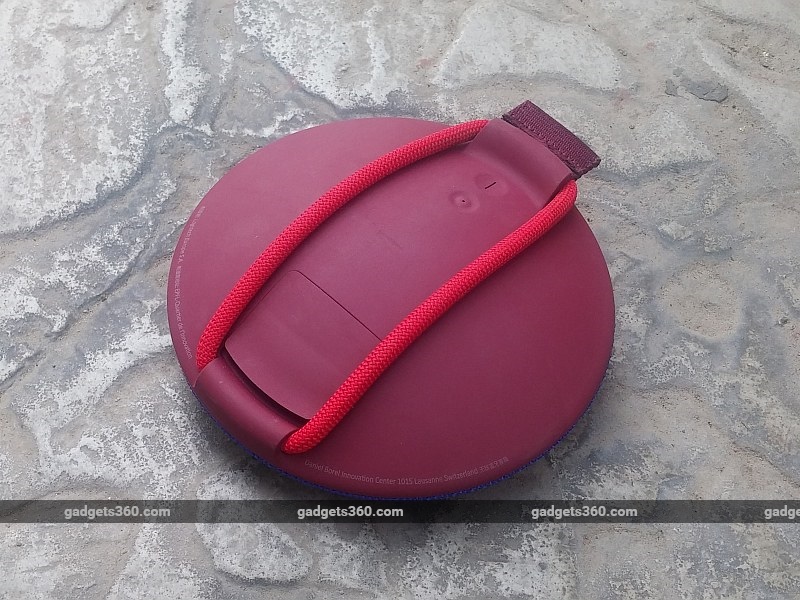 One thing that you should know is that the compact nature of the speaker means there's no space for air – so it won't float. That's a little disappointing because the design makes it seem like something that would be ideal for the pool, but apparently in the US, the speaker ships with a "floaty", an air-filled cushion that makes it float. That is not the case in India.
Performance
The Logitech UE Roll is a very small speaker, and so it's no surprise that the sound output isn't exactly going to blow you away. Whether you're talking about total volume output, range, or clarity, the speaker is competent, but not much more than that.
The Logitech UE Roll packs in a 2-inch driver, with two 3/4-inch tweeters, with a frequency range of 115Hz to 20KHz. The upper end of that range is fine, but the lower end is a lot higher than what you want for bass-heavy music. In short, this speaker does a lot better with mid-focussed pop music than any other type of audio.
That doesn't mean there's no bass on this speaker – it just lacks the clarity you might expect given the price tag here. On the other hand vocals come through much more clearly and Mozart's String Quartet No. 21 sounded great. The treble flattens out a little at the highest notes but despite that, the bright sound of the speaker is actually quite enjoyable, and for the most part, there is little distortion.
Push the volume all the way up and there is some expected degradation in quality, and although it's more noticeable at the lower levels, the speaker really doesn't sound very good at high levels. Also worth noting, even when it's at full volume, the speaker isn't actually very loud. In a gathering of a dozen people, the output from the Logitech UE Roll quickly fades into the background.
Putting it in a bathroom hanging from the shower head actually works pretty well. The speaker is waterproof so you don't have to worry about it getting wet, and the small space means you don't have to turn the volume up. The acoustics, with water in the room, also help smooth out the range and the results sound really nice.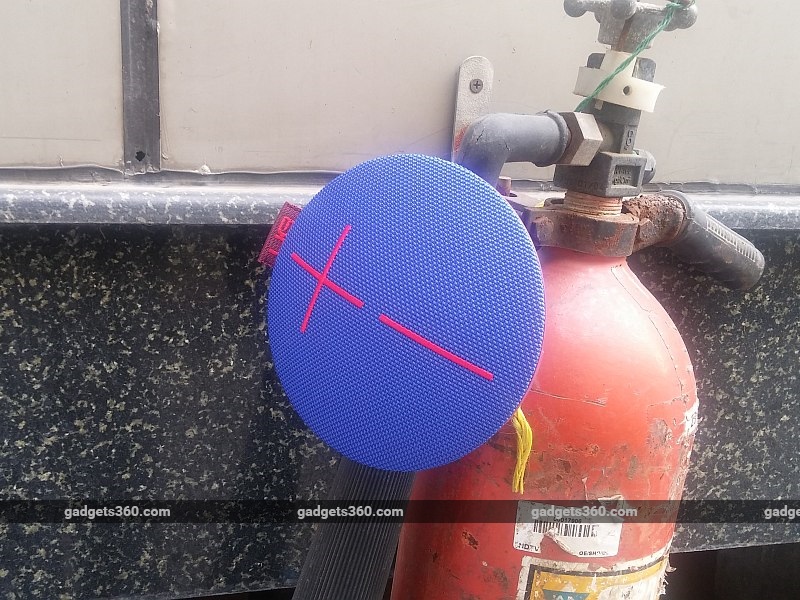 The battery is supposed to last for nine hours, and in our own tests, it ran for eight hours, streaming music at full volume from a smartphone. Charging using our phone's quick-charge adaptor took a little over one and a half hours.
The Logitech UE Roll comes with a free companion app for Android and iOS that seemed like a gimmick at first, but it comes with some interesting features. For one thing, it has an equaliser that works fairly well, and it also allows you to set up an alarm. This runs on the speaker, so it will work even if you disconnect it from the phone. The app also allows you to connect two of the speakers to your phone at the same time, for stereo output.
Verdict
There are a lot of things to like about the Logitech UE Roll, and in the week we've been using it, we've come to really like the little speaker. It is incredibly portable, and has a generally tough design, so you don't have to worry about damaging it when you toss it into your bag.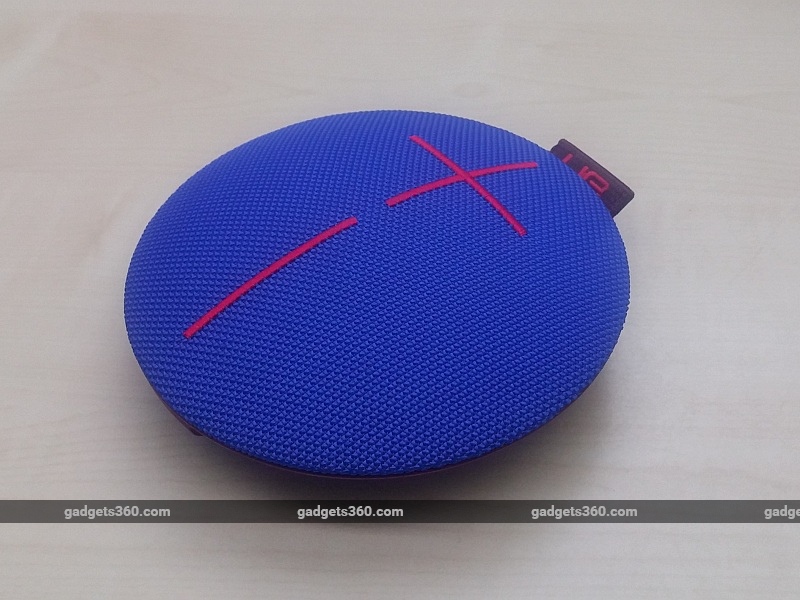 The elastic cord on the back also feels extremely tough, and you feel confident about attaching it to anything – we spent a lot of time with the speaker clipped to our bag's strap, but you could also clip it to your chair's handle, or hang it from a hook in your kitchen.
Setting up the speaker is extremely simple – just power it up and pair it like any Bluetooth speaker, and if you choose to use the app, that also is pretty self-explanatory. This is a fun speaker that has a lot going for it, although the sound could definitely be a lot better. It seems like a fair compromise for portability and being waterproof, but of course, you'll have to decide what is more important for your needs.
Price: Rs. 8,495
Pros
Stylish looks
Extremely portable
Fun, pop-friendly sound
Cons
Not very loud
Low end lacks clarity
A bit expensive
Ratings (Out of 5)
Design: 4
Performance: 3.5
Value for money: 3.5
Overall: 4
["Source-Gadgets"]