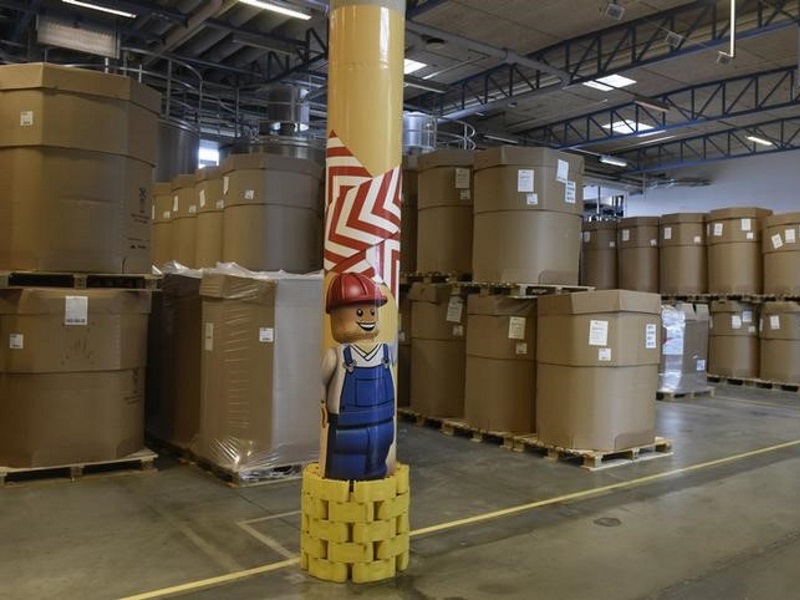 In a low-rise factory on the outskirts of Billund, a small town in western Denmark, robots stand holding trays at the ready as pistons spit out hundreds of pieces of Lego every few seconds.
The plant churns out 100 million of the brightly coloured plastic bricks every day and is set to increase output this year, in line with Lego's ambitions to dominate the global toy market.
The Danish company could overtake Barbie doll maker Mattel as the world's biggest toymaker in 2016, analysts say, helped by its push into movie franchises, video games and smartphone applications.
Most of its 25 box-set themes now have some digital content: Nexo Knights, introduced last year for example, comes with an app game.
Yet, while Lego has embraced the digital age as more kids play games on iPads and smartphones, parents who fret their children spend too much time staring at screens shouldn't worry: online is not the toymaker's ultimate destination.
Rather, its digital push is aimed at bringing children back to its core product: the Lego brick, first produced in its current form in 1958.
The driving force is extrovert, quirky CEO Jorgen Vig Knudstorp, appointed in 2004, a year after the company flirted with bankruptcy, and the first chief executive from outside the Kristiansen clan, Denmark's richest family.
He set about reviving Lego's core business, by firing consultants and hiring new designers to come up with higher-margin products that were up to date but still looked like Lego, an abbreviation of the Danish "leg godt", meaning "play well".
The company now has 250 designers and launched 350 products last year.
They included the Lego Dimensions box set, which puts together characters from "Lord of the Rings", "Batman" and the Lego movie, allowing kids to build portals and vehicles which are transferred to an online game by placing the pieces on an electronic "toy pad".
Announcing another year of record results last month, Knudstorp, 47, made a celebratory star-jump after Lego overtook My Little Pony producer Hasbro to become the world's second-largest toy company, with revenues of 36 billion Danish crowns ($5.3 bln).
If the company's projections for high single-digit revenue growth this year prove correct, it will beat Mattel to take the No. 1 spot, analysts say.
"If you look at the toy market through 50 years, you'll find there's always Lego … At the same time we recognise, to stay at the top of the wishlist, we need to do something new and exciting," Knudstorp said.
"I think that's how we can continue to, not go fully digital, but leverage the digital technology as a way of making the physical play even more exciting," he told Reuters from his office packed with box sets and a large model of Darth Vadar's Lambada spaceship.
Not constrained by reality
Lego argues that some of its digital content is free and can be enjoyed without buying a box set, and so is not even a marketing tool. Rather, children are simply attracted to the "seamless play" between the physical and digital worlds.
"The vast majority (of sales), with a capital 'V', comes from bricks," Chief Financial Officer John Goodwin said.
Stephanie Wissink, a US-based analyst at Pipe Jaffray & Co covering Mattel and Hasbro, said toy companies have had to shift their attitudes to digital play given that many children these days own several digital devices.
"Initially companies went down the path of almost trying to convey to the parents that you're a bad parent if you let your kid play on a digital device," she said. Although that stigma has disappeared, the digitalisation is "not replacing a physical play opportunity, it's complementing it", she said.
Ricco Rejnholdt Krog, a design director at Lego, says children are brought in weekly to test drive products and twice a year the designers travel around the world testing themes and changes.
"We're really listening, we're paying attention to what they say," he said. Designers made changes to a police station box set after a Chinese child complained there weren't enough get-away possibilities to make for exciting "cops and robbers" play, he said.
The company is due to start production in China next year, another step in its global expansion.
When asked how big Lego could get, CFO Goodwin said: "We don't want to be inhibited by realism."
© Thomson Reuters 2016
Download the Gadgets 360 app for Android and iOS to stay up to date with the latest tech news, product reviews, and exclusive deals on the popular mobiles.