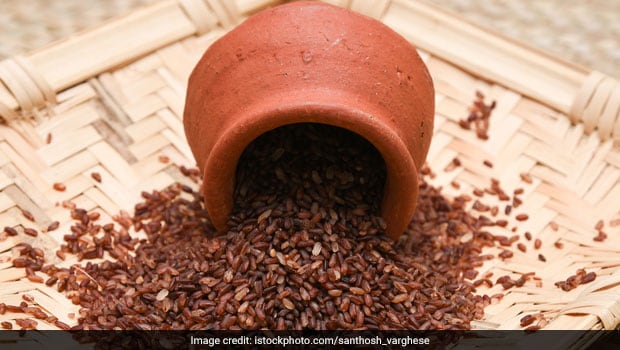 I was less than a year old when I had my first taste of rice and it was in Kerala. The Annaprashana
(or Onnoprashon in Bengali) is an important ceremony in Kerala where it is called 'Choroonu'. This ceremony is conducted when a baby is ready to graduate from infant food. I can't remember my first taste of Kerala rice at the legendary Sri Vishnu Temple in Guruvayoor Temple
as part of this ritual. But I do remember all the other times when I struggled to come to terms with puzhukkalari, one of the many names used to describe Kerala's trademark red rice.
Just like in many Asian cultures rice is more than a staple food in Kerala and the rest of South India. The typical Kerala Hindu wedding
does not feature the traditional wedding pyre that is common across the rest of India but a set of important symbols and props that always includes a barrel of unhusked rice.;
If you go back in time, red rice was considered a delicacy and the preserve of the royals and nobility in Southern India. Over the last four to five decades many households in South India made the switch to polished white rice foregoing traditional brown rice and red rice varietals and many essential nutrients in the process. Thankfully, this trend didn't sweep Kerala the same way it did in other Southern states.
Over the last ten years consumers are going back to traditional rice varieties and millets in a clear recognition of their health benefits. It's why Kerala red rice was always considered a prized varietal even in the days of the Cheras.
Of all the rice varieties in Kerala, the Palakkadan Mattan Rice is probably the best known and one of the select rice varieties from the state that has been awarded a GI (Geographical Indication) tag. The Mattan rice thrives in the black cotton soil and humid weather of the Palakkad region. While the rice is known for its distinct flavour and texture, it's equally prized for its health benefits. The par-boiling of the rice ensures that the nutritional values are retained more effectively than other forms of rice. This fluffy rice with its rose-coloured hue and unique texture (you can separate one morsel from the other effortlessly) is clearly an acquired taste. It makes a terrific accompaniment to meat dishes and is an integral part of a traditional Kerala Sadya or vegetarian festive meal
.
Cooking Palakkadan Mattan Rice
Rapid urbanisation and the switch to pressure cookers and smaller family units were among the factors that led to polished white rice take over many households. Like most forms of brown rice or par-boiled rice, cooking Mattan rice needs time and patience.
1. While it is not uncommon to soak the rice overnight, 45 to 60 minutes in a large vessel or pan usually does the trick.
2. Make sure you rinse the rise at least a couple of times before you soak the rice.
3. While it's not uncommon to cook this rice in a pressure cooker
, it's best to use a large vessel with a lid. You could use 1:8 parts (rice: water) to cook this rice on a low to medium flame for about 30-35 minutes.
3. Drain the excess water and serve hot. You could use the excess water (with starch filled with nutrients) for some other dish.
4. If you'd rather use a pressure cooker, cook on a high flame till you hear at least 2 whistles and then on a low flame for another 20 minutes (a total cooking time of approximately 30 minutes).
Health benefits:
With high fibre content
and a low glycaemic index (compared to polished white rice), Palakkadan Matta or Rosematta is one of the healthiest Indian rice varieties. It is also high in magnesiumand vitamins A and B.
["source=food.ndtv"]