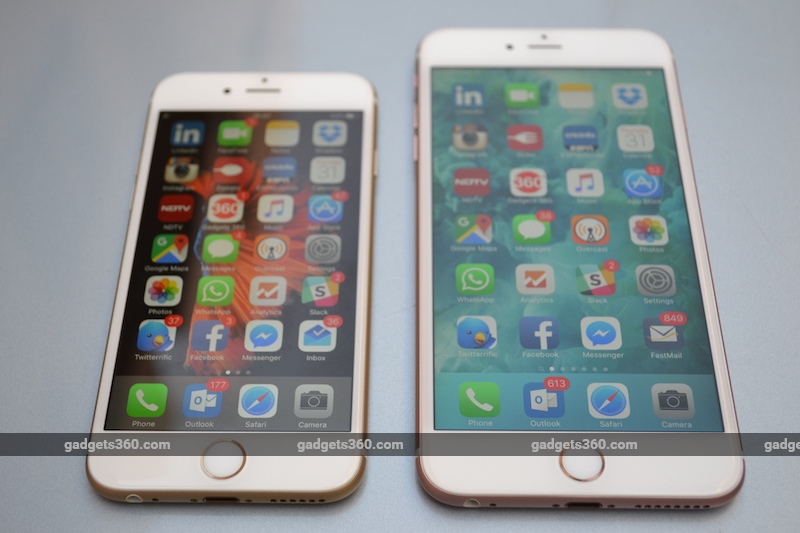 HIGHLIGHTS
iPhone 7 lineup price in India was revealed
iPhone 6s, iPhone 6s Plus, iPhone SE price slashed
Reliance Jio is getting more interconnect points from other operators now
Missed the big tech news of the week? You've come to the right place as we pick out the highlights that took place. The iPhone 7 and iPhone 7 Plus launched last week, but continued to be in the news this week as details about the phones such as their exact specifications emerged, as well as India price details for the entire range, and price cuts for the previous models. At the same time, Samsung remained in the news thanks to further developments about theexploding batteries of the Galaxy Note 7. Apart from the two smartphone giants, there were plenty of other interesting developments too, and here are the highlights.
First off, we now know the India price of the entire iPhone 7 family. Apple had announced on launch day that the 32GB iPhone 7 will be available in India at Rs. 60,000, but this week the company revealedpricing of all iPhone 7 and iPhone 7 Plus models. The 32GB iPhone 7 Plus will be priced at Rs. 72,000. The price jump to the next storage variant remains at Rs. 10,000, which means you can get your hands on 128GB iPhone 7 for Rs. 70,000, while Rs. 80,000 will get you the 256GB smaller iPhone. The 128GB iPhone 7 Plus will cost Rs. 82,000, while the top of the line 256GB iPhone 7 Plus will cost Rs. 92,000.
Apple has also slashed the prices for iPhone 6s, iPhone 6s Plus, and iPhone SE. With the 64GB model discontinued, the 128GB variant of the previous generation 6s and 6s Plus is now effectively Rs. 22,000 cheaper at Rs. 60,000 and Rs. 70,000 respectively. The base 32GB models (up from 16GB previously) have a new price tag as well, at Rs. 50,000 for the iPhone 6s and Rs. 60,000 for the iPhone 6s Plus, an effective price cut of Rs. 12,000 each, and you also get double the storage. The 64GB iPhone SE will now be available at Rs. 44,000, a price cut of Rs. 5,000, but the price of the entry-level 16GB iPhone SE remains unchanged at Rs. 39,000.
To start, there was a bevy of launches, such as the Videocon Q1 V500K with 13-Megapixel Camera, and the iBall Slide Cuboid 4G voice-calling tablet, with regional language support. Samsung launched theSamsung Galaxy A9 Pro in India, an upgrade over the Samsung Galaxy A9. Samsung also launched theSamsung Galaxy Tab A 10.1 2016 in India, with S-Pen.
(Also see: Samsung Galaxy A9 Pro vs Samsung Galaxy A9)
Videocon also launched the Videocon Cube 3 featuring a panic button as mandated by the DoT. And Zopo launched the Zopo Color F1 with a fingerprint scanner that can also be used to control the device's camera, music, gallery and other significant features. Last week also saw the launch of the Blu Vivo 5R in the US.
Apart from the launches, we also had teardowns of both the new iPhones. The iPhone 7 packs 2GB RAM and a 1960mAh battery, while the iPhone 7 Plus has 3GB RAM and a 2900mAh battery. Third-party estimates show that that iOS 10 is already running on over 22 percent of all iPhone and iPad devices – iOS 9 is down to 72.25 percent, and only 5.44 percent are running older versions of the OS. Several apps also got Siri support this week, including WhatsApp and Uber – here are some other apps that offer Siri support in iOS 10.
(Also see: iPhone 7, iPhone 7 Plus Price in India of All Variants Revealed)
In contrast, the latest distribution data of Android suggests that less than 0.1 percent users have managed to get their devices running on the latest Android 7.0 Nougat, including (possibly select Nexusand Android One users). Even Android Marshmallow, release last year, is seen to be running on just 18.7 percent of active devices. Most Android devices in the market are seen running on the two-year-old Android Lollipop with a total share of 35 percent user base.
Google also admitted this week that the Play Store could be causing battery life issues for users and promised a fix in the next few days.
It's not all good news for Apple though – the company got into a bit of controversy for accidentally introducing porn into iMessage with the iOS 10 update. Apple added gif search which was showing pornographic results for even some innocuous search terms, including 'huge' and bounce. Apple has responded by blocking certain words from search.
There was also an interesting report by a researcher claiming that the iPhone 5c can be hacked by NAND mirroring – the same trick the FBI had earlier claimed would not work. This had opened up an interesting case where the FBI asked Apple to unlock an iPhone that belonged to the San Bernardino shooter. Although that case is over, the researcher put the methods described to the test and found that he was able to fully unlock an iPhone and restore it to a working condition.
For Samsung, the exploding Galaxy Note 7 debacle might be one it has a hard time recovering from. The phone is going back on sale in South Korea from September 28, after sales were halted on September 2. According to Samsung, new Galaxy Note 7 devices will come with a green battery indicator to show that they are safe.
(Also see: Samsung Galaxy Note 7 Recall: Here's How to Check If Your Unit Is Safe)
In India, Reliance Jio remains in the news as the network's rollout continues. Long lines are still forming outside Reliance Jio's retail stores as people queue up for new connections to take advantage of the free unlimited welcome offer. A drawback of this is that the speeds many people are seeing on Jio are alot less reliable than before.
At the same time, Reliance Jio has accused Airtel, Vodafone, and Idea of baselessly rejecting MNP requests. One other problem area that Jio faced with the other operators – interconnections – seems to be getting resolved. Idea says it's allocated interconnect points for 6.5 million subscribers, Vodafone says it will triple points of interconnect, and Airtel also agreed to do the same. Perhaps most importantly, Jio has signed a deal with BSNL that could help solve its call drops issue. The two have formed an intra-circle roaming pact, so Jio users can use BSNL's 2G service for voice calls, while BSNL users will get access to Jio's 4G Internet. BSNL also stated that it has provided sufficient points of interconnect to Jio.
In Gujarat, the High Court has issued a notice to Pokemon Go developer Niantic in response to a PIL filed earlier this month seeking a ban on the location based-augmented reality game in India for "posing danger to public safety".
It's also been an interesting week for gaming. Last week was all about hardware thanks to thePlaystation Meeting, but more details about the games trickled out this week. For one thing, Sony's worldwide studio head mentioned that the No Man's Sky PR strategy wasn't great. Developer CD Projekt RED also confirmed something else that fans won't be happy with – The Witcher 3 won't be updated for the PS4 Pro. This comes after news last week that Sony has disallowed mods for Fallout 4 and Skyrim: Special Edition.
Another interesting development is that BioShock: The Collection – a remaster of the three BioShock games in a single release – can't be livestreamed on either the PS4 or the Xbox One. Publisher 2K has not stated any reason for this, much to the dismay of fans. Also, the long awaited Sony exclusive The Last Guardian has been delayed, again, and is now expected to release in December. The oft delayed project was initially meant to release for the PS3, many years ago.
It's not all bad news though – at least for fans in India. The current model of the PlayStation 4 finally gets a much overdue price cut bringing the official price down from Rs. 27,990, from Rs. 32,990. However don't expect to get your hands on either console at the new prices any time soon. Several retailers told Gadgets 360 that supply is sparse.
There also some potentially huge news we'd stick under "futurism" for now – Baidu, often called China's Google, has received approval from the California DMV to test self-driving cars. California is seen as a crucial testing ground for autonomous vehicles due to technological innovations being developed in Silicon Valley, where many car companies and start-ups operate research labs to develop self-driving technology. Baidu is looking at starting production by 2020. Uber also made some big strides in driverless cars this week – the company gave riders in Pittsburgh a chance to try out a driverless car for themselves. The vehicles are loaded with features that allow them to navigate on their own, an Uber engineer will sit in the driver's seat and seize control if things go awry.
["Source-Gadgets"]