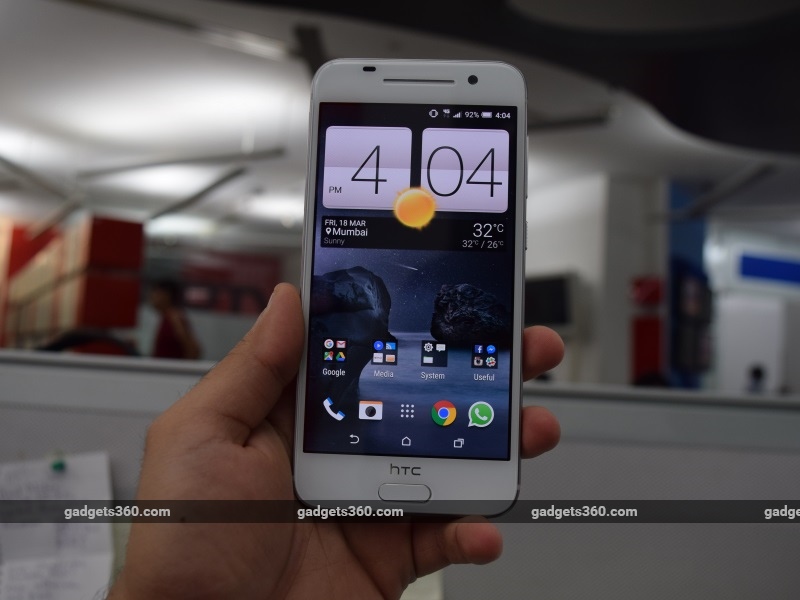 HTC may be losing its once strong market share to rapidly expanding competition, but that doesn't mean it has forgotten how to make good phones. The Taiwanese smartphone specialist is primarily a manufacturer of smartphones, with very little presence in other product segments. This has helped HTC in producing some of the better phones we've seen over the last couple of years, including the excellent HTC One M8 (Review) and HTC Desire Eye (Review).
The company isn't down and out yet, though. Rumoured to be developing 2016's Nexus devices, HTC seems to be on a positive track going into 2016. One of its latest is the One A9, which at its launch in December 2015 was one of the first devices outside of the Nexus range to launch with Android 6.0 out-of-the-box. There are also some striking visual similarities to Apple's current iPhone lineup, which we'll explore in depth in our review of the HTC One A9.
Look and feel
Let's just get to the elephant in the room immediately: yes, the HTC One A9 bears a strong resemblance to the iPhone 6s (Review). The flat metal back, thickness, unibody design, curved corners, antenna lines, protruding camera, and speaker grille at the bottom are all similar to design cues on Apple's flagship. However, the One A9 is larger than the 6s, has prominent HTC logos at the back and in front, and has its rear camera positioned at the centre instead of in the upper left corner.
It's also important to note that the some of these design elements such as the antenna lines, metallic unibody and curved corners were used by HTC long before the iPhone 6 and 6s launched. Additionally, the front is patently different from the iPhone and borrows cues from the HTC One M9+ (such as the fingerprint sensor). While there are certainly similarities, we are of the opinion that it is unfair to say that HTC has blatantly copied the iPhone, or designed the A9 with the sole intention of piggybacking on the success of Apple's design.
Now that we have that out of the way, we feel that the HTC One A9 is a fantastic looking smartphone. It's slim, sleek, stunning in all of its colour options, and still easy to handle. The power and volume buttons are on the right; the speaker grille, Micro-USB port and 3.5mm socket are at the bottom; and the SIM and microSD slots are on the left. The power button has a rough texture to help you distinguish it from the volume rocker, which is a useful touch.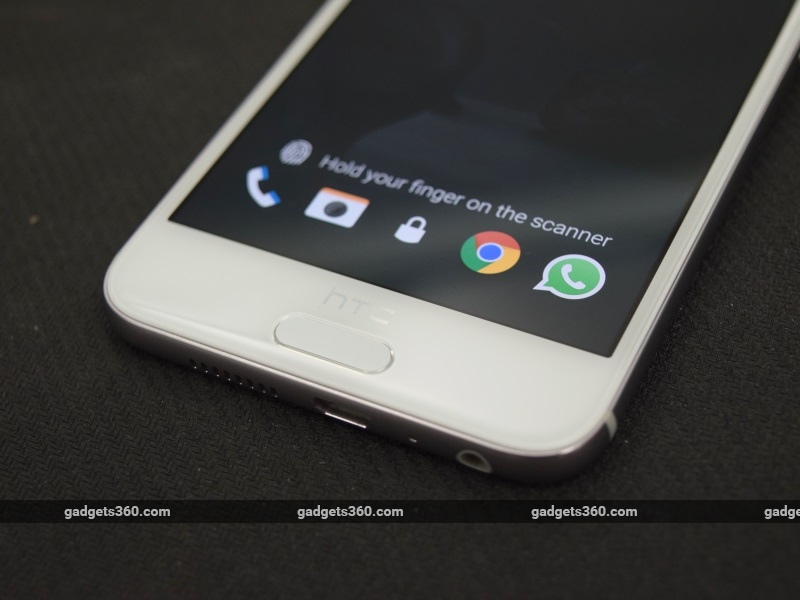 The front of the phone has the selfie camera, earpiece, and proximity sensor at the top, and the fingerprint sensor at the bottom. The phone doesn't have capacitive Android keys, instead using on-screen keys for those functions. The fingerprint sensor doubles up as a home key, but this can be disabled if you prefer. The phone can be woken using motion launch gestures or by touching the fingerprint sensor. If you've activated the sensor, simply keeping your finger on the scanner will quickly unlock your phone; first waking it and then reading your fingerprint. You can store up to five fingerprints, which can be used to unlock the phone and interact with supported apps such as1Password.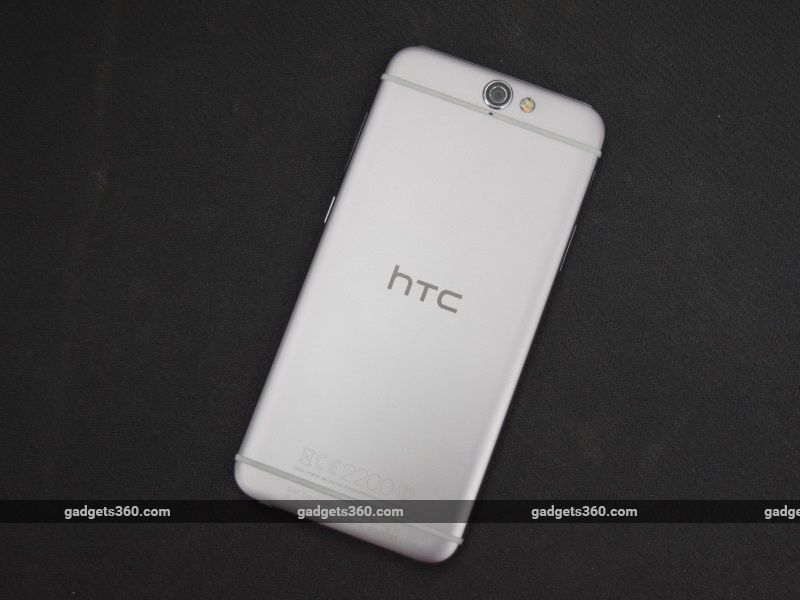 The screen of the HTC One A9 is a 5-inch full-HD Amoled panel with Corning Gorilla Glass 3 protection. As is the case with Amoled screens, there is a hint of warmth in the colour tone, although this isn't bothersome in any way. We personally prefer a little bit of warmth in the tones, as this makes the screen easier on the eyes. Colours pop and blacks are deep, which makes visuals appear more dramatic and dynamic. Above all, sharpness is absolutely fantastic, and on the whole the screen is nothing short of brilliant for a full-HD panel.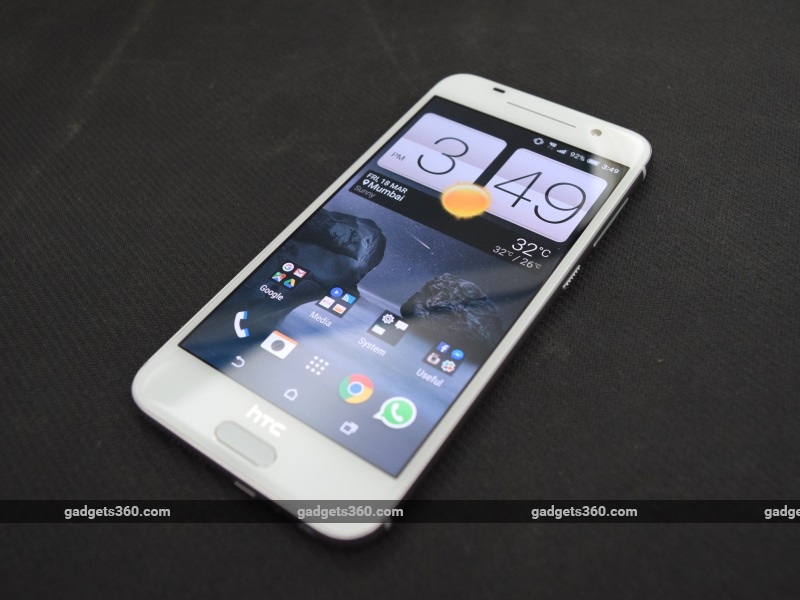 Specifications and software
The HTC One A9 is powered by the 1.5GHz octa-core Qualcomm Snapdragon 617 SoC, and is one of only a handful of phones that have adopted this processor. Compared to its series predecessors, the 615 and 616, the 617 has been designed to offer better performance and battery life as well as higher LTE speeds, better Wi-Fi handling capabilities, and support for Qualcomm Quick Charge 3.0. The HTC One A9 supports Quick Charge 2.0 out-of-the-box, but unfortunately doesn't ship with a compatible charger, which is annoying, and feels to us like a blatant case of cost cutting. However, we tried charging the one with a third-party Quick Charge 2.0-compatible charger, and charging was noticeably quicker, with the phone drawing power much more rapidly than before.
Apart from that, the One A9 also has 3GB of RAM, 32GB of internal storage (expandable by up to 200GB using a microSD card), Wi-Fi 802.11n as well as 802.11ac, and 4G connectivity on its single nano-SIM slot (FDD Band 3 and TDD Band 40 both supported). There's also a 2150mAh battery, Bluetooth 4.1 with apt-X, and HTC's Boomsound audio enhancement software built in. The A9 is incredibly well-specced, and is practically flagship-grade in many ways.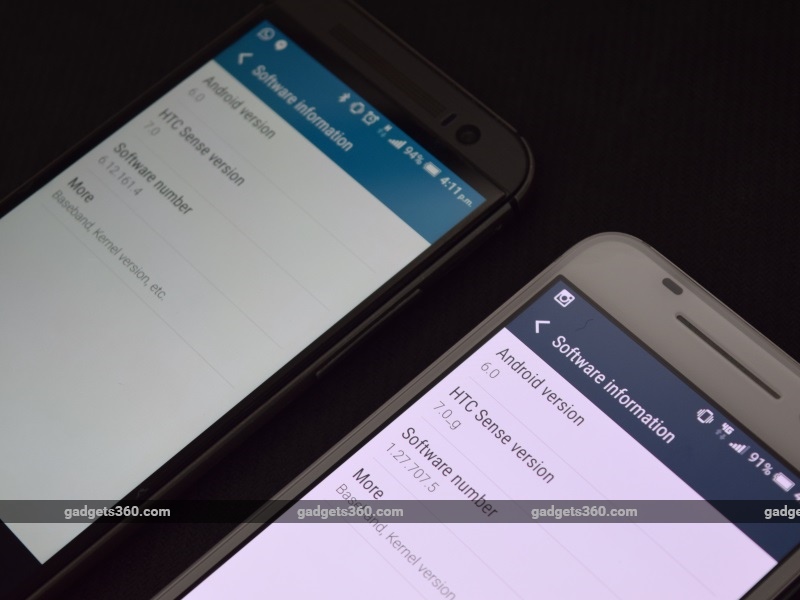 After the Nexus 5X (Review) and Nexus 6P (Review), the HTC One A9 was one of the first smartphones to launch with Android 6.0 out-of-the-box. All of Marshmallow's key features are present and proper, including Doze Mode, Now On Tap and app permissions. Performance and snappiness around the system is brilliant as well.
HTC, gave us assurances of quick system updates at launch, promising the latest firmware updates within 15 days of Nexus devices getting them. Sure enough, an OTA update to Android 6.0.1 was available when we checked. Apart from incremental fixes and security updates, it also brings support for Qualcomm Quick Charge 3.0.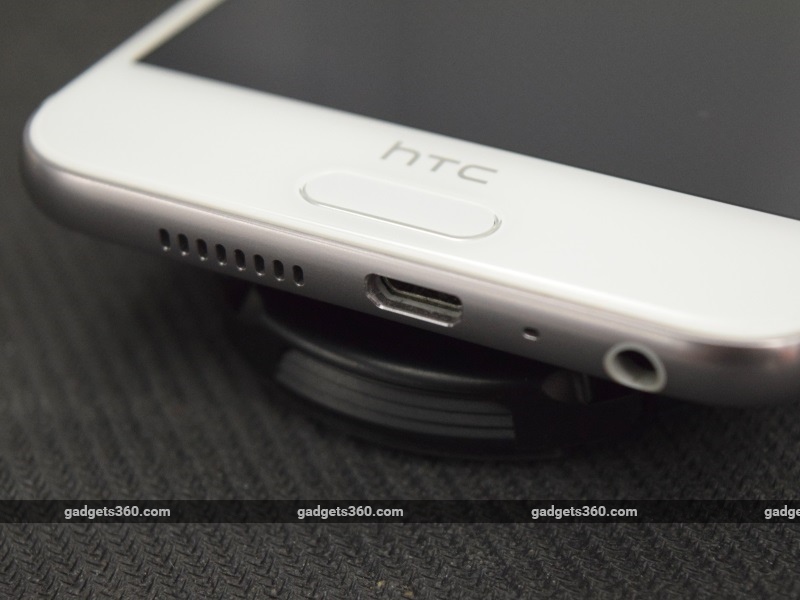 Layered on top is HTC's Sense UI, now in its seventh iteration. The A9 runs a slightly tweaked version of the interface called Sense 7.0_g, which minimises Sense's influence, relying more on core Android functionality for certain things. This doesn't mean that the phone lacks the typical HTC touches, as Sense is still firmly in control of the device, but the optimisation makes the phone a little bit better when it comes to performance and functionality.
Key differences we noticed in this version of Sense are that the Quick Settings menu, notifications shade and app switcher are the same as those on stock Android, and certain HTC apps such as HTC Backup, HTC Music, the HTC Internet browser and Scribble have been removed. Instead, focus is placed on using Google apps such as Drive, Chrome and Play Music for those functions. However, a lot of signature Sense apps, such as Calendar, Clock, Gallery, Camera, Weather and Sense Home remain present, giving the One A9 the best of both worlds. Sense itself is as good as it has always been, with an excellent combination of aesthetics, ease of use and performance.
Camera
The HTC One A9 has a 13-megapixel primary camera with dual-tone LED flash, and a 4-megapixel 'Ultrapixel' front camera. Both are capable of recording full-HD video, and modes such as manual, hyperlapse, slow-motion video and panorama are all present. HDR and optical image stabilisation are both in place as well.
The HTC Camera app is a little bit different from the ones we've seen on previous HTC devices, but remains as easy and comfortable to use as always. Basic controls such as the flash, camera switcher and HDR buttons are within easy reach, while specific modes such as panorama, pro, hyperlapse and slow-motion video can be reached through a mode menu. Recording video is a one-step procedure, and various settings can be tweaked, such as photo and video resolution, geotagging, grid and more. It's quick and easy to use, and you can also set up motion launch gestures to quickly launch the camera from sleep mode.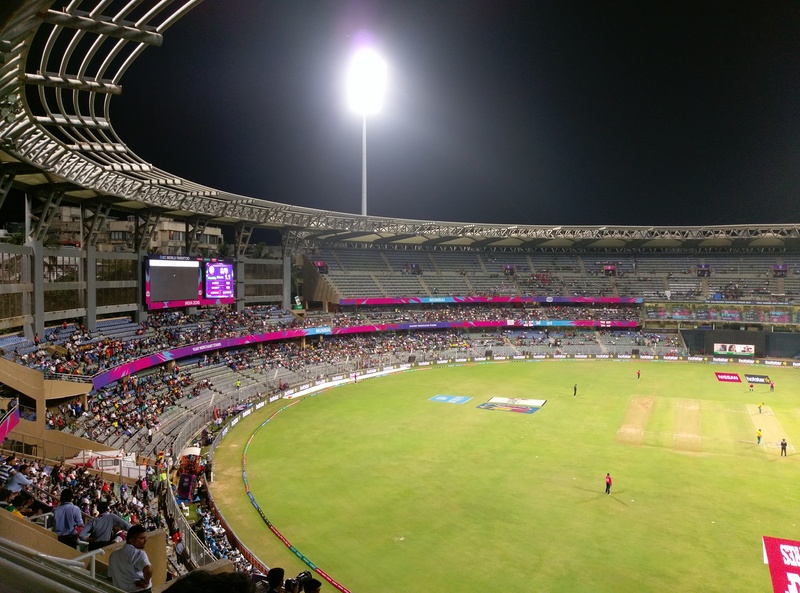 (Tap to see full-size image)The primary camera is capable in a variety of conditions, including well lit, low-light and indoor settings. Colour reproduction is decent, while brightness and light capture is fairly accurate as well. Detail, while not poor, is not particularly great either, and some noise is visible on zooming in. However, pictures taken in low light capture a fair amount of detail, while reproducing lighting conditions faithfully.
Close ups in particular are interesting, and the phone does a decent job of capturing detail up close without suffering from too much loss of sharpness or grain. Videos are neat and well composed, and specific video modes such as hyperlapse and slow-motion produce entertaining results. The Ultrapixel camera at the front ensures that your selfies will be good as well, especially in low-light conditions. Above all, optical image stabilisation means that you don't have to try too hard to get decent pictures, and composing and shooting quickly is possible. It's a reliable, decent set of cameras that won't let you down.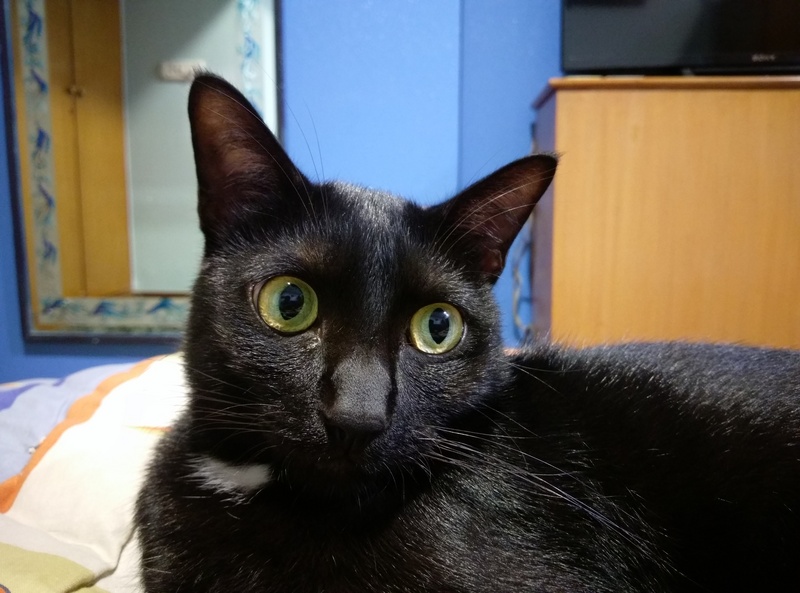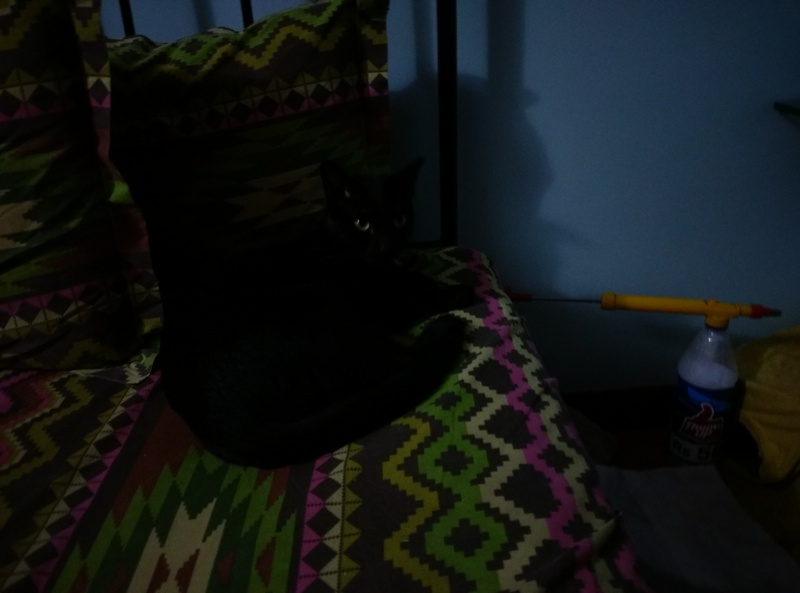 (Tap to see full-size images)Performance
The HTC One A9 is powered by the new Qualcomm Snapdragon 617 SoC, along with an integrated Adreno 405 GPU and 3GB of RAM. The phone is snappy and easy to use, with the typical finesse and fine-tuning that we've come to expect from high-quality devices. Despite its metal body, the phone doesn't heat up a lot during charging or intense tasks such as gaming or watching heavily encoded videos, and lag is practically non-existent.
We ran our usual suite of benchmark tests, and the results were impressive. The HTC One A9 returned scores of 66,166 and 23,298 in AnTuTu and Quadrant respectively, along with a framerate of 17fps in GFXBench T-Rex On Screen and a score of 5,404 in 3DMark Ice Storm Extreme. These scores are considerably higher than what we're used to seeing from last year's Snapdragon 615.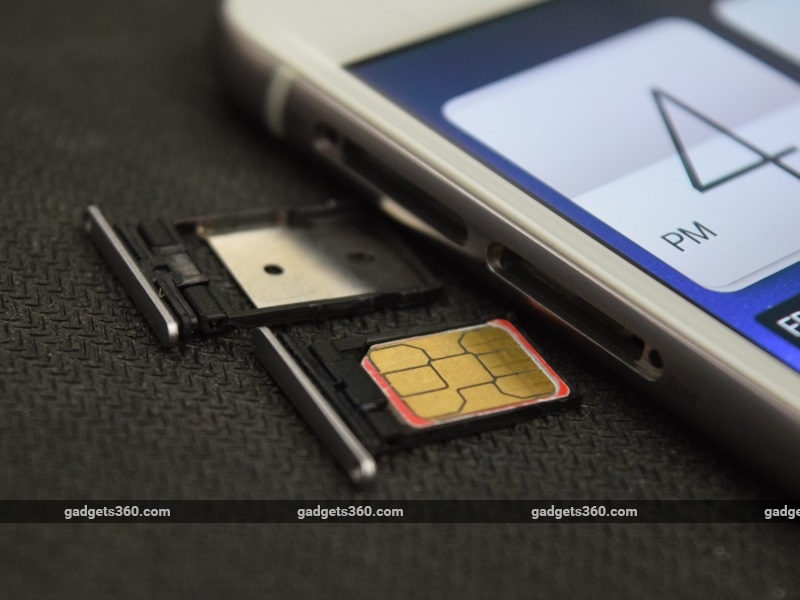 HTC is known to use front-facing stereo speakers on a lot of its phones, so it's disappointing that the One A9 has only a single speaker at the bottom, similar to the iPhone. This certainly makes for better aesthetics, but sound naturally suffers. However, BoomSound technology is still built into the phone to tweak volume and attack, and there's also Dolby tuning. There's a good DAC built in, which supports a variety of audio formats at up to 24-bit/192kHz resolutions. You will of course have to use good earphones or external speakers for best results, and sound is excellent when you do so.
The phone is also particularly good at holding on to both 4G and Wi-Fi networks. We regularly noticed strong network and Wi-Fi signals where other devices suffered, and voice quality was fantastic as well. The HTC One A9 ran for 9 hours, 35 minutes in our video loop test, which is acceptable for the battery size. This can be credited to the efficiency of the SoC, since the slim phone only has space for a 2150mAh battery. With heavy use and a constant 4G connection, it won't always last you through a day.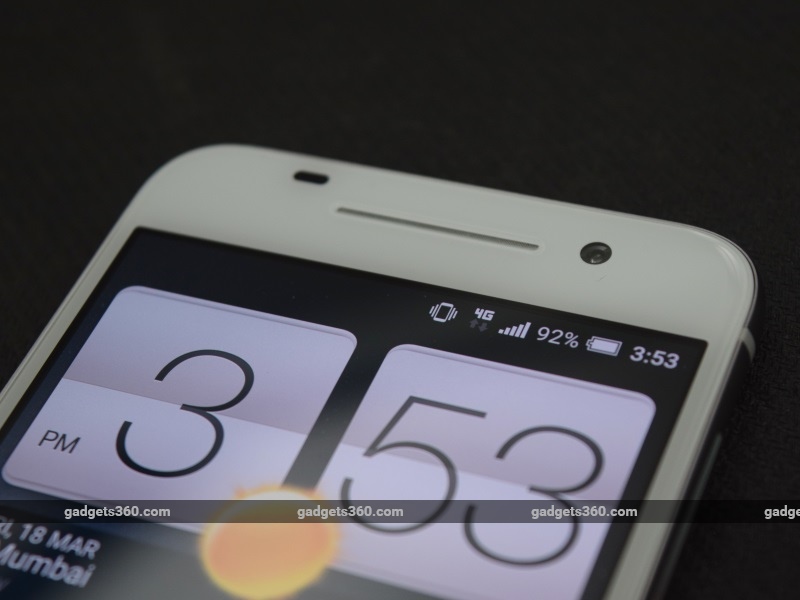 Verdict
While HTC's most iconic products have typically been its annual M-series flagships, the company has also delivered some memorable models in the more affordable lines. With the One A9, HTC has now established a new category just below the flagships, with all the important bits in place. It's no showstopper, but it strikes a great balance between affordability and  features.
The HTC One A9 is a good looking phone with a great screen, good performance, up-to-date software, a good fingerprint sensor, and a decent set of cameras. It gets all the basic functionality right, with excellent network and Wi-Fi handling, along with good audio quality in calls. Battery life and the audio output from its single speaker are its only real weaknesses. The iPhone-like design, whether deliberate or not, may get it some negative publicity, but at Rs. 29,990, this HTC phone is pure quality at a reasonable price, and should give devices such as the Samsung Galaxy A5 (2016) (Review) serious competition.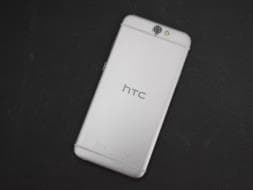 HTC One A9 in pictures
Download the Gadgets 360 app for Android and iOS to stay up to date with the latest tech news, product reviews, and exclusive deals on the popular mobiles.
["source-Gadgets"]