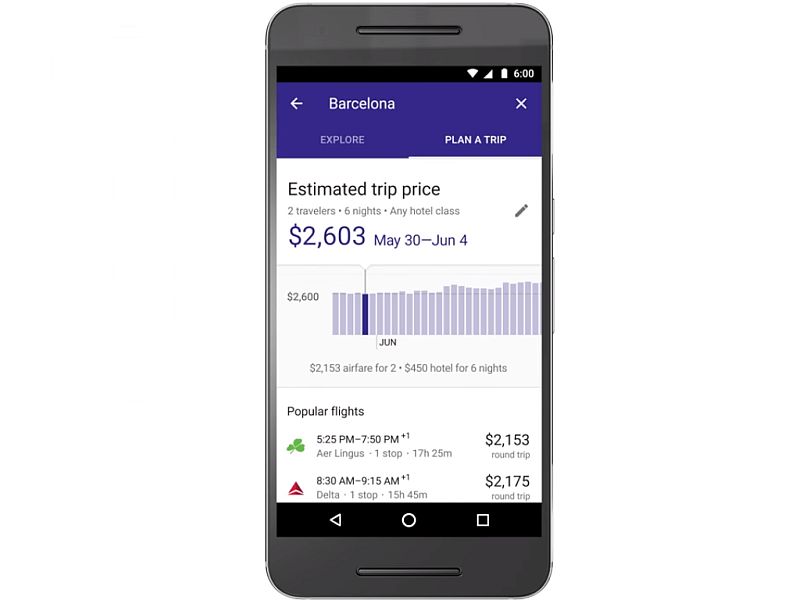 With smartphones around, it's always easier to search for your next vacation and even plan one from the phone itself. Google's new Destinations feature is aimed to make planning a complete vacation even easier on your smartphone.
The new feature works right from the Google Search on the smartphone which will allow you to browse and plan your next vacation by doing a regular search. Google details that users can search on their mobile devices for a place they like to travel to and add the word "destination" to see an easy-to-browse collection of options. The search engine giant says that the new Destinations integrates "a deep understanding of all the places in the world" with Google Flights and Hotel search. The integration allows users to see available flight and hotel prices instantly.
The biggest advantage of the new feature from Google is it will save time from going through a number of websites to get the various pieces of information needed to plan a complete vacation. The feature also helps to sort spots that match user's hobbies and interests. It's worth noting that the 'Destination' feature only works on mobiles.
The feature also includes a filter button that helps users plan vacations accordingly. "Say you're planning to take some time off in June or July, but you haven't decided exactly when to go. The Flexible Dates filter lets you refine your results by month, so you can see when fares and rates are lowest within the time range you want, across multiple destinations," explains Radhika Malpani, Engineering Director, Travel, Google in a blog post.
Further, users can also select any destination and tap the "Explore" tab to see what the weather is like year-round and when the destination is most popular, based on historic visits from other travellers. Once the destination is finalised, users can tap the "Plan a trip" to check hotels and flights rates. Google will show the rate differences for the next six months so that users can find the right price tag for them.
"And as you slide left or right, the results instantly update with real-time fares and rates, pulling from the trillions of flight itineraries and hotels we price every day on Google Flights and Hotel search," adds Malpani. There will be filters for users to choose number of stops, hotel class, and number of travellers to customise results for their trip with the pencil icon.
Google also revealed that it last year saw an increase of 50 percent in travel-related questions on mobile phones.
["source-Gadgets"]