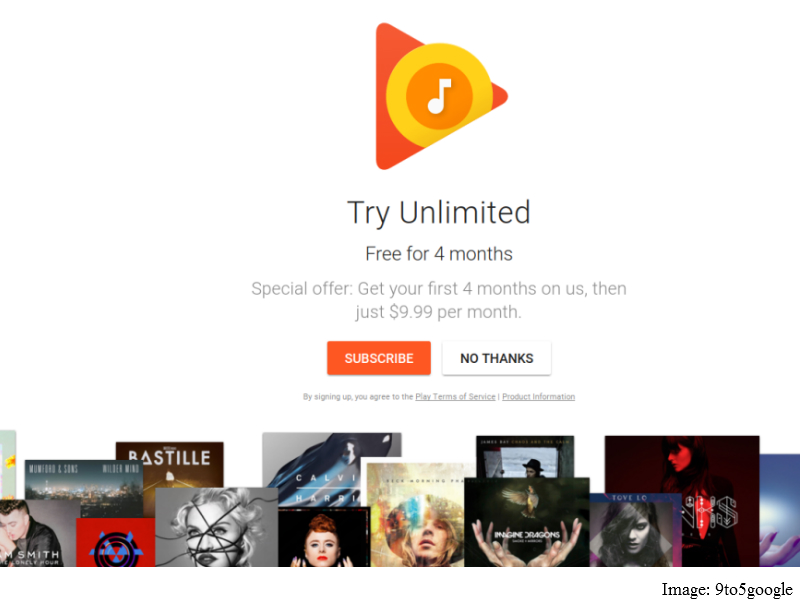 HIGHLIGHTS
Four months free subscription to new members
Offer not valid for current members
Subscription for Play Music generally costs $9.99 per month
As part of its July 4 celebrations, Google has rolled out a free subscription offer for its select services. The search giant is giving away four months of free subscription to its new Google Play Music and YouTube Red subscribers.
The subscription for Play Music All Access generally costs $9.99 (approximately Rs. 670) per month. This gives you admission to the full music library as well as the newly launched YouTube Red service. Google is giving four months free subscription to Play Music, which means this deal is worth $40. Of course, post the four months offer, users will be charged the $9.99 monthly fee.
It is important to note that the offer is only applicable to US users, and has been rolled out by Googleas part of its US Independence Day festivities. Current subscribers cannot avail this offer, and only new subscribers are entitled to it. This offer is also not applicable to all those users who had subscribed to Google Play or YouTube Red in the past, but discontinued the subscription. The Family Plan feature is also not active in this offer, and will only be available once the monthly fee gets introduced four months later.
Google Play Music is available in more than 50 countries so far, and allows users to stream songs on Android, iOS, and via a Web interface as well. It's worth noting that Google Play Music All Access isn't available in India as of yet, presumably due to licensing issues.
YouTube Red, on the other hand, was launched only last year and is available only in New Zealand, Australia, and the US. It basically offers ad-free videos, new original series, and movies from top YouTubers. It also has features like the ability to download videos to mobile devices and have music playing in the background while using other mobile apps.
Download the Gadgets 360 app for Android and iOS to stay up to date with the latest tech news, product reviews, and exclusive deals on the popular mobiles.